We've seen some fantastic Dota 2 esports over the past week in the BLAST Bounty Hunt Dota 2 tournament. The lower-bracket final, and the grand final, was broadcasted GINX Esports TV channels in the UK and Canada, so thanks to everyone who tuned in.
For those who missed the action, we've got you covered with the results.
BLAST Bounty Hunt results
Team Secret, under the leadership of the iconic captain Clement "Puppey" Ivanov, blew through most of their opponents without much trouble. Team Secret didn't lose a single match and only dropped two games. 
This means Team Secret kept growing their prize pool, with no team being able to take a piece of their bounty, despite six of the world's best teams competing. Team Secret took down both Team Nigma and OG to get to the finals. 
OG made quick work of Team Nigma in the lower-bracket finals to claim their spot in the grand finals.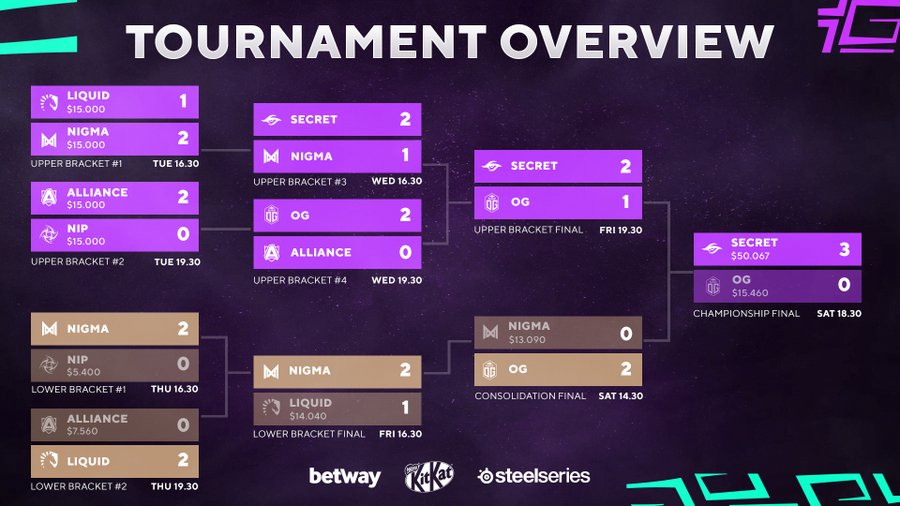 The full Blast Bounty Hunt bracket and results (Picture: BLAST Bounty Hunt)
OG fans should know the team did look much better than they have in the past few online tournaments, with Topias "Topson" Taavitsainen making an impact after a long absence. 
However, Team Secret seems to be OG's kryptonite, crushing the two-time TI winning team 3-0 in the grand final of BLAST Bounty Hunt. This is now Team Secret's fifth tournament win in a row.
The BLAST Bounty Hunt winners
Everyone was a winner during the BLAST Bounty Hunt tournament. All six teams competing walked away with a piece of the prize pool, with Team Secret claiming the lion's share.
The final prize distribution is:
1st place - Team Secret - $50,067
2nd place - OG - $15,465
3rd place - Team Nigma - $18,090
4th place - Team Liquid - $8,424
5th place - Alliance - $12,560
6th place - Ninjas in Pyjamas - $5,400
For those who haven't been following the BLAST Bounty Hunt tournament, you might wonder why 2nd place got less than 3rd place. This was a unique tournament, where teams build their bounties through wins, and lose 40% of their bounty if they take a loss.
Further, there were community-voted bounties teams could achieve. Team Nigma got the "VIP" bounty, being the first team to keep a member of their squad alive for the entire duration of a game. 
Alliance managed to get the "What's Mine is Mine" bounty, not giving up control of their outpost for the duration of the game. Two additional bounties weren't achieved by any team in the tournament. 
While fans and the teams competing were obviously all winners, fans could also compete by making the correct predictions for some cold hard cash.
This initiative from the BLAST Bounty Hunt Dota 2 esports is simply one of the best ways to get fans truly invested, and a big congratulations go out to the overall winner, as well as the daily winners.
We hope see more tournaments with this unique structure take place in the future.