The Twitch Rivals Streamer Bowl 2 Fortnite tournament will come to conclusion with an epic event featuring NFL players and Twitch stars.
After almost two months of playoffs, this multi-stage competition will bring together 30 of the best players from the Twitch community along with some of the biggest Twitch stars and NFL players.
This epic event will have a noble purpose, as most of the prize pool money will go to a charity.
Everything is set for a fantastic event, which you will not want to miss, so here's everything you need to know about it.
Twitch Rivals Streamer Bowl 2 Schedule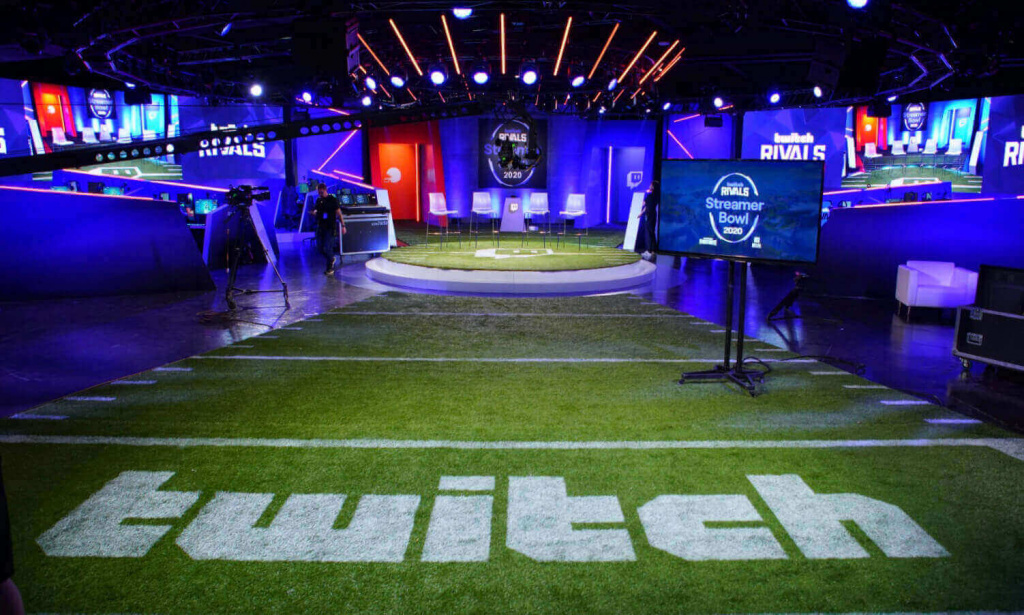 (Picture: Twitch)
With the playoffs being completed, the only things left to unfold are Draft and the final event.
Fortnite Streamer Bowl 2 draft will take place on 26th January, at 3:00 pm PT / 6:00 pm ET.
Fortnite Streamer Bowl 2 final event is scheduled for 4th February, starting at 1:00 pm PT / 4:00 pm ET.
Twitch Rivals Streamer Bowl 2 Format
Draft:
As the winner of the Streamer Bowl in February 2020, Cody "Clix" Conrod will automatically receive first pick for the Streamer Bowl 2 Player Draft
All other streamers will be placed in the draft order by random draw, based on their performance in Playoffs Weeks (i.e. the 4 creators who placed 1st in their Playoffs Weeks will be randomly drawing into draft picks 2 through 5, etc.)
Streamer Bowl 2 tournament rules
Teams: 30 Trios / 90 Players
Team Composition: Each Trio will consist of 1 NFL Player, 1 Twitch Streamer, and 1 Community Player
Game Mode: Arena Trios
Number of Games: Six (6) Games
Scoring: Trios will earn points based on placement and eliminations during each game. Trios are ultimately ranked based on total scores.

Tiebreakers:

Total number of Victories
Average eliminations per game
Average placement per game
Twitch Rivals Streamer Bowl 2 Prize Pool
The Streamer Bowl 2 final event comes with a whopping prize pool of $1,000,000, but all the money will go to charity, and teams will get to choose which charity will receive their rewards.
The exact distribution based on placement is yet to be announced.
Streamer Bowl 2 players and teams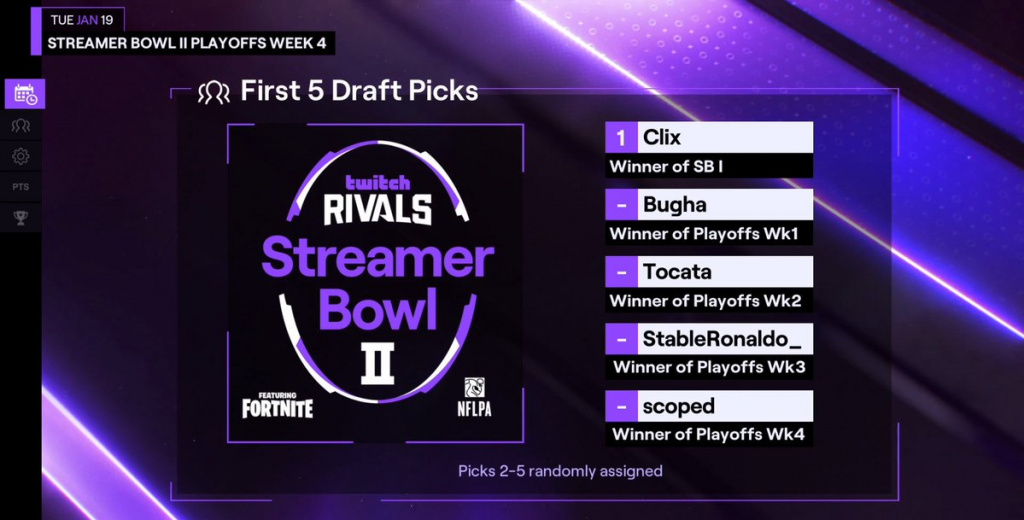 (Picture: Twitch)
The tournament will feature 30 Trios made of 30 Twitch streamers, 30 NFL Players, and 30 community members.
While the full list of NFL players and Twitch streamers is yet to be confirmed, we already know a lot of them who will compete at the event.
Here are all NFL players and streams that are confirmed to participate at the Streamer Bowl 2 final event:
NFL Players
Mike Evans
Kenyan Drake
Kyler Murray
Christian McCaffery
Kyle Van Noy
Calvin Ridley
Tarik Cohen
Auston Ekeler
Baker Mayfield
Aaron Jones
Kurt Benkert
Streamers
NICKMERCS
Ninja
Bugha
Chap
Reverse2K
Ops1x
NickEh30
Emadgg
Sparkles_qt
Sypherpk
Sommerset
EwokTTV
Duckytyhegamer
Tocata
Maddynf
StableRonaldo_
Clix
NateHill
Tfue
Scoped
Chica
loserfruit
LosPollosTV
Aydan
Elded
Fresh
Aircool
Juansguarnizo
72hrs
We will update the list with the rest of the streamers and NFL players once confirmed, along with the teams once they finish the drafting phase.
Streamer Bowl 2 stream: how to watch
The Twitch Rivals Streamer Bowl 2 Fortnite tournament will be broadcasted on the official Twitch Rivals channel.
Both Draft and the final event will be broadcasted live.
Alternatively, you will be able to watch the event from the participant's point of view, by jumping into their streams.