Fortnite has recently been stuck in the in-between stage of being the most popular game in recent memory and becoming a genuinely competitive esport title.As shown in our work with Zestats, Fortnite is by far the most streamed game currently, with streamers like Ninja and NICKMERCS putting in countless hours to hundreds of thousands of viewers.
The extent of Fortnite esports so far
Just last week, YouTuber Keemstar organised a UMG-hosted Friday Fortnite tournament - a weekly tournament with 32 duos, comprised of popular YouTubers and streamers battling it out to beat the rest.
According to Dexerto, the opening night of this tournament on 11th May reached
over five million unique viewers
.
Reddit user
Richtoveen
found a file titled "Playlist_Comp_Solo.uasset" in the backend of the v4.2 files, under the "comp" folder. This is a heavy indication towards an integrated, ranked matchmaking system similar to other top esports such as League of Legends and Counter-Strike: Global Offensive.
Are Epic gearing Fortnite up to be a top esport title?
This also asserts that developer Epic Games may be looking to capitalise on Fortnite's huge success by pushing itself into the esports scene, giving players a chance to compete and rank up based on their ability.
If it is an inclination towards this, it is interesting to see that the playlist appears to be solo, considering most assume that Fortnite would be played as a team esport similar to other battle royale games H1Z1 and PUBG.
Also found by other data miners across social media is a range of new skins and items due to come after the v4.2 patch.
Renowned leaker
Two Epic Buddies
shared on Twitter the new skins, pickaxes, back bling and gliders players should expect to see soon.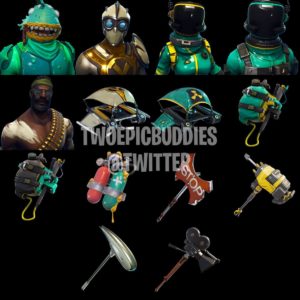 Make sure you complete all your
Battle Pass challenges
this week and keep an eye out for a competitive playlist coming soon.