Tyler "Ninja" Blevins has announced his very own series of Fortnite tournaments with each of the six weeks, having their own ,000 prize pool.
The first event will start tomorrow Thursday, 28th May at 12 pm PT / 3 pm ET / 8 pm BST.
The tournament dubbed "Ninja Battles Featuring Fortnite" will run for six weeks from 28th May until 2nd July, with each tournament for running for one day on Thursday of every week.
The tournament will feature 60 of the world's best Fortnite players and gaming personalities. Confirmed participants for the "Invitational" include NickEh30, Bugha, Ewok, NateHill, Reverse2K.
This isn't the first time Ninja has hosted a tournament, he kickstarted Fortnite esports back in July 2018, with the offline Redbull Rise Till Dawn tournament.
Of course, with the COVID-19 pandemic, this tournament will have a very different feel with players competing online.
No format has been announced yet but we will update to this page with all the information including the prize pool as we know it.
Schedule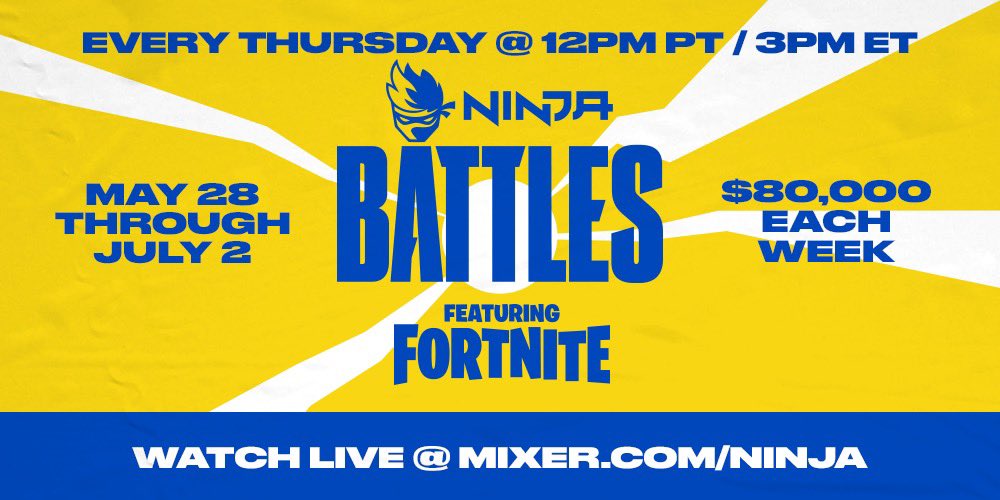 (Picture: Ninja)
Format
The format will be trios, with just 60 players in each game. So that means 20 teams of 3. The first week is on the standard game made and from Week 2 will be played in Arena Trios.
Five games will be played each week.
Scoring
Victory Royale: 10 points
2nd-5th: 7 points
6th-10th: 5 points
11th-12th: 2 points
Each Elimination: +1 point

Prize Pool
There is a promised $80,000 for each week of the tournament meaning a total prize pool of $480,000.
How this prize pool will be distributed each week has yet to be revealed but we will update this page with more information as we get it.

Ninja Battles: How-To Watch
All the action will be streamed on Ninja's Mixer channel, other participants are likely to be streaming the action from their POV's and we will update this information as we get it.