In 2018, Tyler "Ninja" Blevins became one of the most famous faces and names in the world. He stormed the Twitch charts, became the most subscribed streamer on the platform and played
Fortnite
with the likes of rappers Travis Scott and Drake as well as Pittsburgh Steelers wide receiver JuJu Smith-Schuster. [caption id="attachment_107487" align="alignnone" width="600"]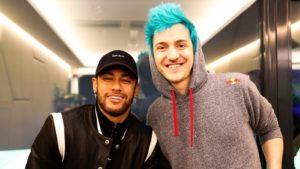 Ninja & Neymar before Manchester United's historic win over PSG in Paris.
[/caption] Now, I wouldn't even dare suggest Ninja has "fallen off", but he has seen a drop in viewership, subscribers and popularity despite appearances on the Ellen Show and Jimmy Fallon's The Tonight Show. In his place we've seen Turner "Tfue" Tenney, perhaps the best player in the world, take the crown atop the Twitch charts. This isn't exactly because of his loveable personality and PG stream content, but simply because he is a pro player who is incredible at the game. And that is a market I don't believe Ninja taps into as much as he could. There is no denying that Ninja is a super talented player, and has even appeared in pro scrims a few times and more than held his own. This as well as his win at the Fortnite Pro-Am tournament alongside Marshmello. To put it simply, he's definitely got the ability to compete – but, understandably, the success of his stream has always taken priority. Now, though, he may look to try his hand at the $100m Epic Games have put up for Fortnite competition as it approaches the latter stage of the year whilst there is still a sizeable amount of the prize pool left – not least the $30m available at July's
Fortnite World Cup
.
The money
Ninja's bank account definitely isn't suffering despite his drop in Twitch statistics, and given the deals he is getting to appear on TV shows and from sponsorships, he may even be earning more than when his sub count was at its peak. Regardless, money isn't an issue and he doesn't exactly need it. That said, a one-off payment of $3m? Not a bad haul, and definitely not something he could earn from a day sat at his stream setup. Of course, he's not guaranteed (or, truthfully, likely) to win the event, but a minimum payout of $50k is still nothing to scoff at. It's not only the Fortnite World Cup that Ninja can look forward to, either: Epic are awarding $1m in cash prizes weekly for the duration of the year, with nearly $80m available throughout the rest of 2019. With his stream slowing down, maybe Ninja could look to an extra source of revenue to keep the mansion maintained – not to mention fans would love to see him come up against the likes of Tfue, Timothy "Bizzle" Miller and Thomas "72hrs" Mulligan.
The prestige
Not only would people love to see him face off with the players mentioned above, but it would be even better to see him beat them and overcome his naysayers. For the entirety of his career – from the early days on Halo to the grand stage as the face of Twitch – Ninja has been a competitor. https://twitter.com/Ninja/status/1095508204618866689 Yet there is a certain group of elitists in the Fortnite community who believe Ninja simply couldn't hang with their favourite pro players. I disagree with these people entirely. He is a man who knows what it takes to win, that understands the pressure of having all eyes on him and grinding to get the desired results. As such, under-performing simply isn't an option. Not to mention, I feel there's a part of Ninja that needs the feeling of winning, the thrill of competition. It's why you see him still get excited after a tense match over 5000 wins later. His desire to be the best is integrated so deep into his mindset that the opportunity to claim the title of Fortnite World Cup winner may be impossible to ignore. Would he be the best player in the game and win everything? Absolutely not. But could he prove he's more than just a pretty face and a colourful head of hair? Without a doubt.