As with previous Forza Horizon (and Motorsport) entries, players can once again tune their cars in unique and personal ways in Forza Horizon 5. Whether the end goal is more speed, better drifting, or tighter turning, tuning is the key to maximising your car's performance in these key metrics.
This can be achieved by tuning your car's performance through the Upgrades menu in-game.
Here players can customise a plethora of parts and settings that can impact your car in every way imaginable. From how the car rides across certain terrains to how it drifts around corners, Forza Horizon 5 covers every microscopic detail for players to toggle with.
In this Forza Horizon 5 guide, we'll cover the basics of manual tuning; from tires to alignment as well as what players need to know about auto-tuning.
Forza Horizon 5: What is tuning?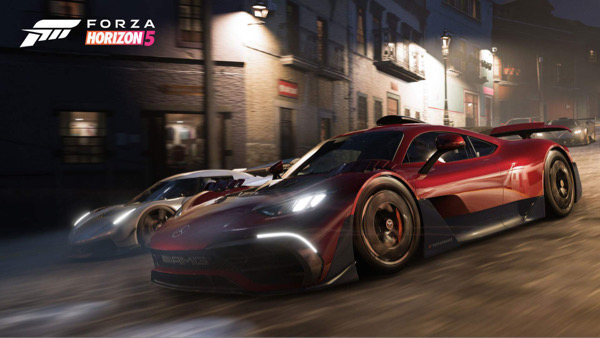 Tuning, or in this case manual tuning, is the process of making minor step-by-step changes to your car, primarily to improve its performance in regards to speed, power, and handling. The tuning menu in Forza Horizon 5 features nine categories each with slider options for players to toggle.
While the purpose of manually tuning your car is to improve its performance, you can also tune your car for specific purposes whether that be street racing, drifting, or offroading.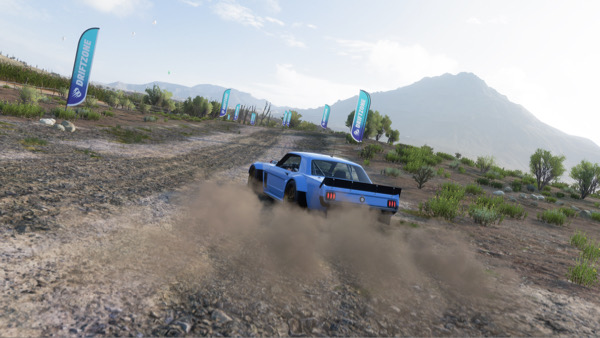 Some of the tuning options will be locked if players don't purchase the corresponding upgrades which can be seen when acquiring a new upgrade. This can be accessed from the Custom Tuning category from the Upgrades and Tuning tab when visiting the Garage.
We'll be taking a look at each sub-menu or category available in Forza Horizon 5 and how it will affect your car's performance overall.
Tyres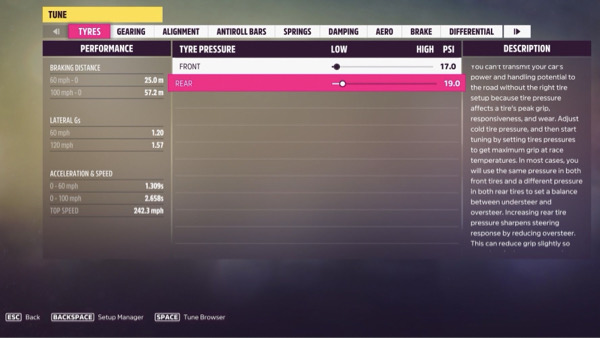 Only two options are available under the Tyres sub-menu as these control the quantity of air in both front and rear tyres. If you want more contact with the asphalt, opt for a higher PSI which will give your tyres more grip and responsive feel.
However, the moment you lose contact with the road, players will feel it almost immediately. To mitigate the sudden loss of control, aim for a lower PSI which while it will improve the car's handling, the tyres will heat up more causing them to wear. We suggest increasing the PSI for the front tyres which can help when power sliding into corners and bends.
Gearing
Adjusting your car's gear ratios will impact its speed and acceleration Based on how many gears your car has, the number of gear options will vary.
The options players should have their eye on is the Final Drive option which adjusts all the gears at once while the options beneath it are for specific gears. Players can look at the graph to the bottom right side of the screen as a guide when adjusting the car's gears.
The higher your gear's ratio is, the quicker your car's acceleration will be. The opposite is said for the car's top speed which calls for a lower ratio.
Alignment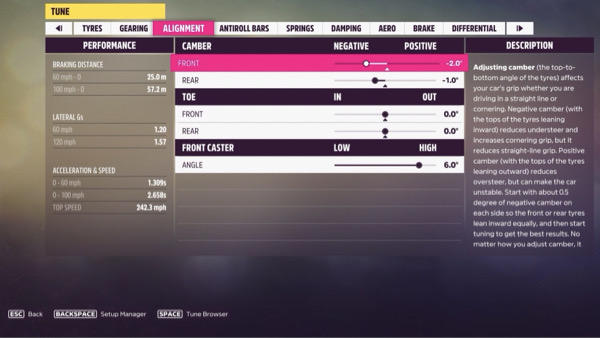 The Alignment menu is an important tuning opportunity as it's where players can manage their car's handling. Here, there are three sub-menus, each contributing to how your car feels and rides.
The camber option is the angle of the tyres relative to the ground. This affects how your car grips the road; whether it may be in a straight line or when cornering.
Zero camber means that the tyres are in direct contact with the ground; negative cambers will have the tyres more inwards and positive cambers are outwards over the ground. The purpose of camber is to have more contact with the ground when taking corners so either having zero or a positive camber is where players will want to aim for, particularly when racing.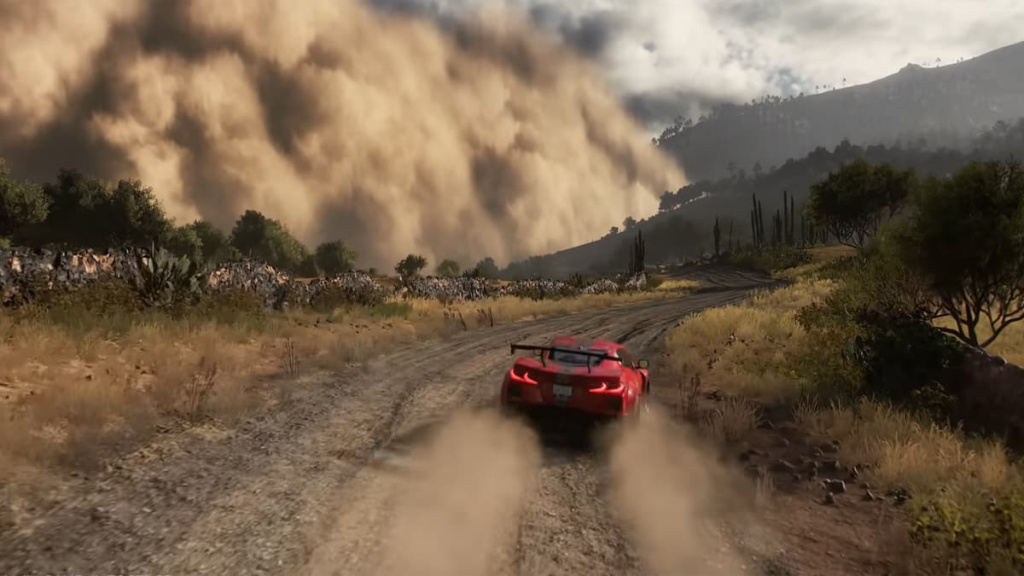 Toe is the horizontal angle of the tyres. Toe-in will see the car's tyres pointing inwards and it's the opposite if the slider is on toe-out (pointing outwards). Try to keep the toe ratios as low as possible as adjusting it too high can either cause the car to oversteer (toe-out) or understeer (toe-in).
The front caster's angle is the angle of the steering axis of your car. While a vertical steering axis will see a neutral caster, a positive caster caters more for the rear end of the car and a negative caster steers towards the front end of the car.
Players need to know that a higher caster will have you investing less in the camber settings as it creates additional camber automatically, especially in cornering without sacrificing straight racing.
Antiroll Bars
Antiroll Bars connect both sides of the car's suspension as they can contribute to your car's entry and mid-performance when cornering. Soft antiroll bars, which allows the car's body to roll further onto the wheels, will lean into oversteering and stiff antiroll bars will gear towards understeering.
Springs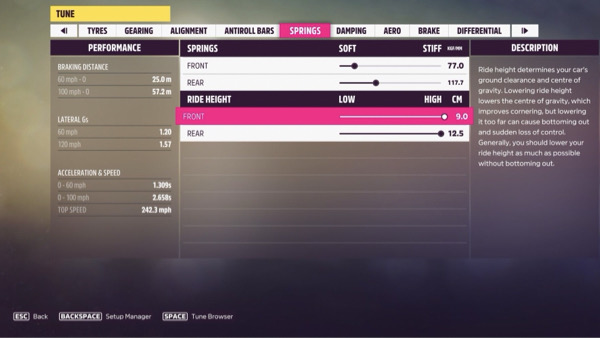 The Springs menu comes with various sub-menu options which all affects your car's suspension. Adjusting the car's springs can impact how stiff your car's suspension is and can determine whether your car will over or understeer in corners.
Cars that sit high above the ground won't need stiff springs but can make use of the Ride Height sub-menu to adjust the stiffness if you need it. Much like the Tyres setting, a higher stiffness will make the car more responsive but can easily lose grip while softer springs will increase your car's traction.
Ride Height controls how high or low your car rests over the ground. The lower your car height is, the lower its centre of gravity will be. This can increase how aerodynamic your car will be as well as improve your handling.
Dampers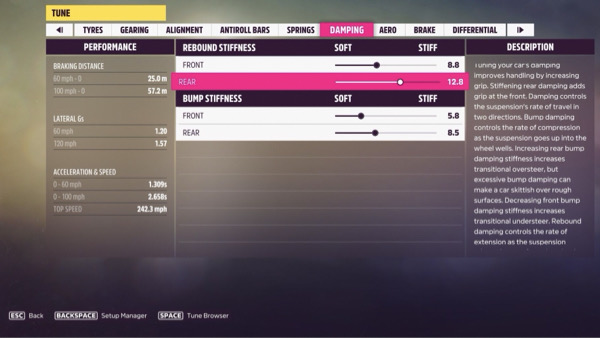 Dampers also have a few submenu options for players to toggle with as it too learns into how your car responds when driving offroad. Rebound Stiffness controls how fast or slow your car's springs will extend and drop back to the ground after driving over bumps.
While players can tweak the values, generally speaking, the stiff rebound will see a faster extension and the soft rebound will see a slower extension. If you're planning on doing some cross country racing, opt for soft rebound whereas stiff rebound would be best used for street racing and drifting.
Bump stiffness controls the speed of compression and players mustn't play too much around with the bump stiffness. But if you're planning to adjust this setting, keep it lower than the rebound stiffness to start with.
Aero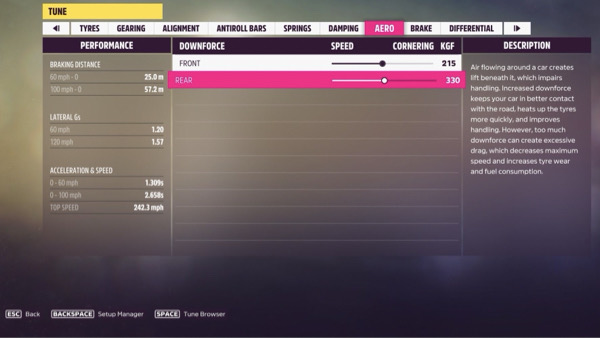 Aero tuning will either increase or decrease the aerodynamic downforce needed to push the car as close to the ground as possible. This tuning setting comes in handy for higher tier car classes that tend to rely on speed and acceleration.
Aero can also impact the car's handling while improving its grip but it will take away from the car's speed since the car's downforce is dependent on air resistance.
Brake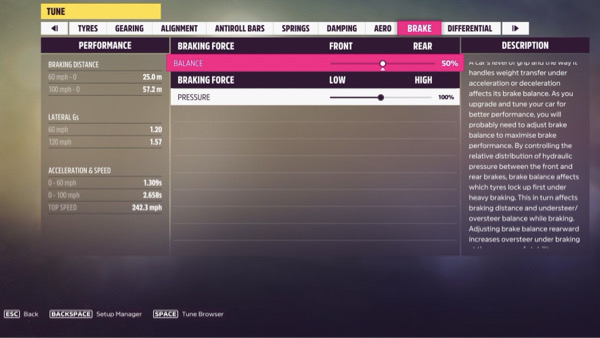 Simply put, this will affect your car's overall performance when braking. Split between front and back braking, front braking grants more power towards the rear brakes, with increased stability while steering the car towards understeer. Back braking will do the opposite, with more power towards the front brakes with a lean towards oversteer.
Differential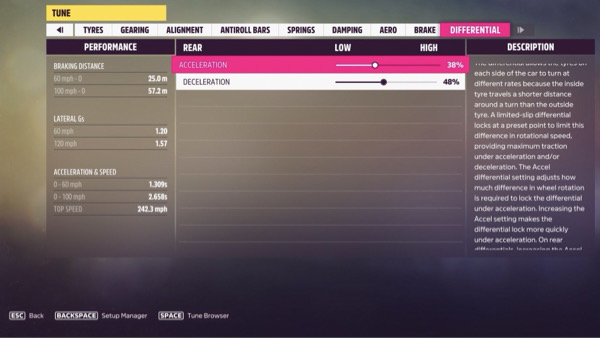 The car's differentials speak to how much power is distributed between the wheels. There are several options to choose from but this mainly depends on your car itself.
RWD cars will only have the rear differential setting, FWD cars will have the front differential setting and AWD cars will have both plus an additional option to control how evenly the power is distributed between both the front and rear differentials.
Forza Horizon 5: How to auto-tune cars?
While manual tuning allows players to make granular tweaks to their cars, auto-tuning is the complete opposite. Auto-tuning is best for those who don't have the time to learn about manual tuning or are not interested in spending hours finessing their car's performance.
Auto-tuning provides players with a selection of pre-tuned packages that have been created by the Forza community for others to install for their cars. If you like the pre-tune performance kit, it's yours to keep.
Additionally, each pre-tune kit comes with an adjustment graph for players to see how the kit will significantly enhance their car's performance. Not only is there pre-tuned kits from the Forza community but also from the developers themselves.
Don't forget to check out our Forza section for the latest news, updates, esports coverage, guides, leaks and more.
Featured image courtesy of Playground Games / Xbox Game Studios.