With the major 1.1 update on the horizon, miHoYo are adding new areas, characters, weapons and systems to the already impressively large Genshin Impact. One of those new systems is Reputation, which is designed to add extra depth to your interactions and ties with various countries and factions.
While we've known reputation was coming since the announcement of 1.1, miHoYo have now released more details about what the new feature entails. Here's how it's going to work - and how you can make the most of it!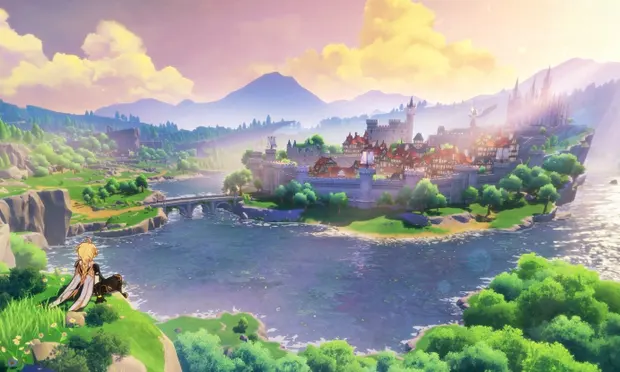 (Picture: miHoYo)
Genshin Impact Reputation Guide
What is Reputation?
"City Reputation" is a completely new system to Genshin Impact. By interacting with specific NPCs and completing quests for them, you will increase your Reputation with the city they're affiliated with. 
As your Reputation Level for different cities increases, you'll unlock some juicy looking rewards (more on that later).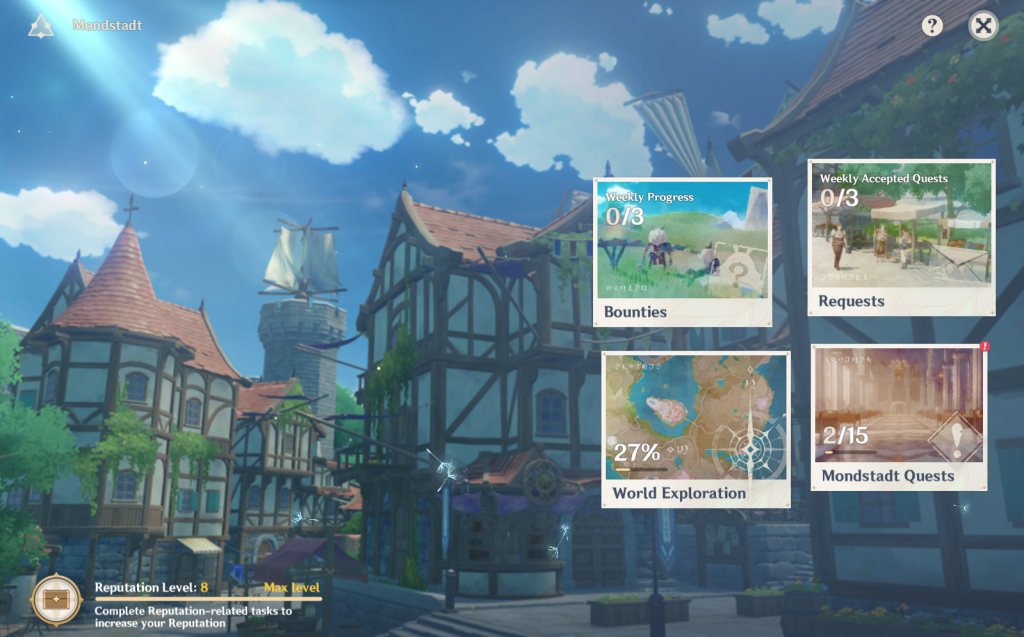 (Picture: moHiYo)
Unlocking Reputation
Here are the prerequisites for unlocking reputation in Mondstadt and Liyue:
Reach Adventure Rank 25
(Mondstadt) Complete the Archon Quest
"The Outlander who Caught the Wind" Prologue: Act I
(Liyue) Complete the Archon Quest "Farewell, Archaic Lord" Chapter I: Act II
You can check your Mondstadt Reputation by talking to the Knights of Favonius Coordinator, Hertha. Similarly, you can check your Liyue Reputation by talking to the Ministry of Civil Affairs Secretary, Ms. Yu. Remember, you can only check Reputation once you've unlocked it!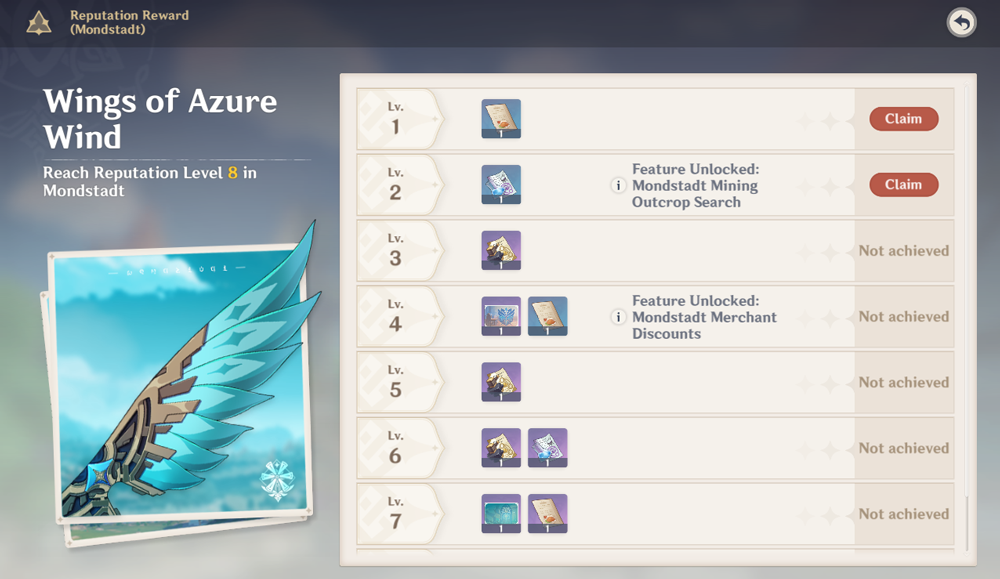 (Picture: moHiYo)
Increasing Reputation
There are four ways to increase reputation:
Region Quests: Complete "various" quests in each region to increase your Reputation in the affiliated city. Whether those quests are ones tied to the main story, or new quests is as yet unclear.
World Exploration: Open chests, hunt down Elemental Oculi, activate Waypoints… in other words, explore the map. That will mean a big initial boost to players who've already done this!
Bounties: Make like the Mandolorian and bring down specific targets in each region to increase your Reputation in each city. You can only complete three bounties each week across all cities.
Requests: Complete requests for local residents to up your Reputation in their city. There is a list of available requests that will refresh every Monday. Much like with bounties, you can only complete three requests each week across all cities.

 
Rewards
Doing your civic duty has its perks. As you increase your various Reputation levels, you'll receive some very nice rewards, some of which will be specific to each city.
Here's a few of the exciting ones:
Anemoculus and Geoculus Resonance Stone Blueprints
Struggling to track down those last few anemoculi/geoculi? Worry no more! This new item blueprint can be crafted once you hit Reputation Level 2 in Mondsatadt and Liyue respectively, and will show the rough area of unfound Oculi.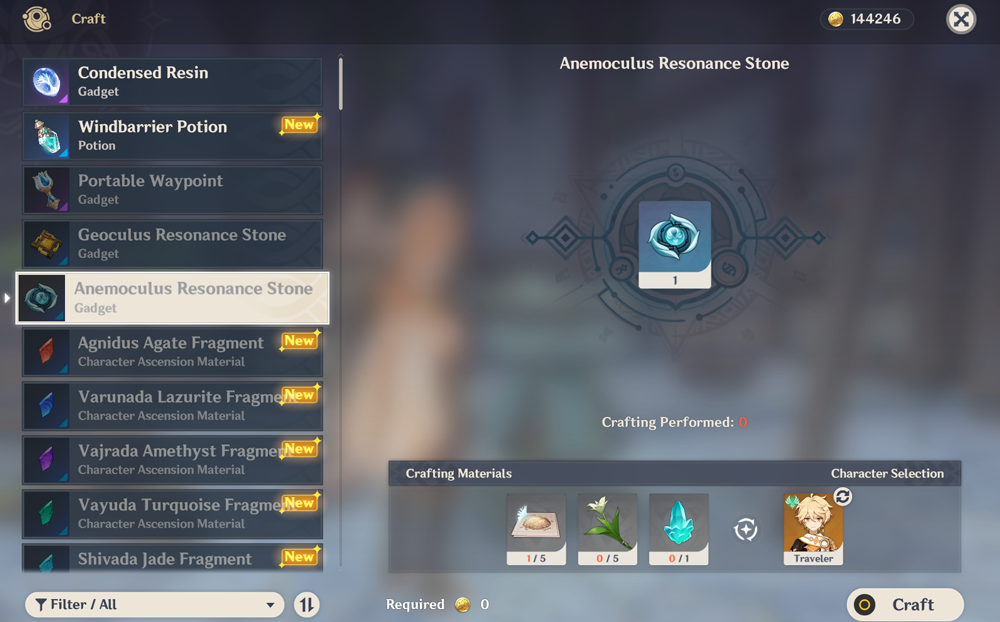 (Picture: moHiYo)
Wind Catcher
No more wishing you had Venti. You can now collect Anemograna (the little wisps around the Mondstadt area) and use them to create updrafts with this handy item. Reputation Level 3 in Monstadt needed to unlock.


Condensed Resin
An answer to your resin starved needs… sort of. Created by combining 1 Crystal Core, 40 Original Resin, and 100 Mora and unlocked at Reputation Level 3 in Liyue. A good way of saving Resin you wouldn't otherwise spend and making the most of overnight Resin regeneration.

An important time-saving aspect of this is that you can use a piece of Condensed Resin in place of Original Resin to get double the rewards from 20 Resin Ley Line Blossoms and Petrified Trees. That means you can spend 40 Resin in the time it would take you to do 20 normally!


Adepti Seeker's Stove
A portable stove! Rep. Level 5 in Liyue.
Portable Waypoint
A portable Waypoint! Teleporting has never been easier. Rep. Level 6 in Mondstadt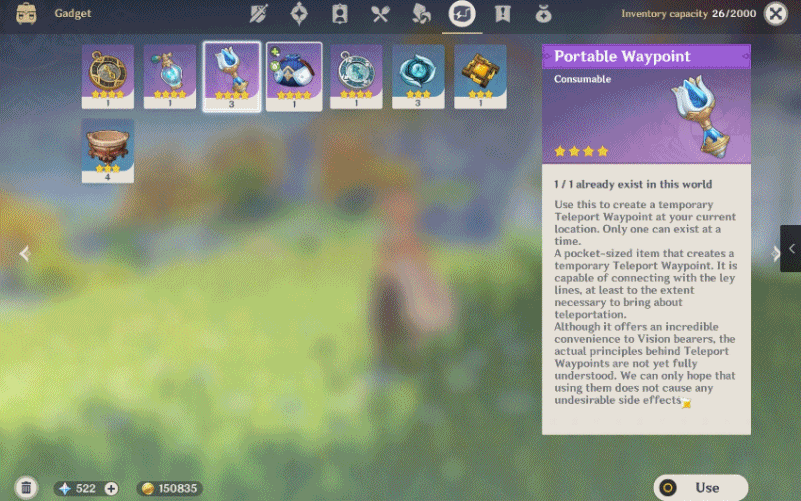 (Picture: moHiYo)
Anemo/Geo Treasure Compass
Compasses that will direct you to nearby chests in their given regions. Require Rep Level 6 in each city for Anemo and Geo Compasses respectively.
 
Merchant discounts
Discounts in Good Hunter and Mondstadt General Goods (Mondstadt Rep. Level 4) and Wanmin Restaurant and Second Life (Liyue Rep. Level 4).


Mining outcrop searches
Unlocked at Rep. Level 2 in each city, this feature reveals Crystal Outcrops for you to farm after talking to city blacksmiths. What's more, after reaching Adventure Rank 30, you will be able to mine new material Magical Crystal Chunks.
(Picture: moHiYo)

(Picture: moHiYo)
Wind Gliders
Hit Rep. Level 8 in each city to fly In Mondstadt or Liyue's signature style.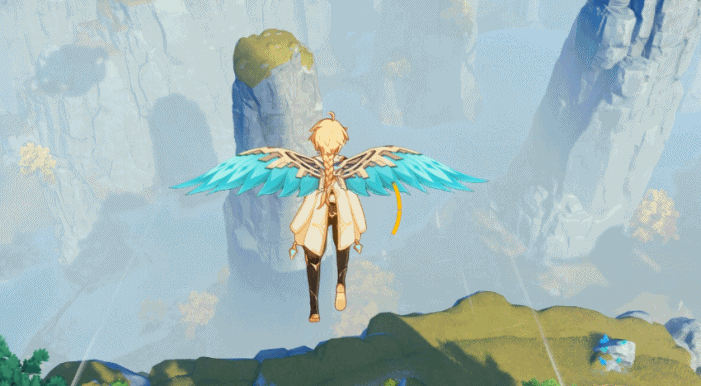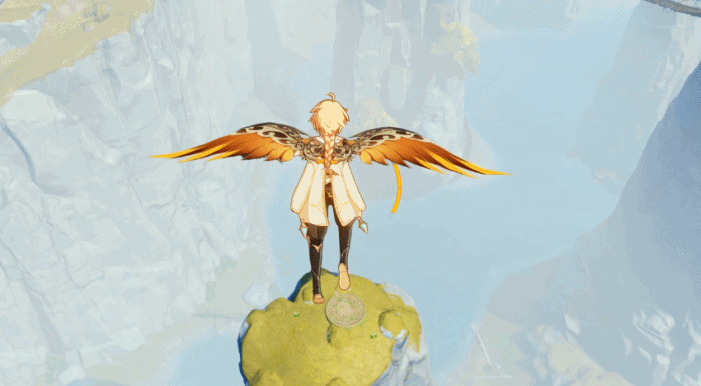 (Picture: moHiYo)
Patch 1.1 and the new Reputation System go live on 11/11/2020.