The newest Genshin Impact, "Of Drink A-Dreaming," event has finally commenced. This time around, Travelers are required to make special drinks and serve them to NPCs around Mondstadt. One of these drinks is Sweet and Sour Tea that players have to prepare in order to progress in the event.
Since HoYoverse hasn't given any instructions, players may face various challenges while preparing the drink. On top of that, finding the right ingredients to make Sweet and Sour Tea isn't an easy task. With that being said, here's the recipe for Sweet and Sour Tea in Genshin Impact.
Genshin Impact Sweet and Sour Tea recipe
After acquiring the role of a bartender in the Of Drink A-Dreaming event, you will see a huge list of ingredients on the screen. Travelers have to mix those ingredients to prepare drinks, and here's the recipe for Sweet and Sour Tea in Genshin Impact.
To start off, lemon juice is squeezed into tea with a slice of lemon slotted onto the lip of the cup as an ornament. The refreshingly sweet and sour taste really gets you going.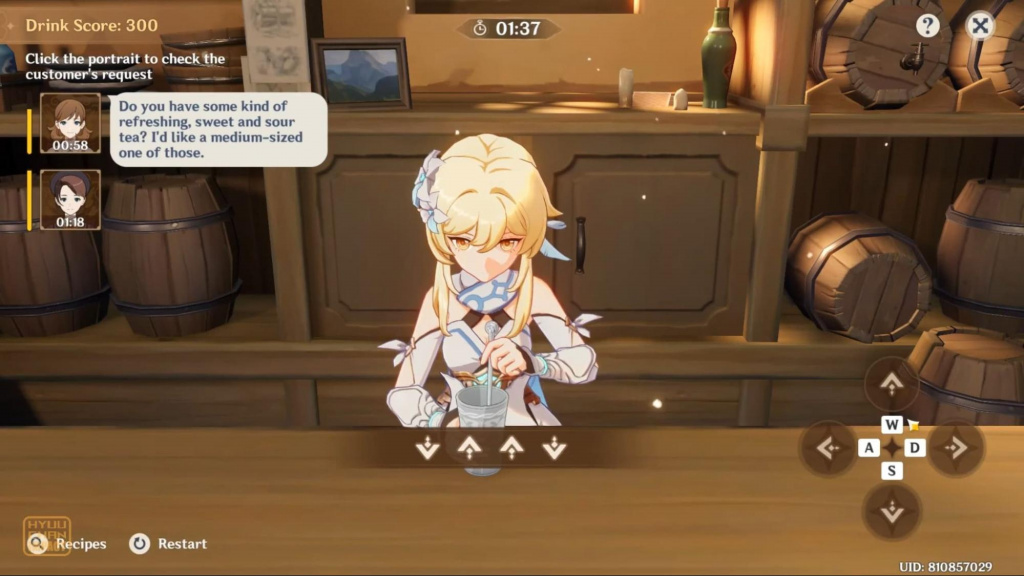 Once you mix up the Juice and Fizzy Water, you will then have to click the buttons displayed on the screen  [Down (↓), Up (↑), Up (↑), Down (↓)] in order to make the drink correctly. Finally, go to the Drink Archives/Recipes section and select Sweet and Sour Tea to serve it. 
Apart from the Sweet and Sour tea, players will be able to blend a wide variety of coffee, tea, and juice. So far, the Of Drink A-Dreaming event features a total of 21 drinks that eventually rewards you with an event name card.
However, like all Genshin Impact events, there are a few certain requirements that you must meet in order to partake in this event. The event requires you to be Adventure Rank 28 or higher. 
In addition to this, you have to walk through the Archon Quest Interlude Chapter: Act 1 – "The Crane Returns on the Wind" and Aphros Delos Chapter: Act 1 – "The Spindrift Shall Never Return to the Sea" (Eula's story quest).
Please note: The Of Drink A-Dreaming event runs until 21st March, so make sure that you grab all of the rewards before the deadline.
Don't forget to check our dedicated Genshin Impact section, where you can find all the news, guides, and previews you desire, as well as our Genshin Impact Twitter account.
Featured image courtesy of Hoyoverse.