For the first time since 2014, SK Telecom T1 will not be in attendance at the
League of Legends
World Championships. With wins in the 2015 and 2016 tournaments, as well as a runner-up prize in 2017, SKT have been one of the greatest League of Legends teams of all time, if not the very best. SKT have had a disappointing year in 2018, and following a lacklustre performance in the Summer Split Lee "Faker" Sang-hyeok and co. found themselves facing the gauntlet at the LCK regional qualifiers. With an opening series against Gen.G, it seemed SKT were always going to struggle, though there were signs of life and hope throughout the five-game series. The opening game saw SKT take a safe approach and beat out SKT, but momentum swung immediately back to Gen.G for game two.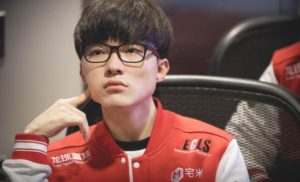 Then SKT took the lead in game three and it looked possible. Faker put in a strong performance as Irelia and the team ended up winning with 11 kills to Gen.G's zero. Up 2-1, it seemed SKT could potentially be taking down one of LoL's most formidable teams, the winners of the 2017 World Championships (though they played under Samsung Galaxy then). This vision of SKT's dream run began to take shape and really look possible in the opening minutes of game four, with the Korean icons taking on a dominant lead against their bitter rivals. However, moving into the mid-game Gen.G managed to muster a few kills and their skill shone through, ultimately taking the series to a nailbiting game five. Gen.G looked completely comfortable throughout game five and it was apparent from the off that, barring a miracle, they would be moving forward in the gauntlet. For what is the best team in the game's history, and Faker who has more fans as League of Legends' best player than many athletes could dream of, it's a little heartbreaking not to see them taking the stage in their home country. But now we get to see
new legacies being born
.