Finley "Kyb" Adisi is one of many new UK players to the
Overwatch League
. However, Kyb is not new to the competitive scene – having been on a myriad of teams like REUNITED and the British Hurricane as well the UK Overwatch World Cup team. As he enters the second season of the Overwatch League, Kyb will be playing for the Guangzhou Charge. We caught up with Kyb to talk about his unique position as a Westerner on a predominantly Korean and Chinese roster, what the Charge's comms are like, and the best UK player in the league. [caption id="attachment_107416" align="alignnone" width="600"]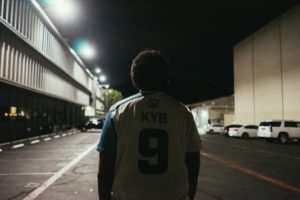 Credit: Guangzhou Charge
[/caption]
So you're a little bit of an anomaly. You're on a team that is predominantly Korean and Chinese. What has it been like to adjust to a very mixed culture team?
At the start I thought there'd be a lot of problems because we have four different countries; America, UK, China and Korea. Getting to the China bootcamp and moving to LA was as smooth as it could have possibly been, honestly.
I've been talking to a lot of teams that have mixed comms. Overwatch league has a lot of diverse teams, not every team is like Spitfire with one language. How do you guys do comms? Do you guys sort of use simple English? English, Korean, Chinese? Without giving away strats how does it work for you guys?
It's a mix of Korean and English, no other language. The Westerners on the team, myself and nero, are learning some of the Korean words and the rest of the team is also learning a lot of English. We don't have to learn the Korean, it just helps a little bit to understand when they do speak Korean.
You're from the UK. What would you say the UK Overwatch scene is like, especially the contender's scene, compared to like now that you're doing OWL stuff?
I haven't really had much experience in the UK Overwatch scene. I don't think it's, like, full-on serious besides maybe I-series. It seems very fun but it's just not that big there, I don't know why. If I had more time before I moved to LA I definitely would have checked it out but I didn't have any experience there.
What was it like doing the China bootcamps? I assume you've never done a serious bootcamp before.
I did have a one month long Korean bootcamp with my old team and one before but I guess this one was more serious because it's OWL. It was a lot of work but everyone came into it expecting that, as it was a boot camp. I think it went very well and we all bonded as teammates and friends. I think we're a very high level of skill.
You were on Laser Kittenz and Reunited. How would you describe those team atmospheres compared to the one you have now with the Charge?
My first team was Reunited and I think that team felt the most like a family. Just a bunch of friends playing the game, especially because all of my teammates have been playing together for many years in previous games, and me just running in there was so welcoming and comfortable for me. Laser Kittenz was the same. A lot of them were just friends that had played together for a long time. We got some new players which we also welcomed in. But I think this team feels more like a family than it ever has. Every single person is so nice, there's no toxicity at all and we all get along really well.
You're one of the expansion teams. Do you think, as an expansion team, you guys might be a little bit hungrier because you want to show up the original twelve?
Yeah, I definitely think so. I think a lot of teams are underrating us compared to the other expansion teams. I can't just wait to show them up.
Is there someone on your role in another team that you can't wait to put in their place?
I wouldn't say put in their place but I definitely want to play against LiNkzr and Eqo.
And is there a team you're chomping at the bit to get at?
I'd probably say Paris because I have so many EU friends and players on that team.
One of the other UK players, Kruise, is on that team. Who's the better Brit?
Me, of course.
Speaking of the other UK players: You, Boombox, Cruz and Fusions. Fusions looked NUTS on opening day.
Best Junkrat in the game.
Really?
No, but he's up there.
In one word, how would you describe the other UK players?
I think all the ones that got subbed out this year are very, very talented. I think a lot of them are being slept on in Season One-
Especially Kruise?
Yeah, certainly Kruise. And now seeing them all come up to the league, especially Fusions. If you watched him in 2018, he just went up and up and up. He just got so much better throughout the entire year and I definitely think he's one of the best tanks in the game right now.
Where do you guys see yourself finishing at the end of Stage One?
At the end of stage one? I think we can make playoffs and possibly win everything.
And then realistically, at the year end playoffs, are you guys gonna grow and be that top contender? Will you outshine Spitfire and Fusion?
I definitely think we have the potential but we'll just have to wait and see if we can reach that potential.
Finally, is there anything you want to say to your UK fanbase?
Well, thank you for the past two-to-three years. Every single person in the UK scene that has cheered me on and made sure I kept getting better as a player. I still have a bunch of UK friends back there. ME, FunnyAstro, they're great people, great players. I hope to see them in the League one day.