In the second mini Major for November following Latin America, the best European teams for Rainbow Six Siege will compete for qualification in the Six Invitational. 
To close out Stage 2 of the new revamped league, each region will have their own mini Major once again to earn a lofty prize pool and Six Invitational qualification points. 
So what do you need to know about November's mini Major for Europe? Here's a rundown of the teams, schedule and Twitch drops. 
What is the Six November Major for Europe? 
The top four teams from the European League Stage 2 will compete in the Six November Major for the region, which will take place online. 
Teams will compete in a double elimination bracket in a bid to become the best team for Stage 2 of the 2020 season, while also earning points to qualify for the global Six Invitational event next year. 
In Stage 1, it was BDS Esport who pulled off a reverse sweep against G2 Esports to take the August Major - but can they pull off a repeat performance? 
Which teams are competing?

Will BDS pull off the double? (Picture: Twitter)
The second stage sees some new teams qualify in comparison to the August Major, with big names like G2 Esports also failing to make it through. Here's a list of the teams for November.
BDS Esport
Team Empire
Tempra Esports
Virtus.pro
What is the prize pool for the Six November Major?
The total prize pool for the event is $125,000, which will be split across the four teams below. 
1st place: $62,500
2nd place: $31,250
3rd place: $18,750
4th place: $12,500
There's also Invitational points up for grabs, which will be distributed as follows. 
1st place: 510
2nd place: 390
3rd place: 330
4th place: 275
How do I register for Twitch drops and what can I earn?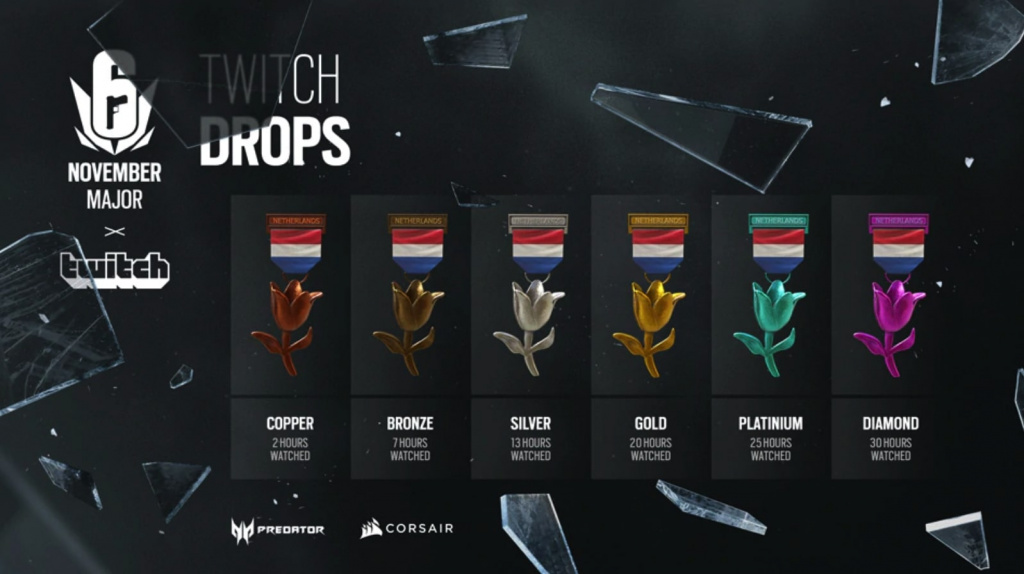 There's some new drops too (Picture: Ubisoft)
Like with previous events, this Major will also give players chance to earn charms through Twitch drops. 
There's a total of six charms which can be acquired, dependent on how long you spend watching Rainbow Six Siege tournaments across Twitch channels. 
Copper: 2 hours watched
Bronze: 7 hours watched
Silver: 13 hours watched
Gold: 20 hours watched
Platinum: 25 hours watched
Diamond: 30 hours watched
You can register for drops by heading here and linking Twitch account to your Ubisoft account, where you'll be then asked to opt-in to the drops feature. 
Rewards will automatically be added to your linked Ubisoft account. They're also available across all platforms on PC, PS4 and Xbox One. 
You don't even need a copy of Rainbow Six Siege to earn charms either, with the charms you've earned available if you purchase the game in the future. 
What is the schedule and when is the Neon Dawn DLC reveal?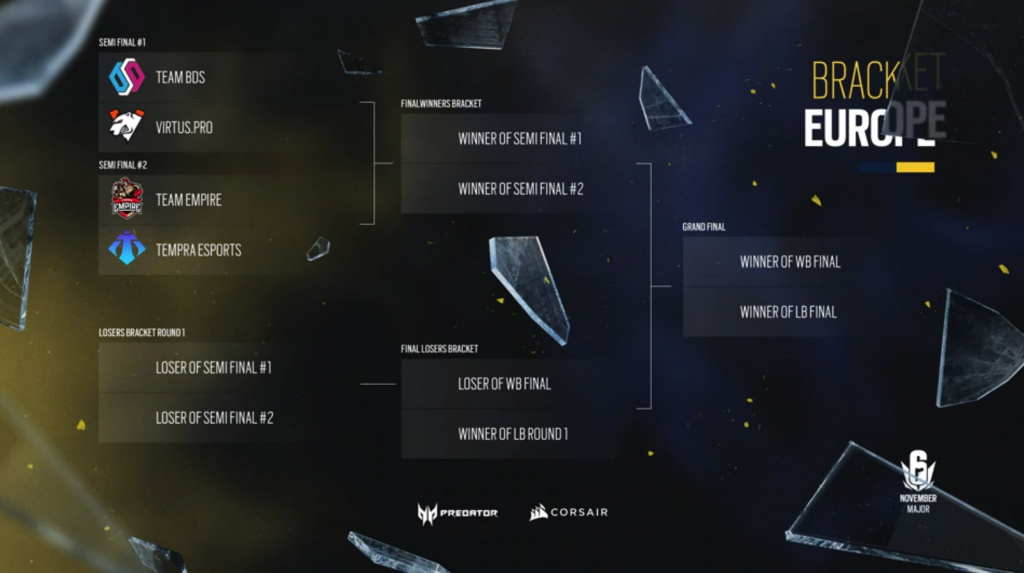 Here's the match schedule (Picture: Ubisoft)
The November Major will span three days starting on Friday 6th November and concluding with the final on Sunday 8th November.
The final day will also see the next DLC reveal Neon Dawn for Siege ahead of the final, so there's extra reason to tune in. 
You can check out the full schedule below. 
Friday 6th November
BDS Esport vs Virtus.pro - 1pm CET/12pm GMT
Team Empire vs Tempra Esports - 4pm CET/3pm GMT
TBD vs TBD - 8pm CET/7pm GMT
Saturday 7th November
TBD vs TBD - 4pm CET/3pm GMT
TBD vs TBD - 8pm CET/7pm GMT
Sunday 8th November
Neon Dawn DLC reveal - 5pm CET/4pm GMT
TBD vs TBD (final) - 5.30pm CET/4.30pm GMT
How can I watch the Six November Major for EU?
All the matches will be streamed on the Rainbow Six Siege Twitch channel.