Sea of Thieves is bigger than ever, with the switch to seasonal content, taken at the start of this year, proving a great way to push out timely and impactful changes to the game.
We've had Plunder Passes and a treasure trove of new content including a huge Pirates of the Caribbean crossover in Season 3.
Now sea-farers are getting ready for Season 5 and developers, Rare, has given us the first proper look at it, and, after a relatively lacklustre Season 4, the booty on offer here looks like the perfect way to get back on track and to see out the year.
If you can't be bothered to navigate the treacherous seas filled with piracy and scallywags called the internet for all the information about Sea of Thieves Season 5, then worry not, as we have collated everything you need to know about the game's next big update.
Sea of Thieves Season 5 - release date
Originally expected sometime in early January, Sea of Thieves Season 5 will be hitting the servers on 2nd December. 
Alongside new features and quests, there will also be a new Plunder Pass full of rewards to unlock.
Treasure maps, fireworks and flares, and much more
Season 5 will introduce a whole host of new content and quality of life features. 
Players will be able to bury all that loot and what's more, every time you do, you will get a custom treasure map so you will have no issue finding it after a few too many ports.
Other players will also be able to find your treasure if you allow them to do so. Players can add their treasure maps to the new Quest Boards, if a player finds it though -- don't worry --  as you get the value of it back when you return to the game in reputation and renown.
Another major addition is the arrival of fireworks and flares. Players will be able to purchase themed fireworks from the Merchant Alliance but it isn't all about the spectacle as flares can be used to light an island currently under the cover of darkness, making adventuring easier at night.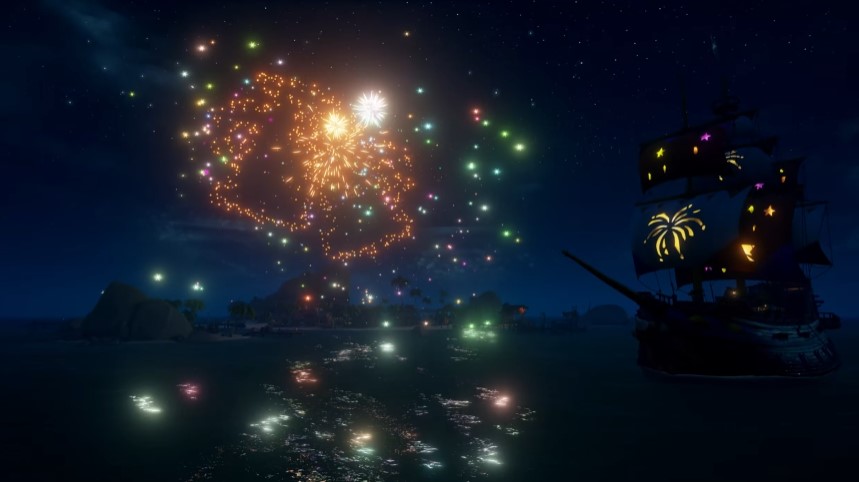 And perhaps because it is coming up for the festive season and many around the world will be getting some welcome time off from school and work, players will be able to relax much more in Season 5. From sitting down to having a nap, there are a number of new ways to kick back, relax, and chill when on the high seas.
Other new additions include cannon rowboats (they look as silly as they sound), brand new cosmetics, emotes, and shanties to learn.
Free rewards
As with every other season, there are over 100 levels of rewards to unlock. This season's reward includes a number of festive treats like the Bellbegrade clothing set, mistletoe fishing rod and snowbound ship lantern.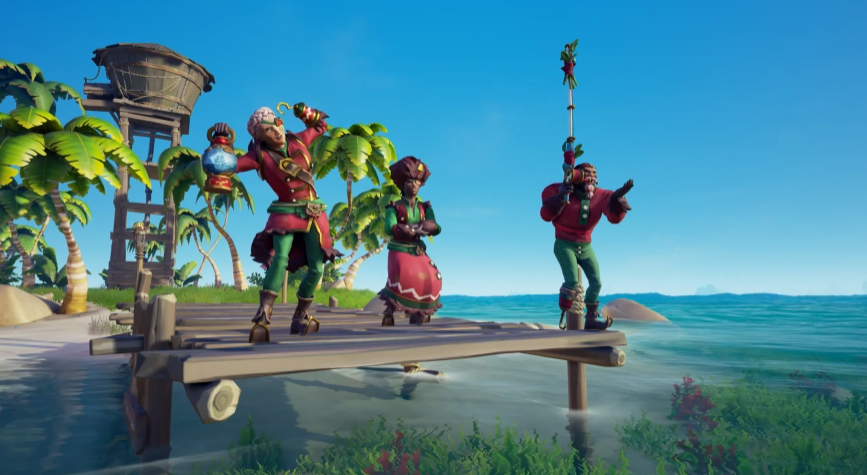 There is also an ancient gold flag and sails to unlock for your ship.
There is also the optional purchase Plunder Plass that offers the 14 Pirate Emporium items which include the Borea Aurora ship set.
Check back with us on Season 5's launch date as we will be bringing you all the latest news and guides for what is sure to be quite the adventure.
Featured image courtesy of Rare.