Since the release of
The Elder Scrolls V: Skyrim Anniversary Edition
, players once again exploring the rich and vast lands of Skyrim and its surrounding areas. Additionally, there were a few notable changes that made the game more immersive and engaging.
One of these new changes in Skyrim is the fishing mechanic for which players can enjoy a quaint afternoon by the river and catch the day's meal. So, we detail everything players need to know about fishing in Skyrim as well as the best fishing locations.
What is fishing in Skyrim Anniversary Edition?
The new fishing mechanic adds plenty of fishing activities and features for players to have a crack at. From fishing mini-games, fishing side quests and trophy furnishings for your home to proudly showcase your prized catches.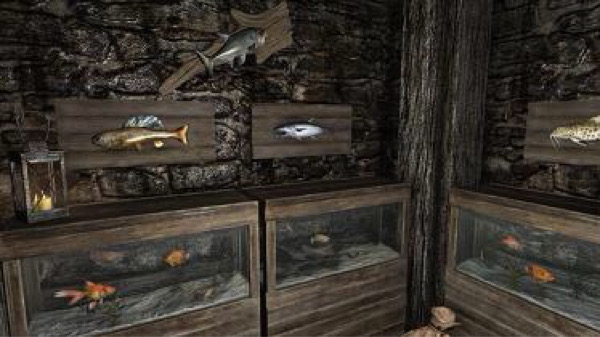 Players should note that not all rivers throughout Skyrim are fishing locations by default. Look out for fishing supply baskets near riverbeds which can tell players that the area is a suitable fishing spot.
As players are required to have the proper fishing equipment before fishing, they can use these fishing baskets to stock up on supplies. Additionally, you can find the local fishery near the Riften docks, outside of Ivarstead to buy the right equipment to start. 
How to unlock the fishing quest in Skyrim Anniversary Edition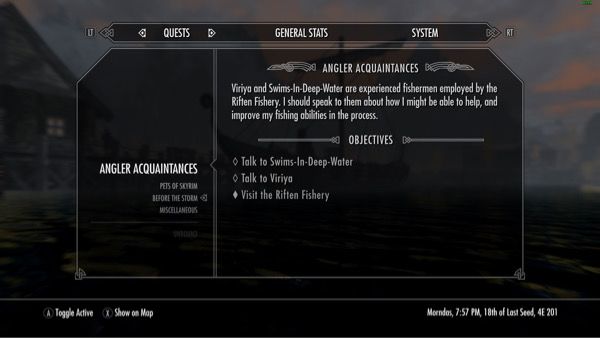 Before you can start fishing, a new quest will become available in your "Quests" tab once logged into the game. The "Angler Acquaintances" quest tasks you with a few objectives which include speaking to experienced fishermen to learn how to improve your fishing abilities.
Travel to the Riften docks and locate the town's fishery to find Viriya leaning against the building. After speaking with Viriya, she'll add the "In A Pinch" quest to your tab for which you'll need to catch a Juvenile Mudcrab and a Bounty document.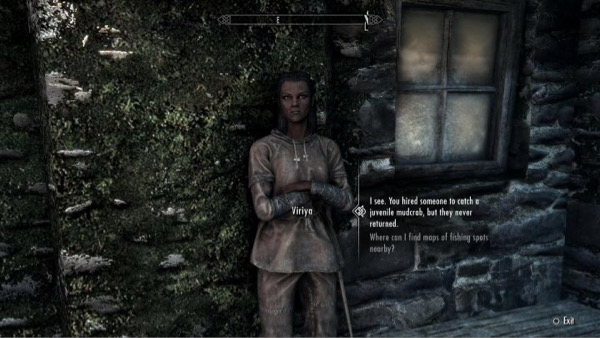 Read the document before going out to the nearby river to catch the crab before returning to Viriya. She'll award you with the Riften Fishery Key which opens the building that she leans against.
She will also provide you with another bounty document and the location of Belethor's Shop in Whiterun for more fishing information, supplies and maps.
Unlock the fishery door to find Swims-In-Deep-Water to know more about fishing. Swims-In-Deep-Water will add a quest, "Catch of the Day" to your Quests tab as well as an accompanying document.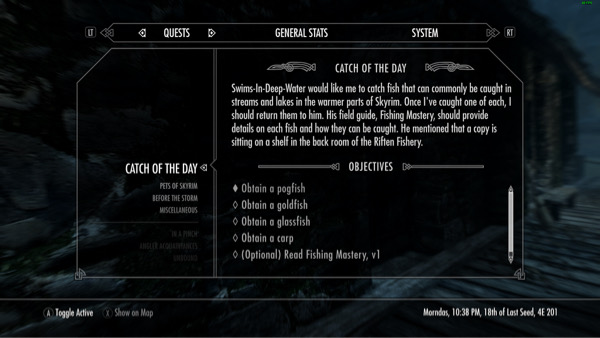 This document lists the various types of fish players will need to catch to complete the quest. They are:
Goldfish
Pogfish
Glassfish
Carp
You can also find the Fishing Mastery book which can be found in the next room where Swims-In-Deep-Water can be found. Enter the room using the door to the right to find the book.
This book will provide information on the fishing spots in Riften or alternatively you can locate the Pawned Prawn shop to purchase the area's fishing map.
How to fish in Skyrim Anniversary Edition
Once you have visited Swims-In-Deep-Water and Viriya, you  can travel to any of the fishing locations or locate the river near the docks by the Riften Fishery. Next, purchase some fishing supplies or find some near bodies of water, you will also need to equip a fishing rod, which can be found in your inventory labelled as a weapon.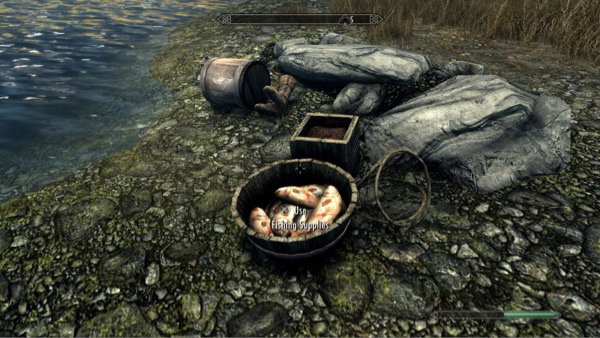 Find the interactive fishing supplies basket to cast your line out into the river or lake, then kick back and wait for a fish to bite. As you begin to see movement or splashes on the water bed, you'll be prompted to reel in your line and add the fish to their inventory.  
Fishing locations in Skyrim Anniversary Edition
Aside from the town of Riften, one of the first locations most players will have access to is the town of Riverwood. Even so, you will need to complete the Unbound mission to unlock the map of Skyrim.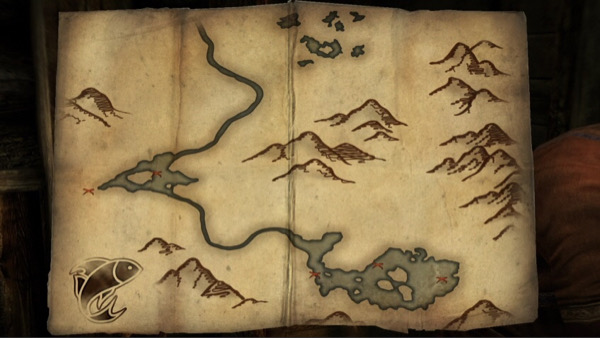 Another way of finding a fishing spot is to follow the rivers in Skyrim. Near rivers, you can find fish baskets, and as mentioned before, indicate a location that you can fish from.
You can also visit shopkeepers in fishing areas like Riften and Whiterun, where you can purchase fishing maps for 25 Gold, which add the location of three fishing spots to your map.
Skyrim players that don't have the Anniversary Edition of the game shouldn't fret if they wish to fish. The update is also available to players who currently own the Skyrim Special Edition and if you have the standard edition of Skyrim, there are plenty of fishing mods to enjoy.
Don't forget to check out our dedicated Skyrim section for the latest news, updates, guides, leaks and more.
Featured image courtesy of Bethesda Softworks.