It was a weekend jam-packed with incredible tense and hard-fought matches in the First Strike EU regional finals, with Team Heretics ultimately coming out on top to claim the first major event in Valorant's competitive scene for themselves.
Heretics' run was one for the books, as they kicked-off the quarter-finals by knocking out Team Liquid, despite an unbelievably unreal performance by CSGO veteran Adil "ScreaM" Benrlitom.
They'd pull a huge upset in the eyes of many fans by taking down G2 Esports in the semifinals, bringing that momentum to the grand finals versus SUMN FC.
SUMN was late to the party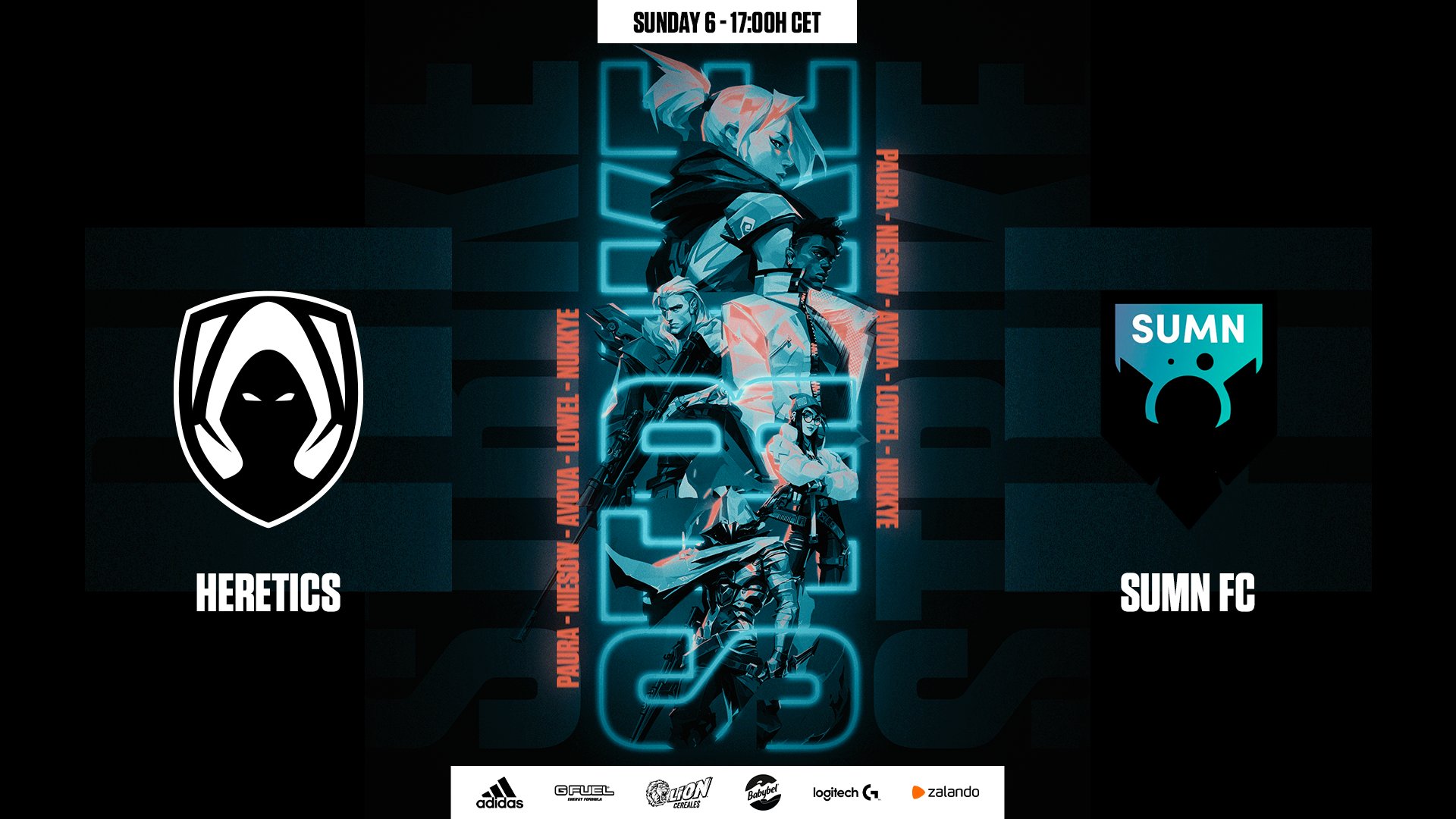 (Picture: Team Heretics)
There's no better way to describe the first map of the finals than simply calling it a speedrun. Heretics dismantled SUMN with an impressive attack half and completed the map with two easy defenses to secure the early lead 13-1.
ASCENT IS OURS.

We step up in the first map and we are 1-0!

📺 https://t.co/Zg8e98sYk7#VamosHeretics #FirstStrike pic.twitter.com/uACUqPKaVK

— Team Heretics (@TeamHeretics) December 6, 2020
SUMN threw a curveball at Heretics, not only taking them to Icebox but with a rarely seen Viper pick by James "Mistic" Orfila.
The gamble paid off with a 13-7 win to put SUMN on the scoreboard, sadly, with no more pocket strats up their sleeve, Heretics regained control and never let go -- they closed out the series with a 13-5 on Haven and 13-11 on Split to be crowned the EU First Strike winners.
niesoW, the MVP for Heretics
The German ace, Dustyn "niesoW" Durnas, had an extraordinary showing throughout the entire weekend, leading his team on almost every key stat.
243.9 ACS (Average Combat Score), 24% Clutch Success, 21 First Blood Kills. A star-making performance to ensure everyone remembers niesoW's name moving forward.  
First Strike Europe Standings and prize earnings
With Team Heretics' victory, this is how the bracket for First Strike Europe ends:
1st_ Team Heretics - $40,000
2nd: SUMN FC - $20,000
3rd-4th: G2 Esports and FunPlus Phoenix - $10,000
5th-8th: Team Liquid, Purple Cobras, Orgless, nolpenki - $5,000