UPDATE: 100 Thieves has been crowned as First Strike NA champions after beating TSM in the Grand Finals. Full results down below: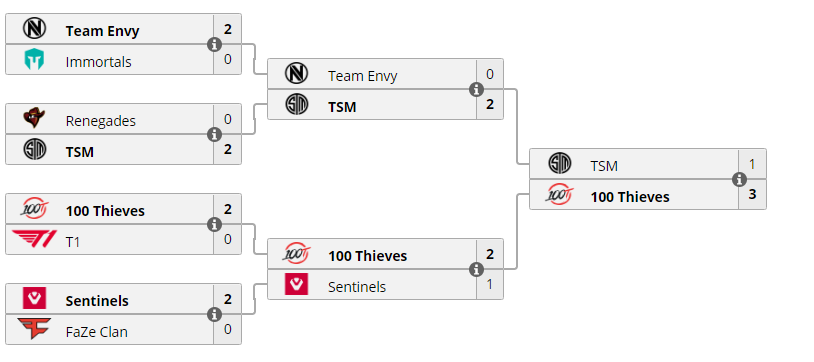 (Picture: Liquipedia)
The rapidly growing competitive scene of Valorant will soon have its first major tournament series, in the form of First Strike regional finals.
First Strike regional finals will crown the best teams across 10 regions all around the globe, and we will get the first regional Valorant champions, a truly prestige title.
This will also be a great insight into what can we expect in 2021, and how will be the strongest teams in the first-ever Valorant Champions Tour.
When it comes to First Strike North America finals, the competition is absolutely stacked, with some of the biggest and most popular esports organisations in the world fighting to become the first NA champions in Valorant's history.
We can expect to see some epic duels and intense games, so make sure not to miss the tournament.
Here are all the details about the event.
Valorant First Strike NA Schedule
North American regional finals scheduled for Thursday, 3rd December and it will last up until Sunday, 6th December.
The exact starting times are yet to be revealed.
3rd December: Quarterfinals
4th December: Quarterfinals
5th December: Semifinals 
6th December: Grand Final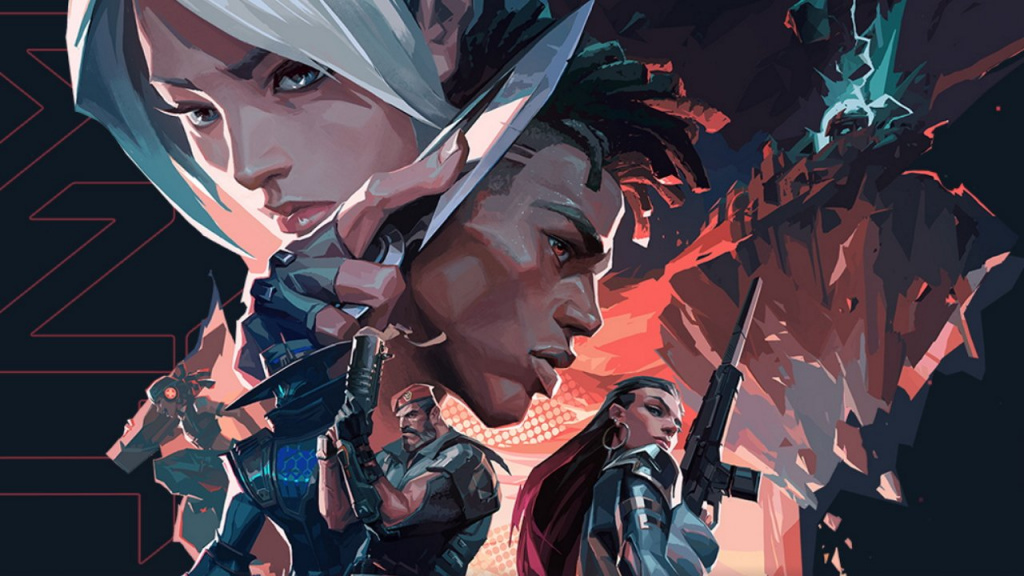 (Picture: Riot Games)
Valorant First Strike NA Format 
Eight teams will play in a single-elimination bracket tournament.
I quarterfinals and semifinals teams will play Bo3 matches, while the Grand Final will be a Bo5 match.
For more information, please read complete First Strike Competition Rules here.
You can see the tournament bracket below: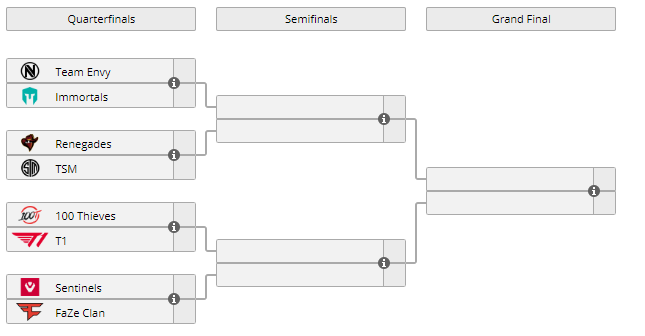 (Picture: Liquipedia)
Valorant First Strike NA Teams
Team Envy
food
crashies
FNS
mummAy
kaboose
100 Thieves
hiko
nitr0
steel
Asuna
dicey
Renegades
retrQ
CP2
Winsum
randyySavage
Berghy
Sentinels
ShahZaM
SicK
sinatraa
zombs
dapr
TSM
reltuC
hazed
Wardell
Subroza
drone
FaZe Clan
corey
ZachaREEE
Marved
babybay
Rawkus
T1
brax
AZK
Skadoodle
DaZeD
Spyder
Immortals
Genghsta
jcStani
Jmoh
neptune
ShoT_UP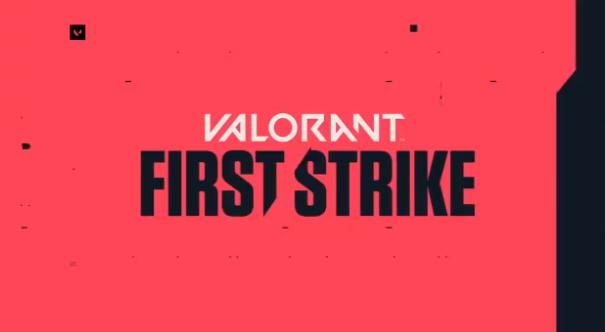 (Picture: Riot Games)
Valorant First Strike NA Prize Pool
The tournament boasts $100,000 USD prize pool, which will be split amongst teams as follows:
1st place: $40,000
2nd place: $20,000
3rd-4th place: $10,000
5th-8th place: $5,000
Valorant First Strike NA Stream: How to watch
The event will be broadcasted live on the official Valorant Esports NA Twitch channel.
Alternatively, you can watch the tournament on the official Valorant Esports NA Youtube channel.