Do you have fast reflexes? Have you ever wanted to become a Ninja? Then 10 Second Ninja X is for you, and you can claim this free game on Steam right now.
If you take advantage of this free game offer before it expires, 10 Second Ninja X will be yours to keep forever.
10 Second Ninja X for free
All you need to do to get this free game from Steam is to head on over to the 10 Second Ninja X Steam page, and add it to your library.
There are no strings attached, so if you claim it before 28 May 2020, it is yours to keep and play at your leisure.
10 Second Ninja X is a hardcore sidescroller, developed by Four Circle Interactive and published by Curve Digital. 
It puts you in the robes of a ninja, tasked with killing all enemies on a level in 10 seconds or less. The game is exhilarating, and it can be played in short bursts, testing your reflexes.
A description of 10 Second Ninja X reads: "10 SECOND NINJA X is a shockingly fast, overwhelmingly intense action/puzzle game. In this thumb blistering sequel, the nefarious Captain Greatbeard has kidnapped you and trapped your forest friends inside of his army of robots like some kind of psychopath. 
"Greatbeard doesn't think you're the fastest ninja who ever lived - he is WRONG. Destroy all of Greatbeard's robots in each level in ten seconds or less. Be fast enough to get the coveted three-star rating in each."
"Fight through 100 levels, explore Greatbeard's airship, discover secrets, climb the leaderboards and show everyone what it means to be THE FASTEST, COOLEST HERO EVER."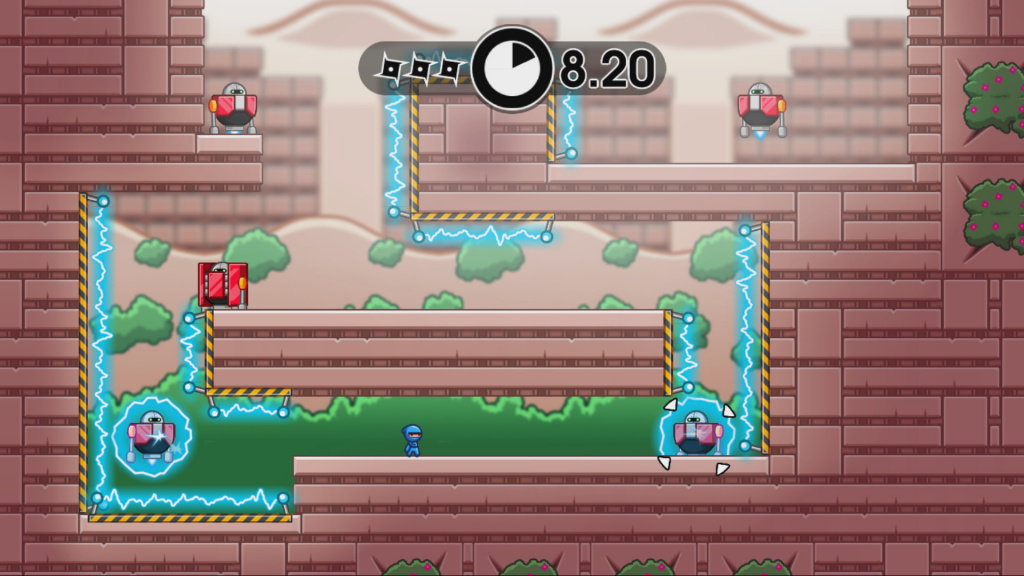 Eight seconds left to kill those robots (Picture: Curve Digital)
10 Second Ninja X features:
100 thumb blistering, mind bending levels over 11 game worlds
11 "Marathon Modes" with back to back ninja madness
Player ghosts and unlockable ghost hints for the trickier levels!
Explore the magnificent Greatbeard's ship in the retro styled hub.
Online leaderboards for every level!
Hidden minigames - with a 100% chance of Nun themed mayhem.
8 different character costumes to unlock and play
If you need more convincing to pick up a free game on Steam, then check out the 10 Second Ninja X trailer below.