Colouring in ARK: Survival Evolved is used to customize structures and items with various colours. Almost everything can be coloured, including building parts, flags, armour, saddles, weapons, as well as living creatures (including players) and Robot Creatures.
Any dye is crafted in a Cooking Pot or Industrial Cooker.
All recipes use this as a base:
1  Water Jar,  Waterskin or  Canteen filled to 25% or more or being connected to a water source in the  Industrial Cooker.
2 ×  Charcoal or 1 ×  Gunpowder or 1 ×  Sparkpowder

When you place the ingredients in the cooking pot or the industrial cooker, and light/turn on, you must allow the items time to cook. Each batch of ingredients cooks 5 dyes.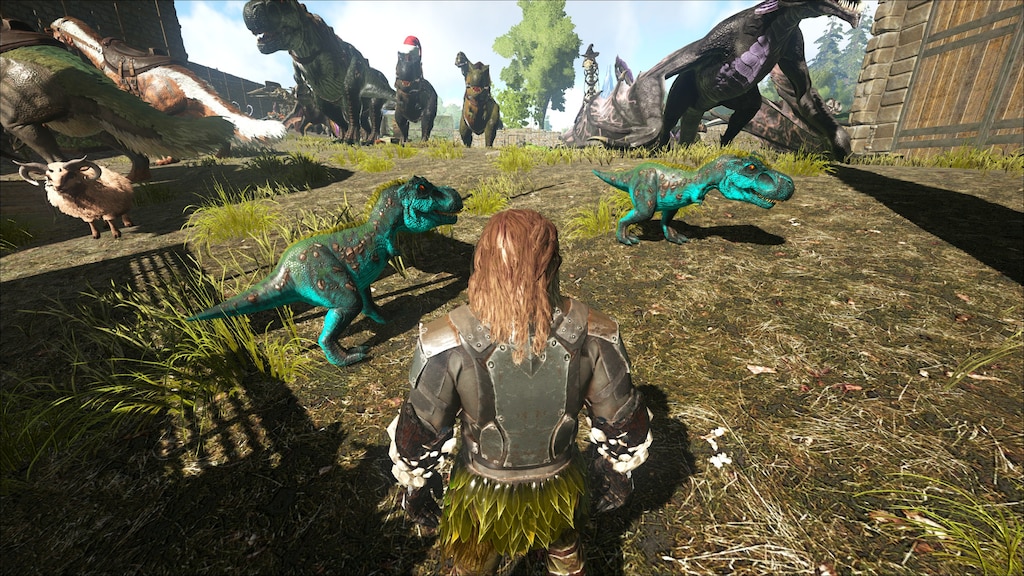 (Picture: Studio Wildcard)
There are 25 different Colorings, and a number of berries depending on the desired colour as listed below.
Color
Berries Required
Black

15 Narcoberry
2 Charcoal
Water

Blue

15 Azulberry
2 Charcoal
Water

Brick

12 Tintoberry
6 Narcoberry
Sparkpowder
Water

Brown

6 Amarberry
3 Azulberry
9 Tintoberry
2 Charcoal
Water

Cantaloupe

7 Amarberry
7 Tintoberry
4 Stimberry
Sparkpowder
Water

Cyan

6 Amarberry
12 Azulberry
Sparkpowder
Water

Forest

7 Amarberry
7 Azulberry
4 Narcoberry
Gunpowder
Water

Green

9 Amarberry
9 Azulberry
2 Charcoal
Water

Magenta

9 Azulberry
9 Tintoberry
Sparkpowder
Water

Mud

4 Amarberry
1 Azulberry
7 Tintoberry
6 Narcoberry
Sparkpowder
Water

Navy

12 Azulberry
6 Narcoberry
Sparkpowder
Water

Olive

12 Amarberry
6 Narcoberry
Sparkpowder
Water

Orange

9 Amarberry
9 Tintoberry
2 Charcoal
Water

Parchment

12 Amarberry
6 Stimberry
Gunpowder
Water

Pink

12 Tintoberry
6 Stimberry
Gunpowder
Water

Purple

9 Azulberry
9 Tintoberry
2 Charcoal
Water

Red

15 Tintoberry
2 Charcoal
Water

Royalty

7 Azulberry
7 Tintoberry
4 Narcoberry
Gunpowder
Water

Silver

6 Narcoberry
12 Stimberry
Gunpowder
Water

Sky

12 Azulberry
6 Stimberry
Gunpowder
Water

Slate

12 Narcoberry
6 Stimberry
Sparkpowder
Water

Tan

4 Amarberry
1 Azulberry
7 Tintoberry
6 Stimberry
Gunpowder
Water

Tangerine

7 Amarberry
7 Tintoberry
4 Narcoberry
Gunpowder
Water

White

15 Stimberry
2 Charcoal
Water

Yellow

15 Amarberry
2 Charcoal
Water