One of the hallmarks of any Mario Golf entry is the various courses that players can spend their time on chasing and hitting balls. In Super Rush, the story is no different, as Nintendo has offered up six different courses at the game's launch.
These six courses are all fairly varying in terms of difficulty and appearance, giving players a decent spread to pick from. Of course, not all of these courses will be available from the get-go. At the start of a new copy of Mario Golf: Super Rush, players will only have access to a couple of courses. The rest are unlocked through playtime but how can you specifically unlock each one? That's what we're here to go over.
Unlocking each course in Mario Golf: Super Rush
Before any player boots up a match in Super Rush, they'll have two courses to pick from. These will be outlined easily so you can view which ones they are but more importantly, you can see which ones you need to unlock. However, some players might miss how to unlock each individual course.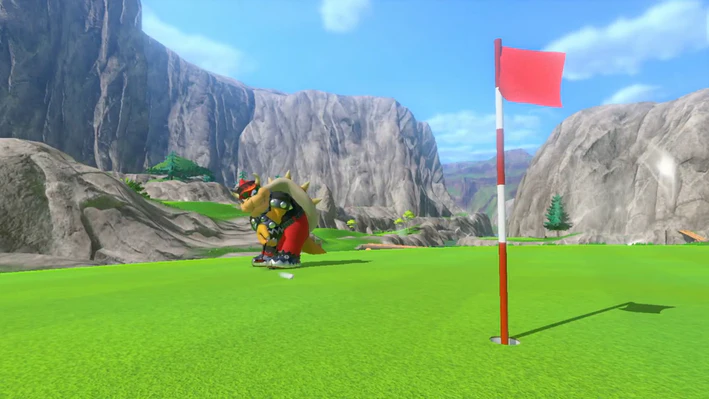 One of the courses in Super Rush. (Picture: Nintendo)
Below, you can see the names of all six courses and how to unlock each one in Mario Golf: Super Rush.
Rookie Course: Unlocked at the start
Bonny Greens: Unlocked at the start
Ridgerock Lake: Complete 18 holes on Bonny Greens
Balmy Dunes: Complete 18 holes on Ridgerock Lake
Wildweather Woods: Complete 18 holes on Balmy Dunes Lake
Bowser Highlands: Complete 18 holes on Wildweather Woods
As you can see, simply completing 18 holes on the course prior to the one you're trying to unlock currently. Also, you don't need to complete the 18 holes in one single match; you can, for example, do a quick 10 holes and then come back at a later time to do eight more. As long as you do 18 holes, no matter which ones, then the next course will unlock.