The CEO of 100 Thieves, Matthew "Nadeshot" Haag, is finally "paying up" after he lost a bet to fellow 100 Thieves member Froste. Back in February 2021, Froste asked Nadeshot how many retweets it would take on a "Sex is temporary, gaming is forever" tweet before Nadeshot gets a tattoo of the quote.
After Nadeshot said "100,000" the tweet exploded, with various organizations and content creators jumping in to make it happen. Nadeshot lost, hard, and now, he has revealed where he will be getting his tattoo after getting decimated in the bet.
Nadeshot's new tattoo follow Froste bet
Nadeshot revealed on Twitter that he got the tattoo stencil, and it appears to be on the neck of the famous 100 Thieves CEO.
Nadeshot explained: "Just got the stencil on, time to make this permanent. I hate you, Froste. Keep in mind we haven't seen an image of the actual tattoo and this is just a stencil so far, which means Nadeshot might still change his mind and not get a neck tattoo...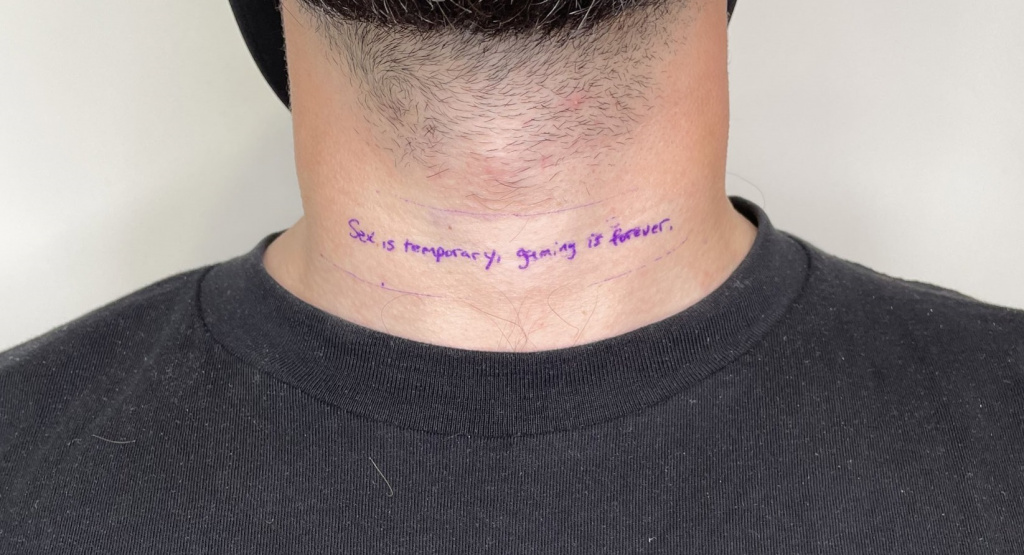 (Picture: Nadeshot)
This is all due to a Twitter bet, as we've explained earlier, and even the official Twitter Gaming is keeping track of Nadeshot's tattoo progress.
Froste, which won the bet against Nadeshot, said that: "Today is the best day of my life. The birth of my firstborn child just became the 2nd most important day of my life."
At the time of writing, Nadeshot has not yet revealed how the tattoo on his neck (probably) looks.
The video above from 100 Thieves will catch you up on exactly what transpired for Nadeshot to get a "Sex is temporary, gaming is forever" tattoo on his neck.
We will update this article with some more images once Nadeshot showcases his neck tattoo.