Rumours about Grand Theft Auto 6 and Bully 2 have been swirling around the internet for many months now as the upcoming titles for famed developer Rockstar Games. Now, it looks like the new game from Rockstar might just be an open-world VR experience.
New game from Rockstar
Australian developer Video Games Deluxe, who is responsible for L.A.Noire: The V.R. Case Files, is hiring for a new game developed for Rockstar, and it is a "ground-breaking" AAA open-world VR title.
Read more: PS5 owners will get enhanced GTA V for free at launch
Video Games Deluxe is still putting their team together, hiring multiple personnel for this new Rockstar Games title.
This was revealed via a post from the developer's LinkedIn page, explaining: "Having finished the critically well received L.A.Noire: The V.R. Case Files we are now gearing up for a new project, a AAA open world title in VR for Rockstar.
"2020 marks our 7th year of working exclusively for Rockstar in Sydney and we are excited to taking on this ground breaking project."
In case the LinkedIn post goes down before you see this article, you can view a screenshot of it below.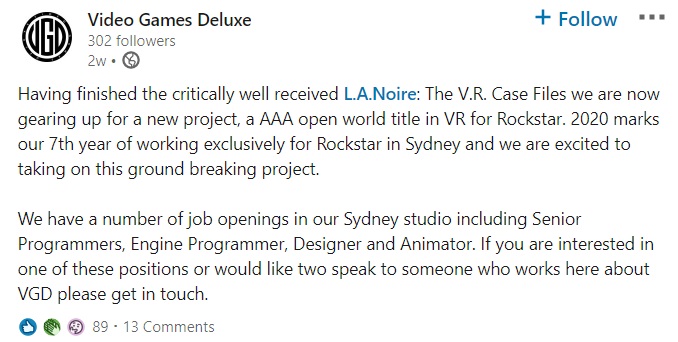 The LinkedIn post talking about a new Rockstar game (Picture: LinkedIn)
At the time of writing, there is no telling what this new game from Rockstar and Video Games Deluxe will be. It could be some kind of spinoff from the Rockstar Games franchises, or even a completely new IP.
While you wait for Rockstar to reveal more about the upcoming VR project, you can always spend some time watching the latest episode of our Lockdown video series.