The partnership between Hi-Rez Studios and Twitch continues this December with a bunch of rewards for players of their popular games.
If you are a fan of Rogue Company, you can get Nuclear Winter Weapon Wrap free through Prime Gaming, and if you love Paladins, there are plenty of goodies for you as well!
After four years, Evil Mojo Games' objective-based team first-person shooter is still one of the most popular f2p class-based shooters, with millions of players around the world having fun with the game's wacky characters.
If Willo, the faery of the Summer Court, is your favourite champion, then you will be happy to hear that her Firecracker skin will be once again available, this time through Prime Gaming.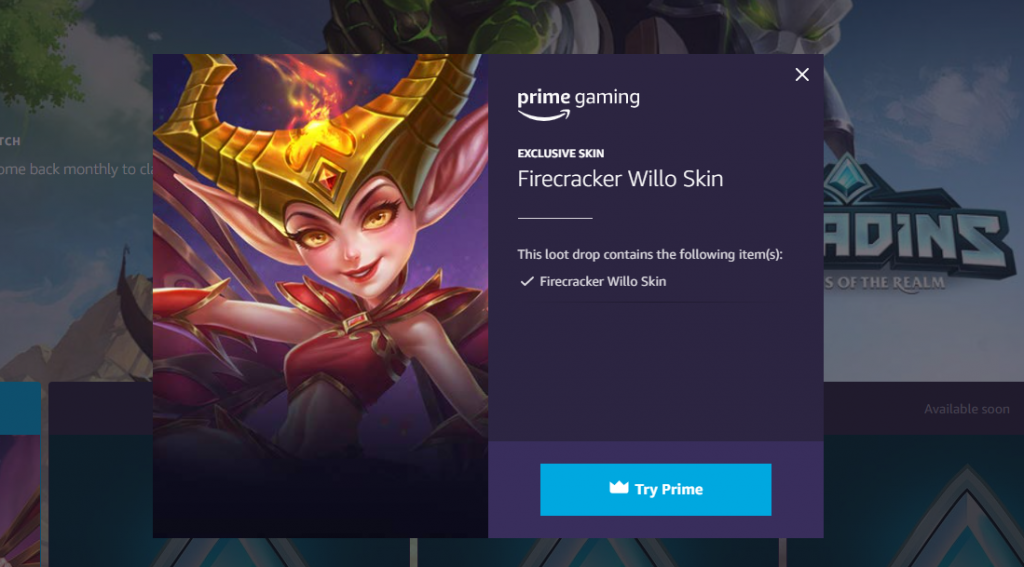 Firecracker Willo (Picture: Amazon/Hi-Rez Studios)
Firecracker Willo was removed from all chests back in September of this year, and players were not sure why Hi-Rez has decided to remove this skin, but now she's back, as a Prime Gaming exclusive skin, and it's a perfect chance to grab it!
The skin will be available from 30th November up until 30th December 2020, so make sure to use this opportunity and claim the skin, because the skin will not be available by other means.
How to get Paladins Prime Gaming Loot?
The system is really simple.
You'll need Prime Gaming membership which is free for a month, so you can get this skin free!
Go to Prime Gaming and click on "Try Free".
Link your Hi-Rez Studios and Amazon accounts here. 
Console users - be sure to link your Xbox, Playstation 4, and Nintendo Switch accounts there too.
When all is done, click the blue Claim button on the Paladins offer page and enjoy your exclusive Paladins skin!
This is just a first of many monthly rewards awaiting Paladin players through Prime Gaming, so make sure to check every month Paladin's Prime Gaming page to see what other new loot awaits you.