While Streets of Rage isn't exactly known for finger-bending complexity, levels can still be extremely tough despite its simplistic design. 
There's varying levels of difficulty in Streets of Rage 4 too, with later levels requiring nimble skills and a constant awareness of the enemy swarms in the environment to earn the top 'S' ranks.
So what will help in your battles on the streets? Here's some essential tips if you're looking to try out Streets of Rage 4. 
Use the walls to build combos
Streets of Rage rewards more points for higher combos, although they can be tricky to maintain when you're faced with enemies from multiple directions. 
A key to keeping combos high is to manoeuvre (or use throws) so enemies are on one side, before smacking them against the sides of the screen which will allow you to chain more hits from the ricochet. 
This is also especially useful in some boss encounters where landing hits is especially difficult - so you should always be looking to smash enemies into the screen parameters wherever possible.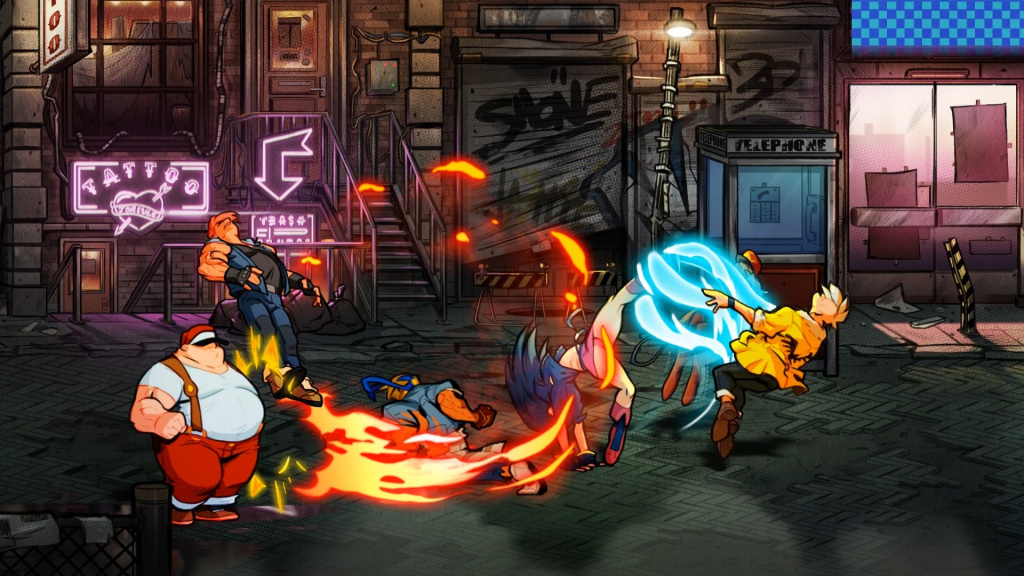 Smack enemies into the walls to stack combos and damage (Picture: Lizardcube) 
Jumping will save you from scrapes
It may seem obvious but jumping around is the quickest and most reliable tactic to avoid blows from enemies - especially when you're surrounded from all sides. 
An opening dropkick into fights is a great method of clearing the field, although watch out for enemies who may uppercut your advances if your timing is off. 
Depending on which character you choose, combining jump with Cherry or Adam Hunter's super moves also serve as excellent sweeps for clearing enemy clusters. 
Remember some moves cannot be blocked
It's important to remember some moves cannot be blocked or interrupted by enemies, like the defensive special, grab throws or air special attacks.
These moves are especially useful as evasive manoeuvres to counter strong attacks in boss battles, with a quick trigger of a defensive special during homing or sweeping attacks across the screen providing you with a security blanket if you can't move out the way. 
Using weapons like throwing knives or batons are also effective ways to block and counter incoming attacks, as well as knocking back enemies.
 
Keep some special moves up your sleeve to counter attacks (Picture: Lizardcube) 
Always check for destructible objects
In Streets of Rage 4, destructible objects are often littered around the screen - although it's not always clear exactly what can and cannot be busted open. 
It's always best to double check as boxes can be stashed just out of sight, giving you vital health pick-ups or money which contributes towards gaining extra lives. 
Even if you don't need health items too, they contribute towards your score - so it's always worth sweeping the levels for anything you can find as you cannot return later. 
Burning special moves isn't always the best option
When your final score is calculated, you're assigned additional bonuses for finishing levels with high amounts of health and for any stars you haven't used on special moves. 
In later levels, it's tempting to stash your special star moves for an end of level boss and unleash fury - although holding back and simply not using them at all will net you a big boost in points which affects your overall grade. 
It's not exactly the fun way to play Streets of Rage, but it'll give you extra bragging rights on the leaderboards.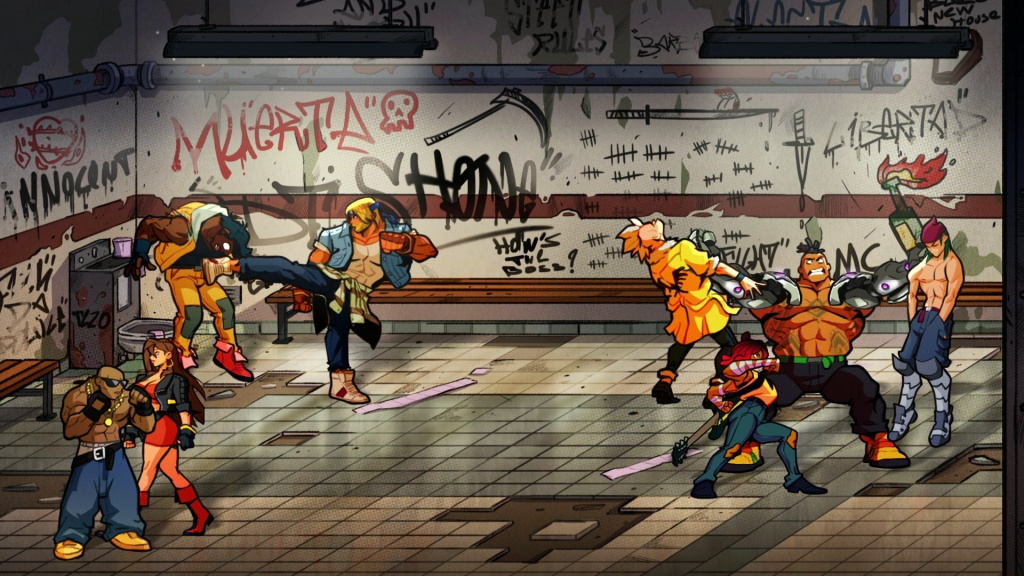 Find a character to match your style (Picture: Lizardcube) 
Find a character which matches your play style
There's four characters available when you boot up Streets of Rage 4, all with varying abilities and strengths designed for different styles of play. 
Axel Stone is an all-rounder, although his long super combos and weak jump abilities can make him tricky for quick getaways. Blaze Fielding and Cherry Hunter are better options for speed and versatility, although the latter has especially weak attacks. 
Floyd Iraia is arguably the hardest to use due to his slow speed and high powered attacks, although he can be deadly in a co-op scenario. 
There's other characters you unlock too throughout Streets of Rage 4, so it's important to find who matches your style best. 
Streets of Rage 4 is available on PlayStation 4, Nintendo Switch, Xbox One and PC.