Finding Brewster's location in
Animal Crossing: New Horizons 2.0
is one of the tasks players will have to do in order to unlock The Roost café, one of the numerous new features added with the ACNH 2.0 update.
The café arrives with the version 2.0 update for Animal Crossing: New Horizons, which is completely free for all players who own the base game, and all you need to do is to download it on your Nintendo Switch.
Make sure that you have the latest version of the game, and if you have, you are ready to find Brewster and start enjoying quality time spent in The Roost.
Here's a full guide on how to unlock The Roost and where to find Brewster.
Unlocking The Roost in Animal Crossing: New Horizons 2.0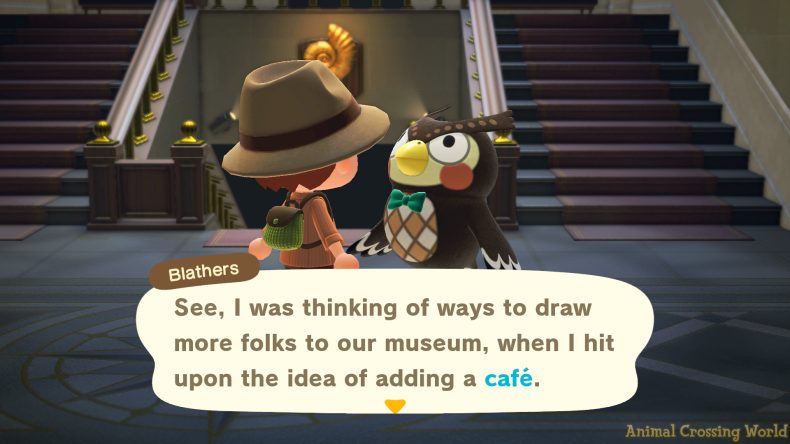 If you are impatient to drink some hot beverages in The Roost, you might be disappointed to learn that although free, this nice and cosy café will not simply appear out of nowhere on your island, rather you will have to complete a series of requirements if you want to unlock The Roost.
Once unlocked The Roost will come as a part of the Museum, so if you want to have it unlocked, you will need to speak with Blathers, who will task you with a new quest.
To kick off this quest, head to the Museum and find Blathers, then start a thinking sequence, but before that, you should know that there are several prerequisites which you will need to fulfil in order to trigger the thinking sequence.
These conditions need to be met if you want Blathers to start talking about a café with you:
You need to be the primary player on an island
You must play alone (no visitors, no co-op)
Your Museum should be upgraded to include the Art exhibit
The K.K. Slider unlock process needs to be completed
Gift at least one Fossil, Fish, Bug, and piece of Art.
The thinking sequence will not trigger during the International Museum Day event.
Yeah, it's not exactly a short list, but if you are a seasoned player, you probably have all these requirements ready, and now Blathers will want to talk with you about the lovely little café idea.
Upon completing the conversation, Blathers will ask you to find Brewster, a smoothly dressed pigeon who will eventually work as a friendly bartender in your café.
Brewster location in Animal Crossing: New Horizons 2.0
Now all that has left is to find Brewster the pigeon. In order to achieve that, you will need to meet with another returning character added with the 2.0 update, Kapp'n the turtle, one of the staple characters in the series, who has now returned to once more offer us his transportation services.
He is rather easy to spot, you will find him at your island's pier. Interact with him and pay him 1,000 Nook Miles and he will take you on one of his boat tours to a Mystery Island.
Once there, just search for our pigeon friend, you will eventually see Brewster wandering around, wearing one of those easily recognisable explorer outfits.
Speak to Brewster and he will grant you a Gyroid Fragment with some unique properties! Make sure to search around the island before returning, as there are more Gyroid Fragments to find.
Now what you need to do is to return to the Museum, speak to Blathers about your adventure and inform him of your discovery. He will be delighted to hear about it and announce plans to build The Roost café.
Once the process starts, the Museum will be closed for a full in-game day and The Roost will be solemnly opened the next day. And there you have it, now you can enjoy yourself in The Roost café and discover all the interesting things you can do in this new addition to your adorable island!
For more on all things Animal Crossing, check out our dedicated section filled with news, guides, and more.
Featured image courtesy of Nintendo.