Spoilers ahead
: The owners of Nook's Cranny may have something special planned for Animal Crossing: New Horizons players this month. Timmy and Tommy Nook are planning to help players in time for the holidays with a possible sale happening soon at Nook's Cranny.
If you're looking to purchase new home furnishings that arrived with the latest Animal Crossing update, you may want to save your bells. Here's what we found out about the latest Animal Crossing: New Horizons discovery.
Nook Friday details leaked - ACNH Black Friday
According to a report from NintendoLife, the team had time travelled forward to uncover a limited-time event arriving sometime this month. A parody of the annual Black Friday shopping event, the Nook Friday event will see a plethora of items available at reduced rates.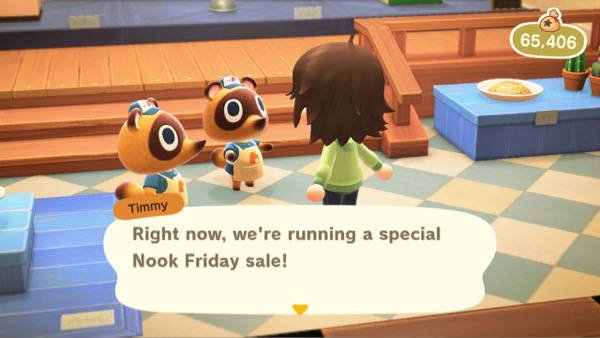 As of writing, we have yet to determine or confirm if any (or all) items available at Nook's Cranny will be discounted during the event. Based on the information provided by Nintendo Life, it appears that the items in the shop have been reduced by 30%.
Furthermore, it reported that the event will run from 26th to 30th November 2021. As such, players can grab whichever items will be on sale during the weekend as well as additional savings that may be planned.
This may be a good time to keep your golden tickets and save your bells until Nook Friday if you do have your eye on something precious at Nook's Cranny. Nevertheless, this doesn't mean players can't get a headstart on purchasing items that are currently available at Nook's Cranny.
It is also important to note that the deals that may come with the Nook Friday event could be player-dependant. Additionally, items available at Nook's Cranny differ on various days for different players.
🚨THERE'S A NOOK FRIDAY SALE I REPEAT A NOOK FRIDAY SALE🚨#ACNH#AnimalCrossingupdate#AnimalCrossing#AnimalCrossingNewHorizionspic.twitter.com/zgjejR7GcK

— ✨💜Terrestrial Plays💜✨ (@TerrestrialTTV) November 4, 2021
The outlet reported that details of this event were discovered by adjusting the Nintendo Switch's date and time; they were able to view future events that may be arriving in the game. While time-travelling ahead or back in time is a controversial topic of discussion, it has indeed revealed some interesting details about what's to come.
Nintendo has yet to confirm this discovery but we can expect some interesting details to be announced closer to the time. Be sure to check back on this article for the latest news and updates as it becomes available.
Don't forget to check out our dedicated Animal Crossing section for the latest news, updates, guides, leaks and more.
Featured image courtesy of Nintendo.