Gyroids have finally arrived in
Animal Crossing: New Horizons
and now it's a perfect opportunity to decorate your rooms with these extra cute pieces of furniture.
These strange furniture items have been a staple component in most Animal Crossing games, but they weren't included in New Horizons until the 2.0 update, released on 3rd November completely free for everyone who owns the basic game.
In this article, we will explain where to find Gyroids fragments, how to get Gyroids out of them and present you with a complete list of all currently available Gyroids in the game.
How to get Gyroids in Animal Crossing: New Horizons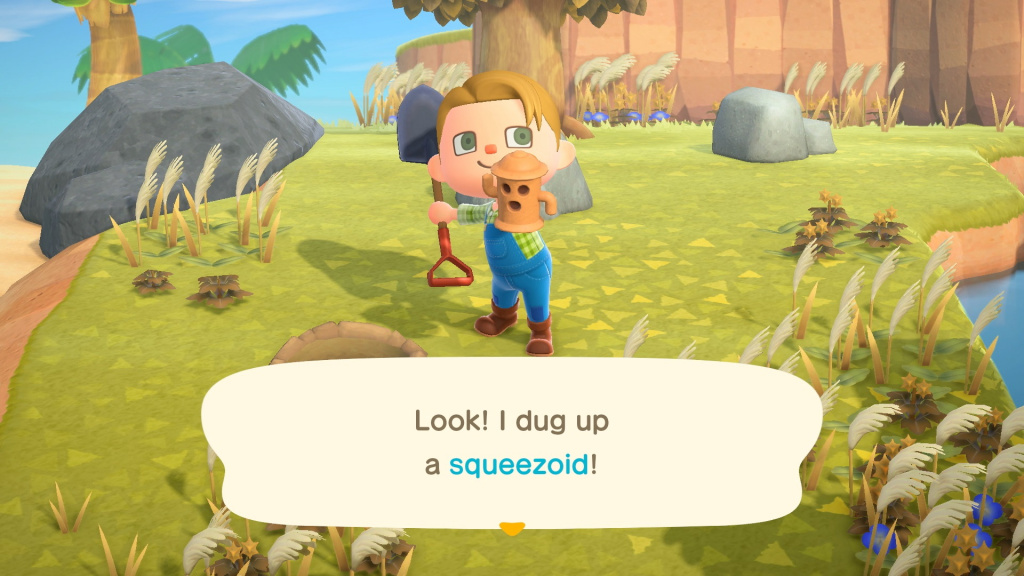 In order to get Gyroids, the first thing you will need to do is to obtain some Gyroid Fragments, new special items that essentially act as a seed for Gyroids.
You can find these pieces almost everywhere, either buried around your island or scattered across mystery islands, which you can now visit thanks to Kapp'n and his boat tours. On one of those tours, you will even meet Brewster who will be so kind to gift you one Gyroid Fragment.
When you obtain a Gyroid Fragment, you can bury it anywhere on the island where you have some free land, just like you plant other fruits. Simply dig a hole and put a fragment in it, then bury it.
Once planted, use your Watering Can to water it, as it will need your attention in order to grow and develop into a fully-fledged Gyroid. If it rains on your island, that should do the trick as well!
The growing process will take one in-game day (after planting and watering), so simply return the next day to where you buried the fragment, dig it out and you will receive a brand new piece of Gyroid furniture item.
It will be a random Gyroid, and that's something you can not influence, unfortunately, but there are options to customize your Gyroids with many different colours!
All Gyroids in Animal Crossing: New Horizons
Due to the random nature of Gyroids your receive from planting, many players are interested in learning all types of Gyroids available in the game.
The main feature of Gyroids furniture items is that they produce characteristic sounds and each type of Gyroid has its own unique sound and shape. 
Below you will find a complete list of Gyroids in ACNH, a total of 36 different types of Gyroid furniture items, listed in alphabetical order:
Aluminoid
Arfoid
Babbloid
Bendoid
Bloopoid
Boioingoid
Boomoid
Brewstoid
Bubbloid
Bwongoid
Clatteroid
Crumploid
Dootoid
Drummoid
Flutteroid
Jingloid
Laseroid
Oinkoid
Petaloid
Rattloid
Ringoid
Rumbloid
Scatteroid
Spikenoid
Sproingoid
Squeakoid
Squeezoid
Stelloid
Thwopoid
Tockoid
Tremoloid
Twangoid
Wallopoid
Whirroid
Whistloid
Xylophoid
If you consider yourself a collector, then you absolutely must acquire all of them! They are cute, colourful, and make every room more friendly to stay in!
With that being said, our Gyroids guide is now complete, and we hope that you will have a great time collecting them and enjoying the 2.0 update.
For more on all things Animal Crossing, check out our dedicated section filled with news, guides, and more.
Featured image courtesy of Nintendo.