GameInformer's Associate Editor, Liana Ruppert, has recently reported on the risk of epileptic seizures when playing Cyberpunk 2077.
She wrote an article about Cyberpunk 2077 focused on people who suffer from this condition, including herself, and it was written in a form of a guide to help people to protect themselves from any potential triggers while playing the game.
"During my time with Cyberpunk 2077, I suffered one major seizure and felt several moments where I was close to another one," she explains. "I kept going because I made that decision to, and I feel like that decision helped me sort of slap together a small little guide for players wanting to take part in this game for fear of missing out."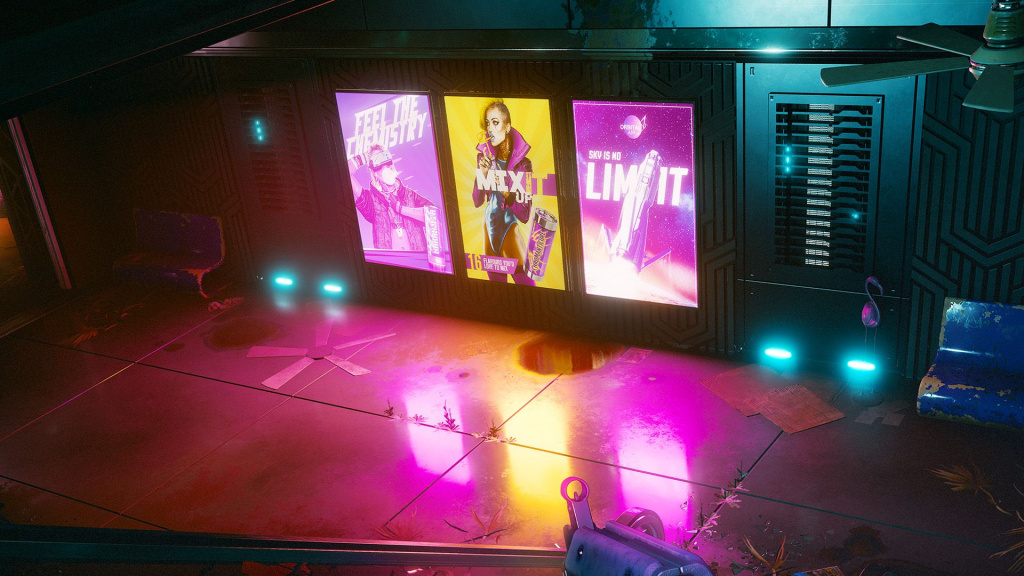 Shiny blinking lights are everywhere in the world of Cyberpunk 2077(Picture: CD Projekt RED) 
And while her intentions were completely noble and simply a warning to people who are vulnerable to epileptic seizures, some irresponsible trolls saw this as an attack on the game, and so they started attacking her on Twitter, saying that she is overreacting, that she doesn't need to play the game if she has problems, or that she is simply lying because she has something against the game.
You can see some of the comment she's been receiving below, and these are just some of the publicly visible tweets written in response to her article.
So now there's an agenda to shit about everything on Cyberpunk because it's no "political correct" for some people and they are fucking mad because the game is getting amazing reviews

— TATO aka El Gamer (@tatotiburon) December 8, 2020
Just don't have epilepsy, not hard

— Channs (@Stymm_) December 7, 2020
Because they cannot think of every viable thing for 0.0714% of the worlds population. Video games have flashy lights, there are tons of ways to avoid it, and anyone who actually has THAT form of trigger, should know better.

— Punknaught2020 (@Punknaught) December 8, 2020
While these messages are surely not an appropriate response, unfortunately, those are far from the most malicious communications she has had in the wake of her article.
Ruppert has also been receiving deliberately seizure-inducing videos from people who are upset about the article.
This goes without saying, but we will say it anyway, this is WRONG and anyone who does such a thing should be ashamed. Seizures can gravely endanger someone's wellbeing and can be life-threatening.
It is unfortunate to see that some fans of the game are doing this, all because of an article that even wasn't criticising the game, but was only a warning to those that might need it.
Cyberpunk 2077, as the name suggests, is in the cyberpunk genre, which is characterized by an 80s retro-futuristic aesthetic, with a lot of neon lights, and with shiny things flashing and blinking almost everywhere around you.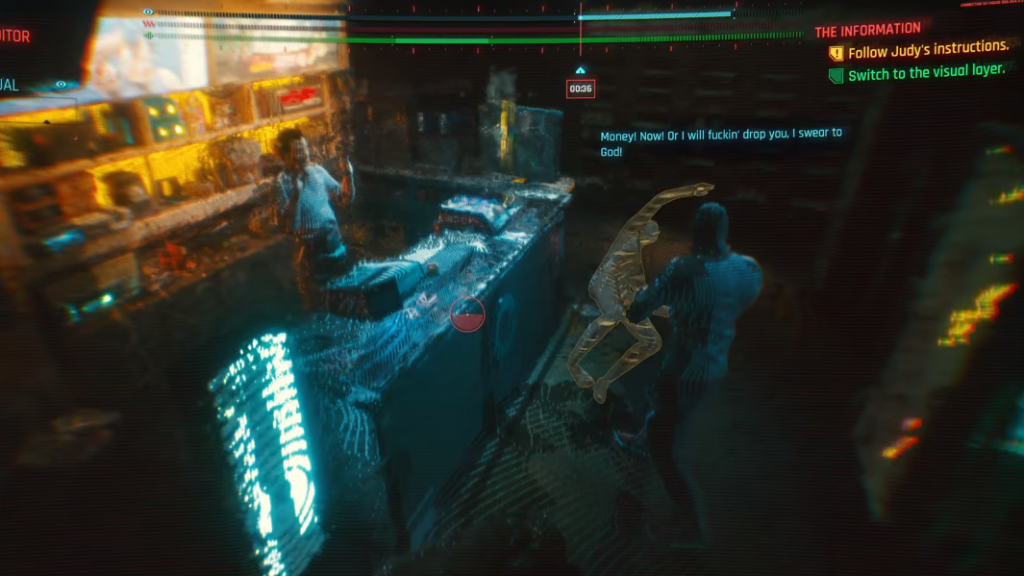 Apparently, braindance mechanic is especially dangerous for people with seizure attacks (Picture: CD Projekt RED) 
Being aware of that, Liana simply wanted to help those people who suffer from the same issue as she to play the game safely, and she even likes the game and its world very much.
"This is an epileptic warning I'd like to offer to those Samurai heading into Night City. Enjoy your time, but here is a heads up to do so safely if you're vulnerable to epileptic triggers."
Speaking about videos that were being sent to her, she asks people to focus on the article and accessibility in video games, not on the trolls.
"Please stop sharing the part about people sending me videos. That sucks, it's criminal, but now the entire conversation is about that and not on the whole reason I wrote the piece to help make gaming safer. Please keep the focus where it belongs: on accessibility."
If you are someone who's suffering from seizures, but you are really excited about Cyberpunk 2077 and worried if you should play the game because of your condition, we advise you to read Liana Ruppert's guide on how to avoid epileptic seizures in Cyberpunk 2077 and what can trigger them.
---
News & Updates - Cyberpunk 2077 1.7 Patch News | Cyberpunk 2077 Phantom Liberty Release Date News | When Will Cyberpunk 2077 Get New Game Plus | Cyberpunk 2077 Project Orion News
Edgerunners - Edgerunners Season 2 News | All Cyberpunk Edgerunners Easter Eggs | How To Get David's Edgerunner Jacket
Build Guides - Best Melee Katana Build | Best Kiwi Netrunner Build | Best Netrunner Build | Best Solo Build
Weapon Guides - Cyberpunk 2077 Weapons Guide | How To Get Rebecca's Shotgun | How To Get Jackie's Pistol | How To Get Your Gun From Wilson | How To Get Johnny Silverhand's Arm | How To Get Lizzie's Pistol | How To Get Dexter Deshawn's Plan B Pistol | How to Get Satori Katana | How To Get Mantis Blades For Free | How To Get Ashura Smart Sniper Rifle | How To Get Monowire For Free | How To Get Chaos Pistol | How To Get Skippy Pistol |
Game Guides - Is Cyberpunk 2077 Worth Playing In 2022 | How To Get Samurai Jacket | How To Get You Own Pet Cat | How To Farm Eddies For Unlimited Money | Cyberpunk 2077 Fastest Car Location | Best Cyberware To Use |