The Dota 2 Battle Pass is slowly coming to an end, and it has definitely done its job. The International 10's prize pool made esports history thanks to Battle Pass purchases recently. However, players are still waiting for the release of the Immortal Treasure III and Windranger Arcana.
Immortal Treasure III and Windranger Arcana
For those wondering when the Immortal Treasure III and Windranger Arcana will release, Valve developer cameron_dev has provided an update on Reddit.
It looks like the Windranger Arcana will release first, followed by the Immortal Treasure III. Keep in mind the Dota 2 Battle Pass is scheduled to end on 19th September 2020, and Valve still needs to give players enough time to, for example, turn unwanted treasures into more levels.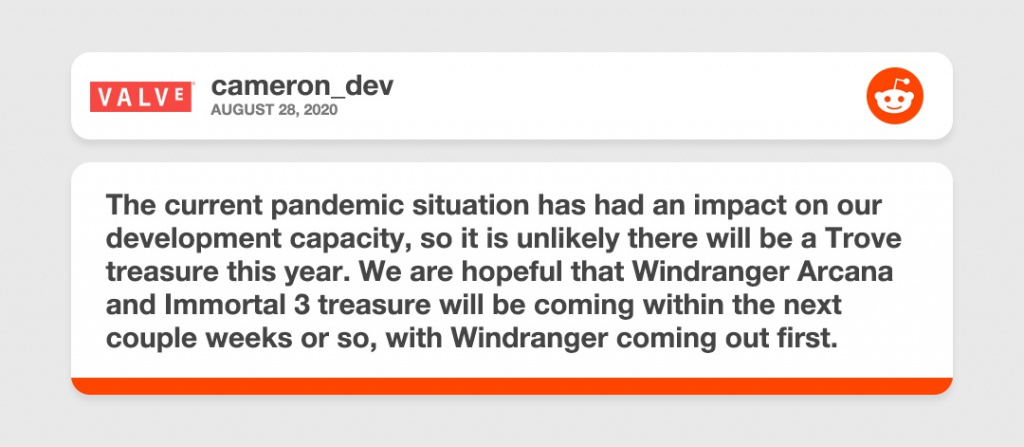 (Picture: Wykrhm Reddy)
Valve already extended the Battle Pass once, so it is not completely out of the realm of possibility they could do it again. However, there are still three weeks left from the time of the post. 
It will be interesting to see how the Windranger Arcana looks, as it was the winner of the previous year's Arcana vote. As far as the Immortal Treasure III is concerned, expect escalating odds, rare treasures and more. 
With the timing of Immortal Treasure III release so close to the end of the Dota 2 Battle Pass, it is unlikely that we will see bonus Battle Pass levels. It is also unfortunate how there probably won't be a Trove treasure for The International 10.
Keep in mind Valve isn't ready to share the new date for The International 10 or even the DPC to resume, so this news was expected.
If you are starved for anything The International, then check out the latest TI moments shared by Valve.