After an insane comeback over Evil Geniuses in the grand finals, Invictus Gaming is the Dota 2 Singapore Major champion. They'll take home US0,000 and all but guarantee an invite to The International 10. Singapore's prize pool was offered by organizers ONE Esports and PGL with additional support from Valve. The event also received government assistance from the Singaporean Tourism Board. The Singapore Major marks the return of LAN Dota since its 2020 absence. 
Invictus Gaming and Evil Geniuses were both champions of their regions' Dota Pro Circuit Upper Divisions. EG was directly invited to the US$205,000 North American league in January. iG made their way through China's closed qualifier. Invictus was the only non-invited Upper Division DPC team at The Singapore Major. The runner-ups earned a cool US$100,000.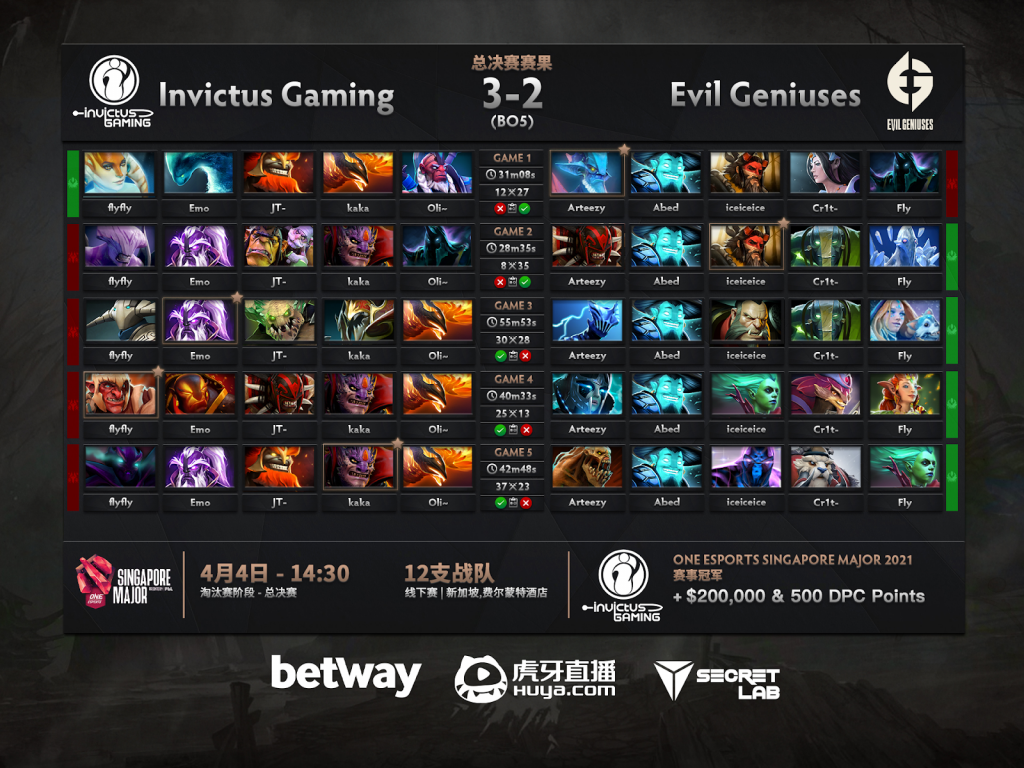 (Picture: Invictus Gaming) 
iG captain Hu "kaka" Liangzhi had openly stated that his team hadn't prepared to Evil Geniuses. The American squad wasn't expected to dominate the upper bracket, and their previous 2-0 triumph over Invictus didn't bode well for the Chinese squad. Game 1 was a contestable win for EG, but Game 2 was a particularly low point for Invictus. A shaky last-pick Faceless Void for Jin "flyfly" Zhiyi went 0-9-3. 
Game 3 looked perilous until a series of successful high ground defences from Invictus turned the tides. Superstar midlaner Zhou "Emo" Yi let a quiet, yet deafening "?" loose in All Chat.
After a gutsy Game 5 Enigma pick for Daryl "iceiceice" Koh Peng, Evil Geniuses generated an early game advantage. A handful of key Haunts from flyfly kept Invictus alive. Excellent itemization from iG cut through Artour "Arteezy" Babaev's spell immunity as Lifestealer, winning three consecutive teamfights and taking a set of Barracks for each. A daring Blink from Kaka onto the Radiant high ground ended the series 3-2 for Invictus Gaming.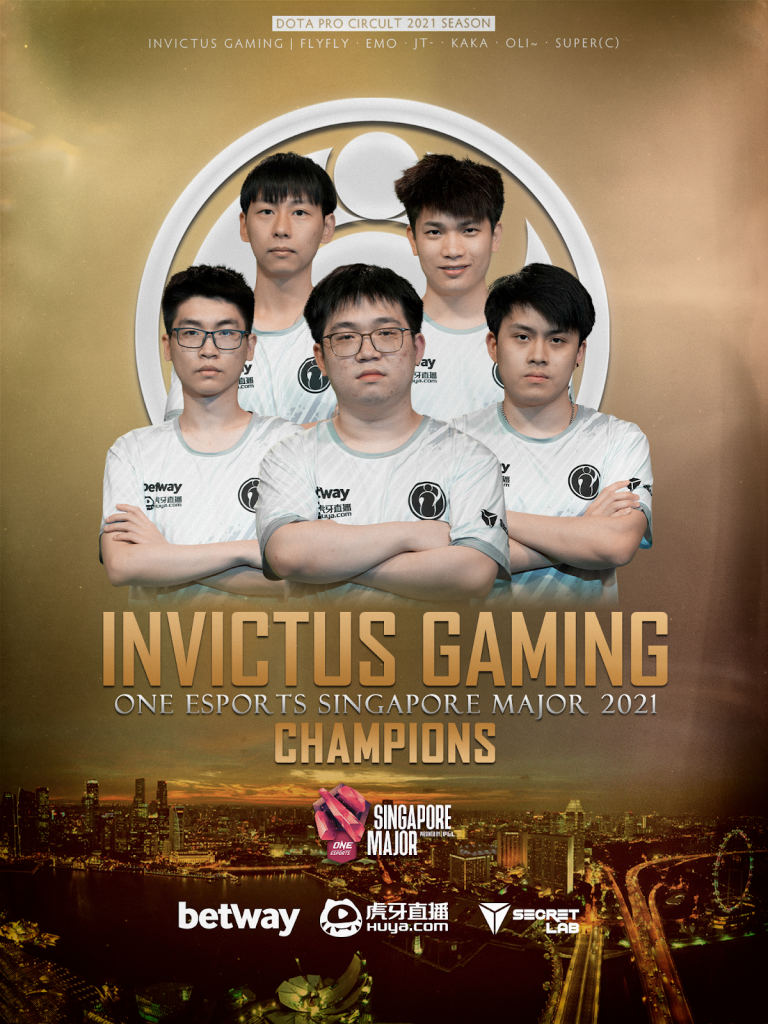 (Picture: Invictus Gaming) 
Multiple qualified teams faced difficulties with travel, COVID restrictions, and unrelated scandals. 19 of the 90 total players were unable to attend. Fans were quick to draw parallels between Singapore and The Shanghai Major, an infamously terrible 2016 Dota tournament. However, the event went very smoothly from a production standpoint. All six of the regions were represented in the final eight teams, so the game is still very regionally balanced.
Fans were looking forward to a reveal at the end of the grand finals, but no sneak peeks were shown off. Dota 2 fans will have to wait for the Valve-estimated new Dota patch release date of April 9th. The update will include a brand new Hero and possibly the community-elected Specter Arcana. It would suit her successful appearance in Game 5.