In March, the Dota 2 ESL Los Angeles Major was
postponed
. Since then, ESL
announced
 ESL One Los Angeles, and Birmingham 2020 would now consist of regional leagues, moving entirely online due to the COVID-19 pandemic. Many of these regional leagues are already underway, but feature just a few teams, with one exception.
The ESL One Los Angeles Online Europe and CIS regional league features 16 teams in total, making it by far the biggest of the regional leagues, and it is starting very soon. Here's what you need to know about the ESL One Los Angeles Online Europe and CIS regional league.
About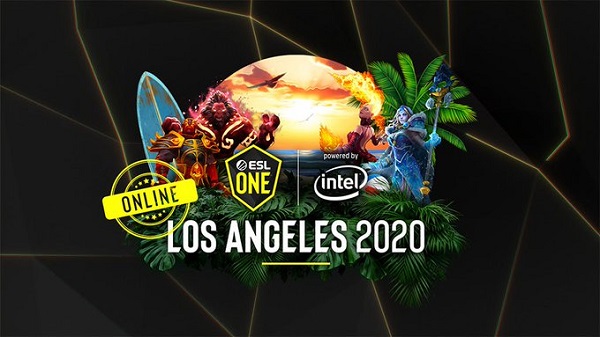 The event was moved online (Credit: ESL)
The ESL One Los Angeles online regional leagues give Dota 2 fans a chance to watch top teams compete, despite the COVID-19 pandemic. With the change to online regional leagues, the ESL One Los Angeles series of Dota 2 tournaments doesn't form part of the Dota Pro Circuit (DPC) events.
Even when not part of the DPC, as the Major was supposed to be, we can expect some amazing Dota 2 matches taking place. There's a lot of matchups to look forward to, and many teams to look out for. The most exciting teams to watch are the two-time TI winners, OG, as well as Team Nigma, Team Secret, Virtus.Pro and Team Liquid.
OG won't, however, be at full force, due to the COVID-19 situation.
You might notice that Neta "33" Shapira is standing in for Yeik "MidOne" Nai Zhengto, and wonder how this will work since he is a player for Alliance. Well, Alliance dropped Neta "33" Shapira and Adrian "Fata" Trinks from their roster earlier this week. Alliance has confirmed Gustav "s4" Magnusson is back in the team, while a fifth player is yet to be announced.
It will be interesting to see the top teams clash in this Dota 2 tournament, and to help viewers understand exactly what's going on, there's going to be some great talent on display.
The Talent
Just because this Dota 2 tournament is played entirely online, doesn't mean we won't see some of the top talents in the world casting and analysing the event. From David "GoDz" Parker to Austin "Capitalist" Walsh, the English broadcast talent for the ESL One Los Angeles Online Europe and CIS regional league looks fantastic.
Schedule
ESL One Los Angeles Online Europe and CIS regional league runs from 4th April to 19th April 2020, with an exact end date not confirmed just yet. There is still one final qualifier to go, where one team will make their way into Group B, joining the likes of Team Secret, Alliance, and Team Liquid.
Group stage matches are scheduled to begin on 4 April at 09:00 GMT. The opening match is Gamit versus Vikin.gg, followed by OG versus Team Nigma. The latter is, of course, a rematch from The International 2019's grand final, as the former Team Liquid squad will face off against OG yet again.
You can check out the full schedule on ESL's website.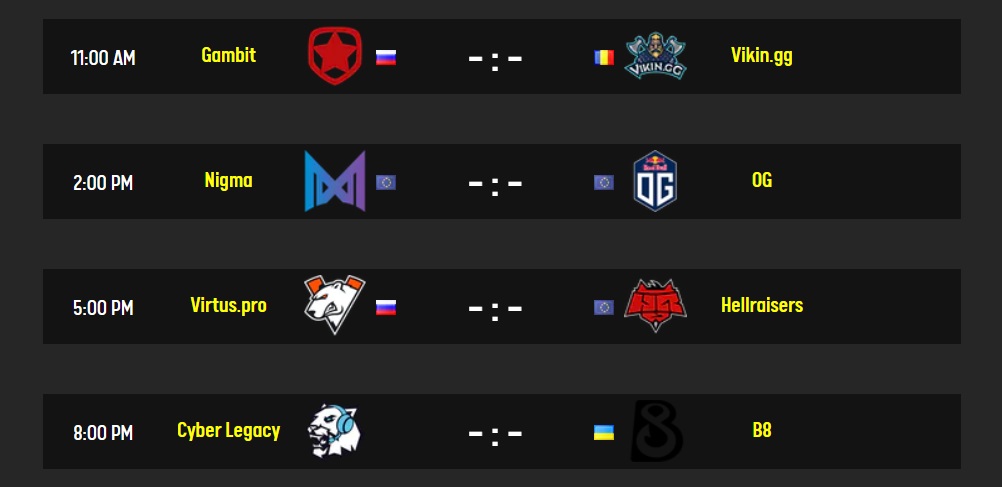 Opening day schedule (picture: ESL)
Groups
Sixteen teams are split into two groups of eight for the ESL One Los Angeles European/CIS group stage. ESL explained how they determined the groups, saying: "We asked each team to rate all others in attendance, excluding the final qualifier slot, on a scale from 1-14.
"Adding up these scores allowed us to determine a ranking for seeding purposes. In order to avoid any potential manipulation of the ranking, scores that exceeded 1.5 standard deviations were removed from the tally. This process allowed us to form the following groups."
Format
The ESL One Los Angeles Online Europe and CIS regional league will follow roughly the same format as the Major would have. The group stage matches are all best-of-three.
The playoffs should follow a double-elimination bracket with best-of-five grand finals. At the time of writing, ESL has not confirmed the exact playoff format, explaining on the official tournament website: "More details about the regional playoffs for EU+CIS will be communicated before the tournament starts."
We will update this article as soon as the exact playoff format becomes available.
Prize Pool
With the ESL One Los Angeles Online Europe and CIS regional league being by far the biggest in terms of teams, the prize pool is much bigger as well. The Chinese regional league gets $55,000, while the North Amerca, South East Asia, and South America all get $40,000 in prize money, the European/CIS league gets a whopping $200,000.
Prize pool distribution has not been confirmed.
ESL One Los Angeles European/CIS Regional League: How-To Watch
The ESL One Los Angeles European/CIS regional league will be broadcasted on a variety of streams, which you can view below.
For additional information about the league and details on ESL's other events, head to their official website.