The Natus Vincere (Na'Vi)
Dota 2
squad hasn't had the best of time recently, having to pull out of the Singapore Major due to
members contracting COVID-19
. Following the Major, Na'Vi then went on to make a
very surprising roster change
, kicking Viktor "GeneRaL" Nigrini without apparent warning and replacing the offlaner with Roman "RAMZES666" Kushnarev. This move caused a lot of friction in the CIS region, with players and personalities calling it a "strong blow" against Na'Vi's reputation, spurring on the organization's CEO to make an official, public statement.
Why was GeneRaL kicked from Na'Vi?
To be clear, it looks like GeneRaL didn't know the kick was coming, as he even commented that he thought it was a joke at first. However, the team informed him that they wanted to play with Roman "RAMZES666" Kushnarev.
GeneRaL also called out his team captain, Andrii "ALWAYSWANNAFLY" Bondarenko, for apparently breaking his word: "Before signing contracts with Na'Vi, we all gave our word that we would not kick anyone, no matter what the contract is.
"We are 100% playing at The International this season together, and no one is kicking anyone. ALWAYSWANNAFLY was the first to shout if someone was kicked. Guess they didn't keep their word."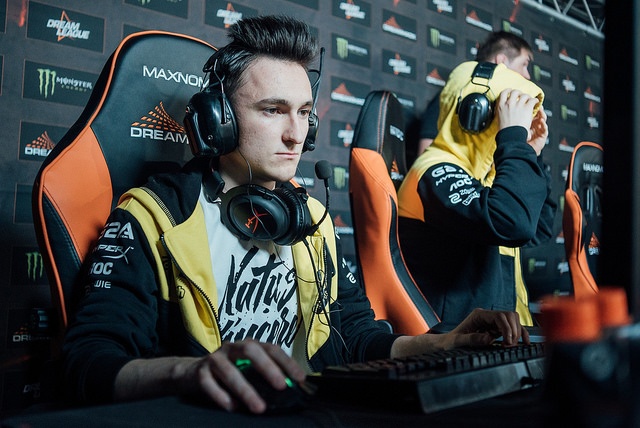 (Picture: DreamHack)
According to GeneRaL, former Bogdan "Iceberg" Vasilenko didn't participate in the decision to kick him from the squad.
For those who don't know this was the previous FlyToMoon roster which the Na'Vi organization signed, and the players have been together for quite some time.
Now, the Na'Vi CEO, Yevhen Zolotarov, has apologized for the mess, making an official statement on the matter. 
First up, Yevhen Zolotarvo explains how the organization gave the players complete freedom due to past experiences.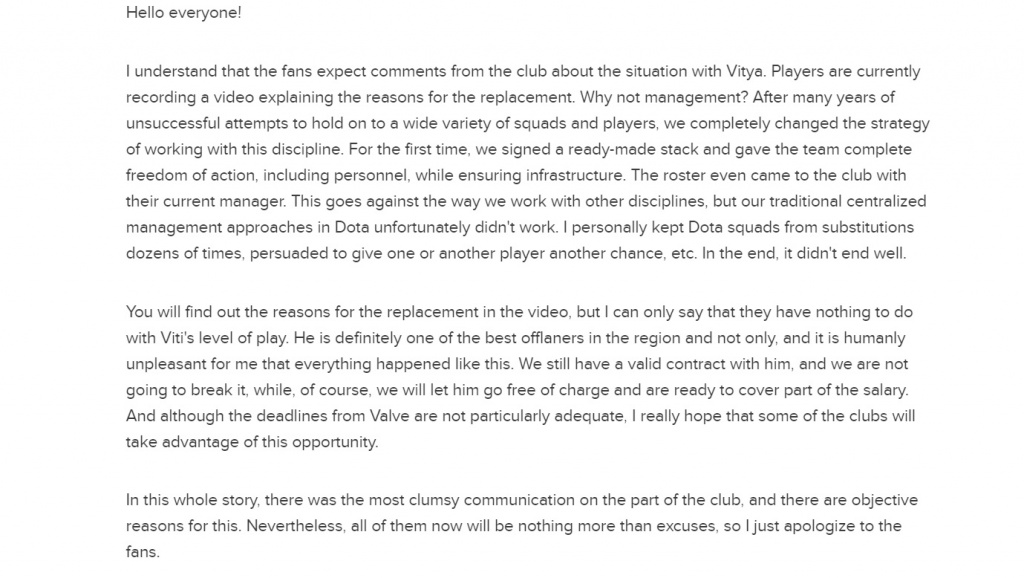 (Picture: Na'Vi)
Yevhen Zolotarvo explained that this whole mess comes down to clumsy communication from Na'Vi, and he apologized to their Dota 2 fans, as well as those of GeneRaL.
Further, the Na'Vi CEO noted: "I can only say that they have nothing to do with Viti's level of play. He is definitely one of the best offlaners in the region and not only, and it is humanly unpleasant for me that everything happened like this.
"We still have a valid contract with him, and we are not going to break it, while, of course, we will let him go free of charge and are ready to cover part of the salary."
So why was GeneRaL kicked from Na'Vi's Dota 2 squad? Well, for now, the exact reasons remain unknown, except for the clear indication to make room for RAMZES666.
The current Na'Vi roster is working on a video that will explain the reasons for the replacement...