Back in May 2020, we reported on Chinese Dota 2 Juggernauts, Newbee,
getting handed permanent bans for match-fixing
by Chinese Dota 2 Professional Association (CDA) as well as ImbaTV. 
The scandal rocked the Chinese scene, as well as the Dota 2 professional scene in general. Since then, fans have been waiting for Valve to weigh in. Now, Valve has finally made a decision, banning Newbee and their former Dota 2 squad permanently.
Newbee gets banned permanently
Since its creation in 2014, Newbee has been one of the biggest Chinese Dota 2 teams, amassing over 13,000,000 USD in winnings. The squad won The International 2014 and ended second in 2017, which resulted in the lion's share of their winnings.
Valve and Perfect World announced Newbee's permanent ban on the official Dota 2 Weibo account.


(Picture: Dota 2 Weibo)
The organization, as well as the following former players, have been permanently banned by Valve:
Xu "Moogy" Han
Yin "AQ' Rui"
Wen "Wizard" Lipeng
Yan "Waixi" Chao
Zeng "Faith" Hongda
While this news doesn't come as a massive surprise, the fact remains Dota 2 esports has lost some legends.
Valve's Wykrhm Reddy also took to Twitter to announce the news about the Newbee ban on Twitter for the international audience.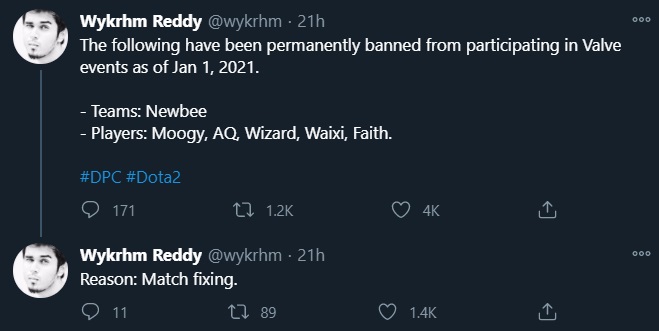 (Picture: Twitter)
Both Zeng "Faith" Hongda and Xu "Moogy" Han were part of the Newbee squad which placed second at The International 2017. Faith, in particular, also won The International 2012 with Invictus Gaming.
At the time of writing, Newbee, as well as the former Dota 2 players, have not made official statements on the permanent ban.