Newbee was once the name which was synonymous with the best Dota 2 you can watch in the whole world. 
From The International 2014 winner to consistently being among the top teams through the 2015-2017 period, which was again crowned with the second place at The International 2017.
And then came the slow downfall, until Newbee finally hit bottom today.
Newbee is one of the eight founding organizations of Chinese DOTA2 Professional Association(CDA), and they have just received a lifetime ban from the very organisation they've helped founding.
CDA Alliance posted an official statement on their Weibo account, in which they explain that they have received reports and "verification by multiple parties" about Dota 2 Newbee team participation in the "unfair competition and profit from it".
As a result, Newbee is immediately banned from the CDA Alliance and all competitions under their authority. Players Moogy, Wizard, Waixi, Aq, Faith, as well as team leader Feng, are banned from China Dota2 Pro League and DPL-CDA for life, as well as any other future competitions organised by CDA Alliance.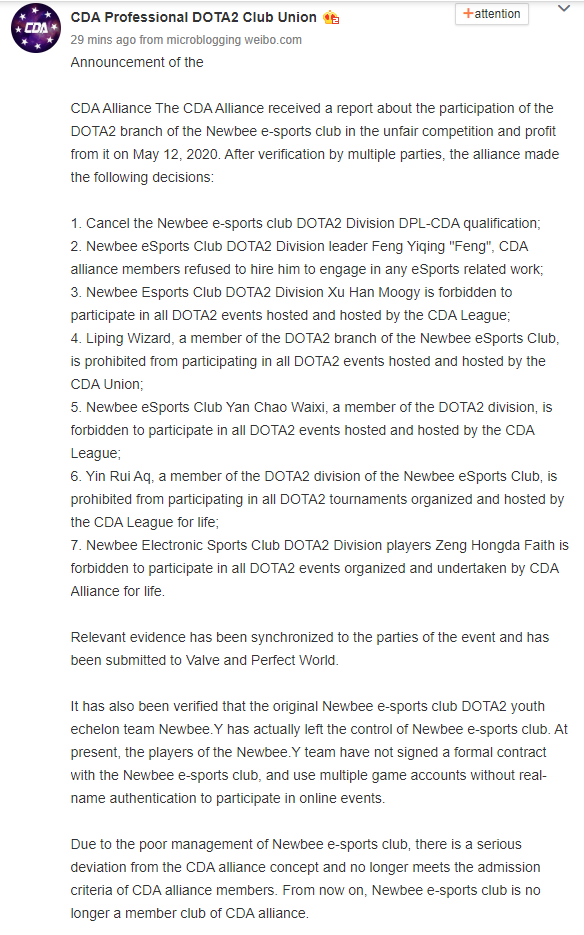 Official statement translated via Google Translate. (Picture: CDA)
Previously, they were all banned from ImbaTV competitions, where the match-fixing occurred on 12 May. Both Newbee as a Dota 2 organisation, as well as all players mentioned above, are banned for life from ImbaTV competitions.
There are no details on what actually happened and what's the actual wrongdoing, but there is a talk that some chat logs leaked, and in them something that is hard evidence.
Among the banned players, Faith is the best-known for his win at TI2 with Invictus Gaming and a second-place finish at TI7 with Newbee, along with Moogy, who's now also banned.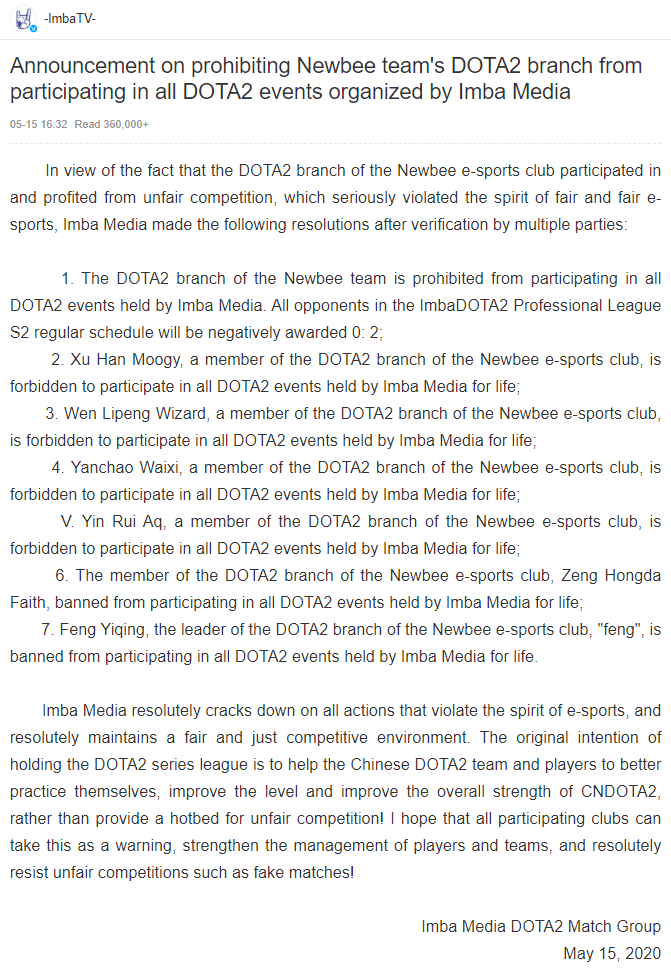 Official ImbaTV statement (Picture: ImbaTV)
In the meantime, Newbee posted an official statement:  "We express our understanding and respect for the CDA alliance's decision. However, since the establishment of the Newbee Esports club, it has never participated in any fake matches and gambling activities with the club or branch as the main body. We will file an appeal for the penalty of the CDA alliance regarding the Newbee eSports club."
According to Liquid Dota,  the match-fixing within Newbee Dota 2 team has been going on since the departure of Sccc and Fenrir. There are even some reports that Newbee's founder, Zei9, is addicted to gambling, and struggling with huge debt.
During the last few months, match-fixing continues to be a serious issue within the Tier 2/3 Dota 2 scene, especially since the COVID-19 outbreak which resulted in tournaments moving to online-only, an environment much more vulnerable to misconduct.