Virtus.pro, an esports organization based in Russia, issued a statement yesterday that they were "threatened" to be disqualified in a Dota 2 LAN event being held in Dubai after refusing to comment on the ongoing Russian invasion happening in Ukraine.
As seen on Virtus.pro's official website, the organization mentioned that some organizers of the GAMERS GALAXY: Dota 2 Invitational Series threatened to "drop" them from the tournament.
They also claimed that the organizers "went as far as threatening to announce" that their players have COVID-19 even if they all tested negative from the virus.
Virtus.pro said they were instructed by the organizers by saying: "Either your club issues a public statement regarding the situation in Ukraine, or you get dropped from the tournament."
Virtus.pro players and freedom of speech
Despite the team not providing a statement about the main issue of war itself, Virtus.pro also clarified that they are not prohibiting all of their players and employees from saying their personal opinions, including those about such issues.
A part of their post reads: "Virtus.pro never prohibited its players or employees from expressing their personal opinions. YEKINDAR, buster, OldBoy, BatulinS, m1loN, Jame and other players with huge fanbases are among those who exercised their right for freedom of speech. Our colleagues from RuHub, which is also an arm of ESforce Holding, took part in citizens' meetings and expressed their thoughts through social media."
Virtus.pro takes a stand
They also made it clear that they will "not fall for this intimidation," and insisted that "esports should be uniting people and continents."
"Virtus.pro will not fall for this intimidation. We won't take off our jerseys and won't tolerate this pressure. We speak for ourselves when we find it appropriate. Short-term interests and emotional outbursts are not what we base our public statements upon, but rather long-term strategy and the spirit of the club. And it says that Esports should be uniting people and continents," they said.
They ended their post by saying "Let's make plays, not war."
Virtus.pro CS:GO also affected
As for other esports events, CS:GO tournament organizer BLAST has announced that they will not invite Russian-based teams to their events until "the foreseeable future." Their CIS qualifier is now also cancelled.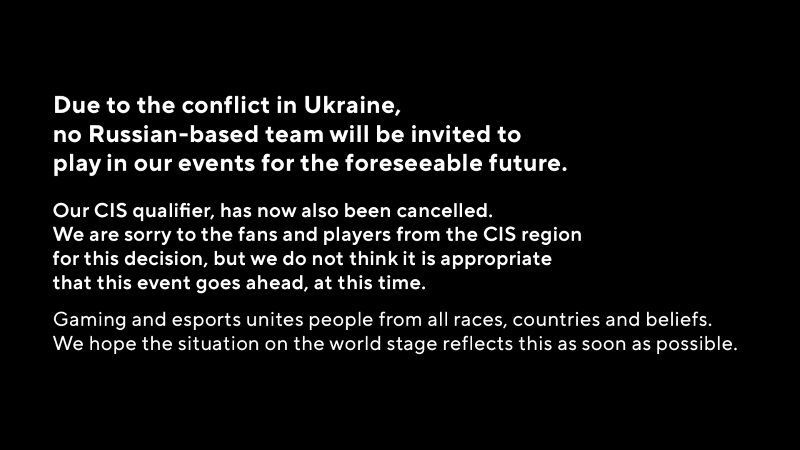 This caused some backlash from fans, with some of them asking BLAST to delete their closing line in the statement which reads as: "Gaming and esports unites people from all races, countries and beliefs."
Make sure to follow us for more esports news and updates as it happens via our dedicated section.
Featured image courtesy of ESL/Virtus.pro.