WePlay! Esports has proven themselves to be one of the biggest and best Dota 2 tournament organises in the past two years. But unfortunately, they've also slipped up and apologized in order to save face after posting a tweet that mocked women who post photos on Patreon to increase their stream numbers.
Their latest tournament, OMEGA League: Europe Immortal Divison, has an Ancient Greek theme in which casters and analysts need to dress up in costumes matching those that people wore in the classical era.
Richard Cambell, a host who became immensely popular after entertaining fans during The International 9, was wearing one of the outfits WePlay! supplied him with on stream. Being the comical man he is, at one point on the stream, he crossed his eyes, stuck his tongue out, and made a meme-worthy pose in front of the camera.
There was nothing inherently wrong with that, but it's what happened afterwards that didn't sit too well with gamers on social media. In a post that has since been removed, one of the WePlay!'s social media handlers tweeted an image of Richard's pose with a controversial caption.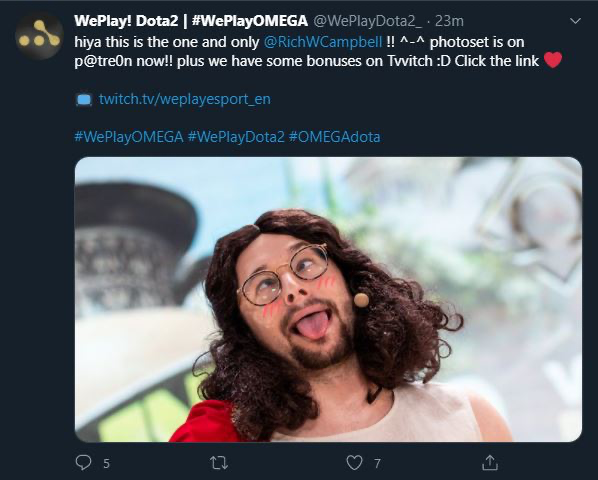 (Picture: Screenshot from Twitter)
Needless to say, their post didn't sit too well some women in the gaming community. "Yeah - how about we just f**king don't," said Kendryx, an impassioned Twitter user. "After E3's article, after how many victims came forward in the Dota 2 community with assault stories, after we decided it was time for change... You do this. You allowed this to be posted."
WePlay! quickly responded to her Tweet, saying, "Sorry. We didn't mean anything bad. It was not the best thing to post. We will try better."
They also deleted the post and tweeted an apology, which said, "Dear community, we apologize for the post that we did. It was wrong and insensitive. Action has been taken, and we will do better in the future. It was sexist and wrong. We are sorry."
It's good WePlay! were quick to acknowledge their blunder, and although not everyone is convinced by it, a few prominent women within the Dota 2 community such as host, interviewer, and content creator Reinessa appreciated the effort.
It's not the first time WePlay! has landed in hot water for sexual discrimination. In 2018, they posted a job opening that said one of the perks for joining the company was to "chill with girls and tequila."
Nicole Carpenter, the deputy news editor at Polygon, shared an image of it after a colleague sent it to her. "Tell me again how we're making women comfortable in esports," she said.
WePlay! hasn't been doing themselves any favours with all the controversial posts, but at least they've been quick to apologize. Still, it's not something anyone would want to see happening again. An organization can only make the same mistakes so many times before an apology is no longer enough.
For now, it seems like their apology has been more or less accepted by the gaming community. Controversies aside, if you're still interested in watching the OMEGA League: Europe Immortal Division, you can catch all the action live on the WePlay! Twitch channel.