Black Friday is that day (or days now, let's be honest) where everyone goes a bit crazy in that search for a bargain; with huge discounts offered as customers are looking to get their Christmas shopping done. 
Primarily a U.S invention, in recent years it has found itself in the UK and beyond and even pops up in the virtual world with game companies jumping on the bandwagon.
EA Sports' FIFA series was one of the first to offer Black Friday sales and the latest edition, FIFA 22, will be no different; offering players the opportunity to not only pick up some of the best Team of the Week (TOTW) cards we have seen this year but also rumours and leaks suggesting a brand new promo will be making an appearance: FUT Signature Signings.
FIFA 22 Black Friday - start date and time
When Black Friday hits FIFA 22 is not exactly clear. 
This year sees Black Friday fall on Friday, 26th November, however, last year EA started the Black Friday promo the day before which would mean Thursday, 25th November.
What we do know is the start time, with it likely to kick off in-game at 10 am PT / 1 pm ET / 6 pm GMT.
The promo will run finish up on Tuesday, 30th November, just in time for Cyber Monday.
Club Signature Signings
Some players typify a club, they come, often from lands far away, but instantly connect with fans.
Of course, good performance help with creating that bond, but in the case of club and fan favourites it is something more than that, an intangible factor; it could be they signed at a time when the club needed a hero, or scoring a vital goal in a big derby game and then celebrating with a knowing celebration, it's these special players that are expected to be celebrated in FIFA 22's latest promo, Club Signature Signings.
For people asking, the promo is called "Club Signature Signing" and will feature some key-performer in the past years of each club!

— TrustyFutTrader (@trustyfuttrader) November 23, 2021
Now, this is currently only known through leaks and it may well be that an entirely different promo will arrive with Black Friday, though the reliability of the leakers isn't really in question so we can be fairly sure it will be Club Signature Signings.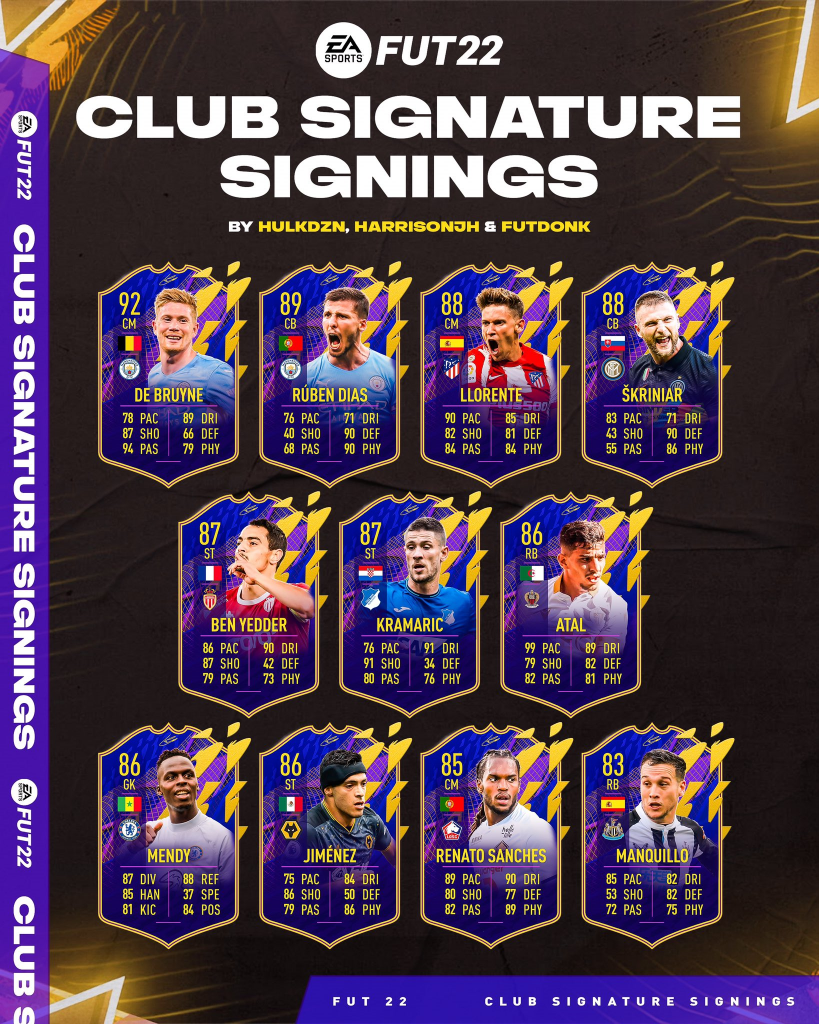 Some of the players expected include:
Kevin De Bruyne
Ben Yedder
Ruben Dias
Andrej Kramarić
Javier Manquillo
Milan Škriniar
Youcef Atal
Edourd Mendy
Renato Sanches
Raúl Jiménez 
Gelson Martins (SBC)
Giorgio Chiellini (SBC)
Best of TOTW
A regular fixture of FIFA Black Friday is the return of some of the most sought after Team of the Week cards, with the 11 best in-forms being added to regular packs.
Who it might be is a tightly guarded secret but expect the likes of Mohammed Salah, Kimmich and Muller, who have all impressed this season, to be involved.
FIFA 22 Black Friday - SBCS and objectives
It's not just those who have the money to go pack mad that can grab a bargain during Black Friday as EA Sports offer up plenty of SBCs and Objectives for players to grind.
It can be blink-and-you-miss-it as many of the SBCs and Objectives last only 24 hours, offering up players and cards.
Check back with us for guides on how to complete these.
Featured image courtesy of EA Sports.