2022 is kicking off with a bang for FIFA 22 players, with the addition of Headliners cards and Squad Building Challenges to along with them. 
Headliners are dynamic items that can progressively improve over the course of a season. Right out of the gate, these cards come with better stats than base ones for players lucky enough to get the Headliners treatment. On top of that, the improvements are better than any previous performance-based card they might have received (MOTM or TOTW).
It's not only an individual based boost they might get, but if the team they're a part of achieves four consecutive domestic league wins, they'll be awarded a one-time permanent upgrade.
With all this being said, Borussia Dortmund's Julian Brandt can be acquired via an SBC, and we're here to tell you everything you need to know.
Julian Brandt Headliners SBC - cheapest solutions
For players to get the Julian Brandt Headliners card, they'll need to exchange a total of two unique squads. The total cost can go from 65k to 72k Coins depending on your console of choice.
Note: All prices are courtesy of FUTBIN and are subject to change.
Bundesliga SBC
# of players from Bundesliga: Min 1
Squad Rating: Min 84
Team Chemistry: Min 70
# of players in the Squad: 11
Reward: Small Rare Gold Players pack
Top Form SBC
IF Players: Min 1
Squad Rating: Min 85
Team Chemistry: Min 65
# of players in the Squad: 11
Reward: Rare Mixed Players pack
Julian Brandt Headliners SBC - Stats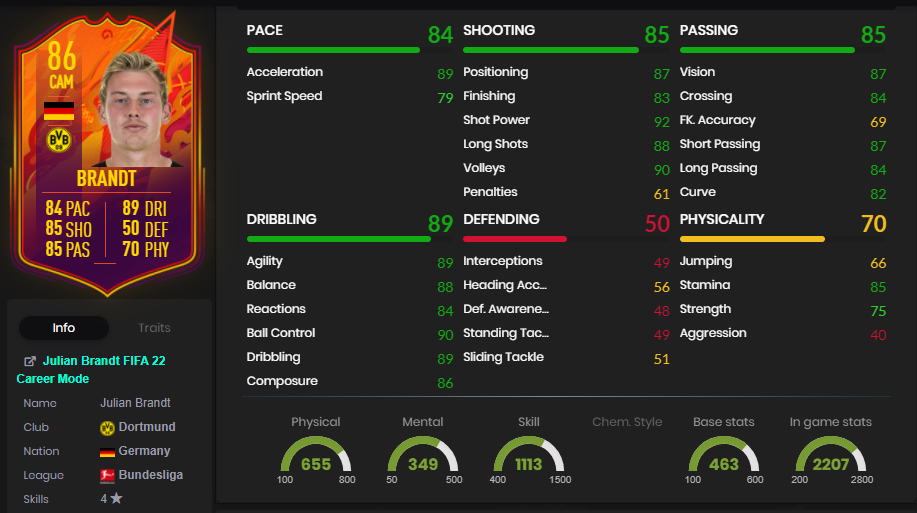 Be sure to check back with our dedicated FIFA page as the FUT Versus event continues to unfold. More special boosted cards are set to be released in Ultimate Team, and we'll have all the latest guides on how to unlock them.
Featured image courtesy of EA Sports.