Outspoken FIFA pro has been given a lifetime ban from all EA games and online services, in what's become the latest retaliation of a long-running feud which has been going on for nearly two years. 
It started with Kurt "rage quitting" during a live event before escalating into a ban from competitive events, EA employees' Twitter accounts getting hacked and increasingly vitriolic statements from Kurt on Twitch and YouTube.
Kurt Rage Quits During FIFA eClub World Cup 2018
It was a moment that introduced Kurt to the world. In the semi-final of the FIFA eClub World Cup 2018 Kurt, representing Mkers, became increasingly incensed in his 2nd leg match against Brøndby IF's
Fatih Üstün.
He kicked-off the game needing to overcome a two goal deficit thanks to his Mkers teammate Daniele "IcePrinsipe" Paolucci's performance in the first leg.
An early goal by Kurt started the comeback off in the best way possible - but that's when the problems started. Ustun, from kick-off, went straight back up the other end and scored. It was a pattern of play which repeated itself and it became increasingly obvious Kurt felt his opponent's goals were more to do with broken "kick-off goals" - a common complaint in the FIFA series. 
It all came to a head when Kurt conceded another kick-off goal after reducing the deficit to 7-5. As Üstün's goal went in, Kurt jumped out his seat and walked off the stage clearly done with what he felt was a broken game.
Words were exchanged and Kurt was ultimately talked into playing out the rest of the game. He sat there, barely playing, as the time ran out.
The incident set the tone for Kurt's relationship with FIFA and EA. He wasn't scared to make his voice heard and his volatile nature meant he was an unpredictable commodity.
Kurt would make one other appearance during the FIFA 18 season finishing joint 3rd at the FIFA eWorld Cup.
Kurt Banned For 2 Months During FIFA 19 Season
Kurt's relationship with FIFA couldn't ever be described as being good but with the release of FIFA 19 - arguably the worse FIFA ever - Kurt was the games most vocal critic on his Twitter and YouTube channels; frequently stating the laundry list of reasons why "this was the worst FIFA ever made". 
These comments could become personal. EA Game Changers, a group of selected content creators, were in his sights as well as EA employees who he regularly referred to as "rats". These personal attacks would lead to EA Sports banning Kurt for two months - the first official sanction against Kurt, but not the last.
Kurt demands to be heard
Kurt, having served his two-month ban, qualified for FUT Champions Cup Atlanta in February. Atlanta would be the setting for the next flashpoint and one which destroyed any chance of a positive relationship between Kurt and EA. 
Kurt arrived in Atlanta feeling unwell and throughout the weekend claimed issues around the event were mounting up.
He accuses EA of sending him away to a photoshoot while other players were sitting with the developers having a "feedback session" - a discussion you feel Kurt would have added a lot to. 
He also said the livestream was deliberately not showing his games and refused to even use his name - essentially pretending he wasn't there, which was a shock to him. "Half the people are watching for the rewards, and the other half are for me," Kurt said at the time. 
Things came to a head when he claimed he was wasn't allowed to say anything after his games - no post-match interviews and no opportunity "to speak to his people".
At this point he was "livid" and decided to interrupt an interview with Twitch streamer Edwin "Castro1021" Castro, and could be heard saying "they're watching for me, not for you".
Kurt wasn't given any official punishment for this but it was another example of how, when it comes to Kurt, anything can happen.
Kurt banned from competitive FIFA
The release of FIFA 20 looked like it could be a chance for the relationship to reset. Kurt was initially if not positive, then hopeful, the game could be a lot better than the previous iteration.
Kurt was still releasing his videos but had clearly not taken the temperature of EA Sports, who had run out of patience with Kurt and his attacks.
The straw which broke the camel's back was a video that's now become infamous in the FIFA community.
During a live stream, Kurt scored a last-minute winner in a FIFA Ultimate Team match and celebrated in the most typical Kurt way - launching into a tirade and spitting on an EA logo emblazoned on a scarf.
This is the VOD that Kurt got banned for, I am all for freedom of speech but this is disgusting behaviour. How are you going to spit on the logo of a company that you want to be a professional esports athlete for. I know I am going to get stick for this but he deserves the ban. pic.twitter.com/oJmlifBFLU

— DrJarba (@JarbaFifa) November 1, 2019
EA Sports handed Kurt a life ban from all competitive FIFA events.
Kurt given "Twitter hack" birthday present
Within a week of Kurt's competitive ban, the whole situation went to another level.
Several Twitter accounts relating to EA Sports including the FIFA community manager were part of a "targeted attack" and messages were posted on the accounts saying among other things Kurt was unbanned - it also just happened to fall on Kurt's birthday.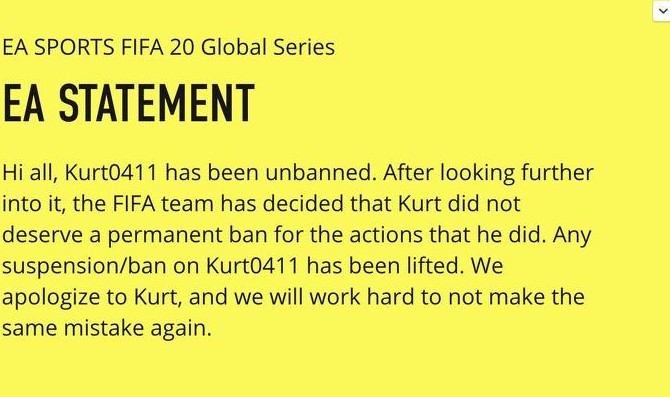 Best birthday ever!!!!!!!! But make no mistake about it ladies and gentleman we are at war

— Kurt (@Kurt0411Fifa) November 4, 2019
If there was ever going to be an opportunity for Kurt to get back into the competitive game - this killed off the idea. 
Kurt is banned from all EA games and services for life
Now most recently, the war between Kurt and EA appeared to have cooled down since the Twitter hacks in November, with both parties seemingly happy to go on with their lives. EA held their competitive events and Kurt continued streaming, uploading videos to YouTube and shouting from the sidelines. 
But someone at EA felt more still had to be done and on the 15th of February, Kurt was hit by a number of copyright strikes on his YouTube and Twitch channels.
Warning to anyone that intends to call out EA on their bullshit....they will now copy-strike your content and try to get your channels deleted. This is a tyranny that will stop at nothing. I surrender pic.twitter.com/TW7i30Gf4E

— Kurt (@Kurt0411Fifa) February 15, 2020
This was followed by the deletion of his 10-year old FUT account.
Incredibly stuff honestly...banning me from their esports events wasn't enough, trying to get my Twitch and YouTube channels banned wasn't enough, they now shut down my 10 year plus Fut Founder account. No words pic.twitter.com/EqAVWprTI5

— Kurt (@Kurt0411Fifa) February 24, 2020
EA put the final nail in the coffin with a statement confirming Kurt was banned from playing any EA games or using any EA online services. 
The end of the road for Kurt?
Since he began, Kurt's audience has been deeply embedded in the FIFA community. No professional player has ever put EA on blast in this way, and many fans of the game see him as their voice saying what others are too afraid to say. Now banned from the game, his options for streaming and creating content around FIFA are limited - meaning Kurt's time as the bad boy of FIFA could be over.
Maybe.
One man has reached out to him stating he has the potential to bring him to a new, bigger audience. Drama Alert's Keemstar has been in touch and seemingly has plans to make a documentary about Kurt.
If the documentary does materialise, at the very least it will be controversial.