As we approach the end of the year, FIGHT CARD will be bowing out 2019 with a brutal, bloody, showdown in NetherRealm's classic fighter between two pro players.
The action will be broadcast live on Thursday 5 December at 8pm GMT on both Ginx.tv and the official Ginx Twitch channel, featuring giveaways and cash prizes. There will also be a pre-show with Jake "Mustard" Neal from 7pm GMT.
Guest commentator Ryan "Ketchup" Neal, one of the leading voices in the Mortal Kombat scene, will be joined by Damascus on the main stream.
The pro players competing are Dubasik from Russia, who plays new character Sindel, and UK player VideoGamezYo.
Viewers will also have the chance to play against the player who wins the showmatch. To have a chance at playing, you'll have to respond to a tweet during the stream on the Ginx TV official Twitter – where the winner will be randomly selected in the Ginx.tv chat live during the event.
If the chosen player manages to beat the pro player, they'll also win £75. You'll have to be playing on PlayStation 4 to take part.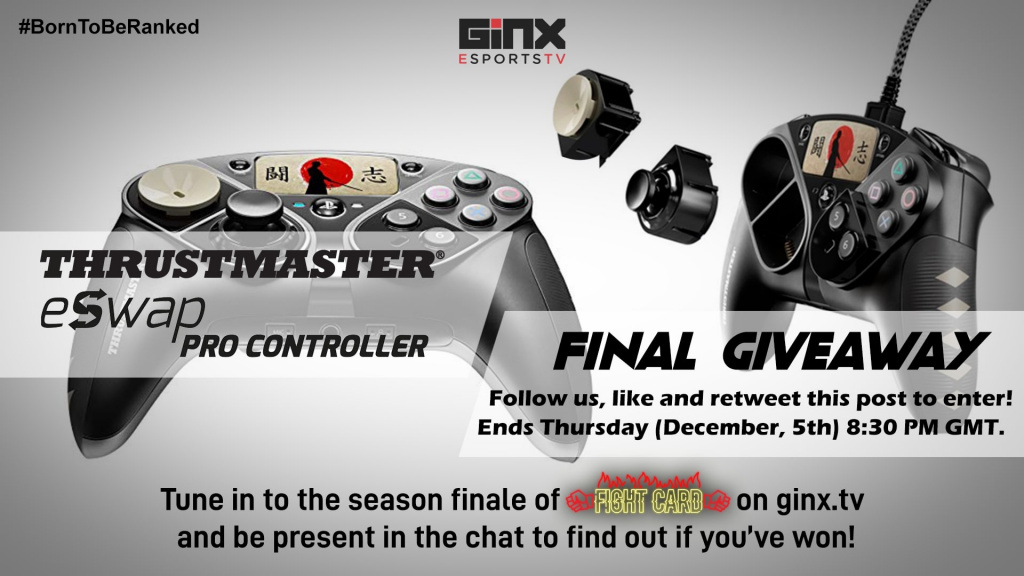 There will also be the weekly Thrustmaster eSwap Pro Controller giveaway hosted on our Twitter account. Once again, you will need to be active in the chat as well following the instructions on the Twitter post next week, so make sure you're tuned into both.
Keep an eye on the @GinxTV Twitter account to see the outcome of the episode and the winner of the giveaway.
The season finale episode of FIGHT CARD will be streamed live on Thursday 5 December GMT on Ginx.tv and the official Ginx Twitch channel.