FNCS, Fortnite's biggest competition, is set to have a spectacular ending to the Chapter 2 Season 5 circuit, with some of the best players in the scene competing for a massive prize pool and bragging rights.
With weeks of competition behind us, the FNCS Finals promise hype moments, incredible clutches, and overall high-level Fortnite we know and love.
Without further ado, let's give you everything you need to know to prepare for the FNCS Season 2 Chapter 5 Finals.
FNCS Season 5 Finals - Schedule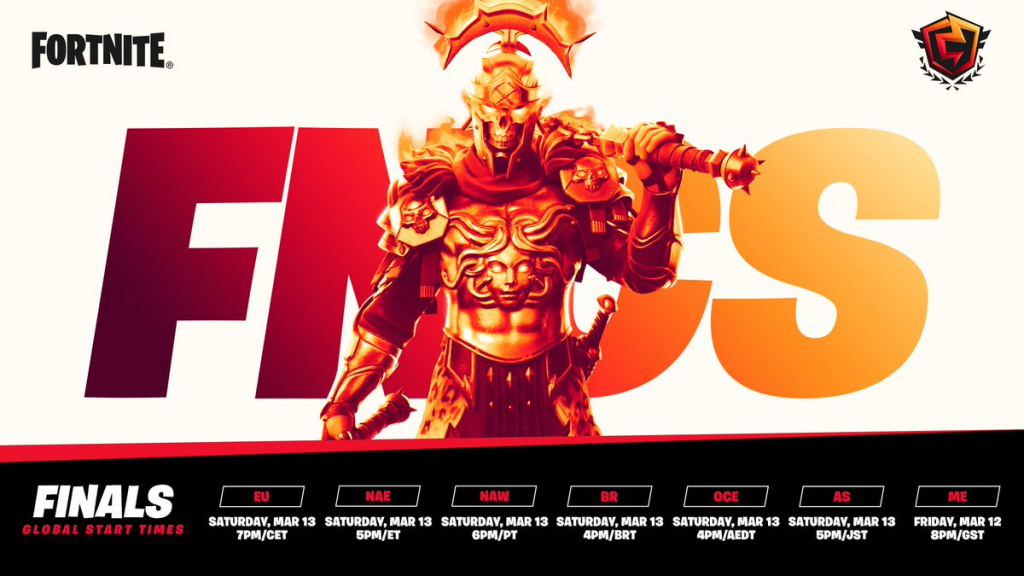 (Image: Epic Games)
The FNCS Finals are set to start this 13th March. Here are the start times for each region:
EU: 7:00pm CET
NAE: 5:00pm ET
NAW: 6:00pm PT
BR: 4:00pm BRT
OCE: 4:00pm AEDT
AS: 5:00pm JST
FNCS Season 5 Finals - Format
According to the official rules teams will compete in two sessions.  During each session, teams can play in a total of six matches. Each Finals session will last approximately three hours, with a new match starting every thirty minutes.
If a team fails to queue for the playlist and/or misses the start time for a given match, it will be considered to have finished in (or tied for) last place with zero eliminations for that missed match.
FNCS Season 5 Finals - Prize pool
Finals Event Prizes: Europe
Rank    Prize
1st    $300,000
2nd    $210,000
3rd    $135,000
4th    $120,000
5th    $105,000
6th    $90,000
7th    $75,000
8th    $60,000
9th    $45,000
10th    $30,000
11th-15th    $15,000
16th-20th    $9,000
21st-26th    $6,000
27th-33rd    $3,000

Finals Event Prizes - NA East
Rank    Prize
1st    $150,000
2nd    $105,000
3rd    $69,000
4th    $60,000
5th    $54,000
6th    $45,000
7th    $39,000
8th    $30,000
9th    $24,000
10th    $15,000
11th-15th    $9,000
16th-20th    $5,400
21st-26th    $3,000
27th-33rd    $1,800

Finals Event Prizes - NA West
Rank    Prize
1st    $75,000
2nd    $48,000
3rd    $30,000
4th    $24,000
5th    $21,000
6th    $18,000
7th    $15,000
8th    $12,000
9th    $9,000
10th    $6,000
11th-15th    $3,000
16th-20th    $2,400
21st-26th    $1,500
27th-33rd    $900

Finals Event Prizes - Brazil
Rank    Prize
1st    $75,000
2nd    $48,000
3rd    $30,000
4th    $24,000
5th    $21,000
6th    $18,000
7th    $15,000
8th    $12,000
9th    $9,000
10th    $6,000
11th-15th    $3,000
16th-20th    $2,400
21st-26th    $1,500
27th-33rd    $900

Finals Event Prizes - Asia
Rank    Prize
1st    $36,000
2nd    $24,000
3rd    $15,000
4th    $12,000
5th    $10,500
6th    $9,000
7th    $7,500
8th    $6,000
9th    $4,500
10th    $3,000
11th-15th    $1,500
16th-20th    $1,200
21st-26th    $900
27th-33rd    $600

Finals Event Prizes - Middle East
Rank    Prize
1st    $30,000
2nd    $19,500
3rd    $12,000
4th    $9,000
5th    $7,500
6th    $6,600
7th    $5,400
8th    $4,800
9th    $4,200
10th    $2,400
11th-15th    $1,350
16th-26th    $900
27th-33rd    $600

Finals Event Prizes - OCE
Rank    Prize
1st    $22,500
2nd    $15,000
3rd    $9,000
4th    $6,300
5th    $5,400
6th    $4,500
7th    $3,900
8th    $3,300
9th    $2,700
10th    $1,800
11th-15th    $900
16th-20th    $750
21st-33rd    $600
FNCS Season 5 Finals - Where to watch