Fortnite pro Deyy has issued an apology after a Twitter rant following an incident during the EpikWhale Cup, an event that serves as preparation for the upcoming FNCS Finals. 
Deyy fell asleep during the first match of the event and prevented teammates from queuing up, with FaZe's Evan "Cented" Barron showing his displeasure on Twitter.
"Fortnite isn't a hobby. It's my job and dream to be the best. And it's my teammate's job and dream to be the best. Showing up and playing your best is basic respect for your team. It's disrespectful to disregard the people you sign up to play with," Cented tweeted out.
In his apology, Deyy explained that he'll "take accountability" for his actions, adding that he "was in the wrong, and was just under a TON of stress from the community. I'll make sure this never happens again."
On top of not showing up in time, Deyy's series of tweets, which have since been deleted, made matters worse.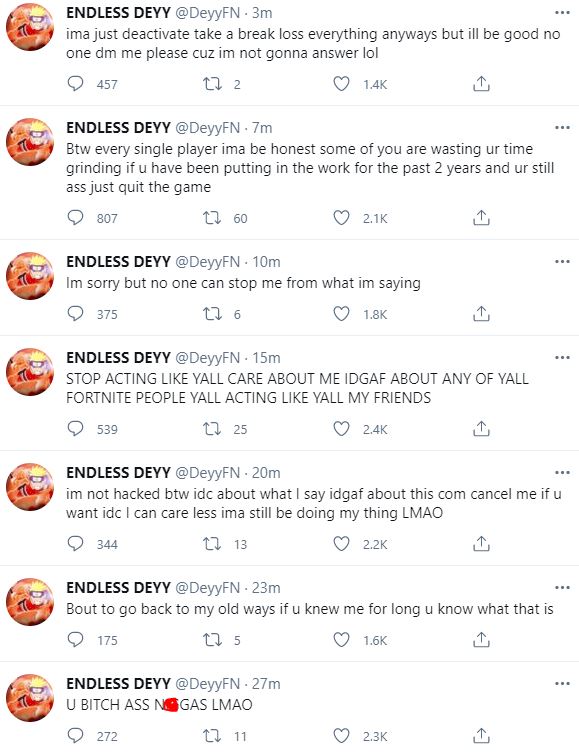 (Image: Deyy)
Esports org Endless, Deyy's sponsor, acknowledged the situation by stating that they "have a deep concern for the health and well-being of all our players."
Eventually, Cented confirmed he had resolved his issues with Deyy, pleading the community to give the 15-year-old a break, as he's "probably going through a lot."
With this bizarre incident behind them, Deyy now has his sights on the FNCS Finals, looking for a good placement this weekend.