The Fortnite Championship Series (FNCS) kicked off this weekend with Week 1 and we have already had our first cheating scandal. 
Duos Kreo and Bucke, and Keys and Slackes,
colluded to avoid being affected by storm surge
ultimately topping the North America East region and with both pairs streaming you have to ask yourself how they thought they would ever get away with it.
Of course, they didn't their results were annulled and they were handed 60-day bans from Epic effectively ruling them out for the rest of the FNCS season.
That would have been music to the ears of FaZe Megga and TSM Khanada, who with their duo partners, both moved up two places into 19th and 20th securing their qualification for the Season Finals. 
It also meant that good weekend that HazTheGreat and Avery had just got better, they moved up from 3rd to 1st increasing their winnings to $4,500.
Though Avery took to Twitter to express his frustration about how the result came about.
The TSM duo of Zexrow and Mackwood also moved up into a podium place taking the vacated 3rd place spot taking home $1,750.
In Europe, it was controller that proved to be king. The relatively unknown duo of Maage and Castery, who both use controller, took the top spot with 67 points including 1 win with an astonishing 33 kills. Showing that if you want to slay out in a lobby of the best Fortnite players in the world you should probably dig out that PS4 or Xbox controller.
Coming in 2nd and 3rd place was the evergreen FaZe Mongraal and NRG's Benjyfishy and znappy and wakie with the latter securing their standing with this ridiculous double boom bow kill to seal the victory royale.
Idrop74 and T100's MrSavage finished in 4th but MrSavage's weekend may be better remembered for being killed by Brutus - one of the AI bosses that populate the island.
In North America East, T100's Arkham and his duo partner andreww who dropped a 15 elimination win on the way to a record-breaking 82 point 1st place.
Today @Arkhram1x and @andrewFN_ scored the second most points in a duos final in Fortnite history with 82 points.

For reference the third most points scored ever in a duo final is 67 and the average winner scores 59 points.

One of the most lopsided victories in FN history. pic.twitter.com/YnXAr9pckV

— Fotnite Analyst (@FNAnalyst) March 23, 2020
It was a good weekend all round for 100 Thieves Fortnite roster, with 100T rehx alongside NRG's Epikwhale coming in 3rd and 100T Falconer and Liquid Riversan coming in 5th.
Everyone's favourite controller Ghost Aydan also performed well, finishing in 10th place with CoolPenguin.
The FNCS returns next week with Week 2 of five with the Season Finals set to be held on 17-19th April.
FNCS Week 1 NA East Results

(Credit: Fortnitetracker)
FNCS Week 1 NA West Results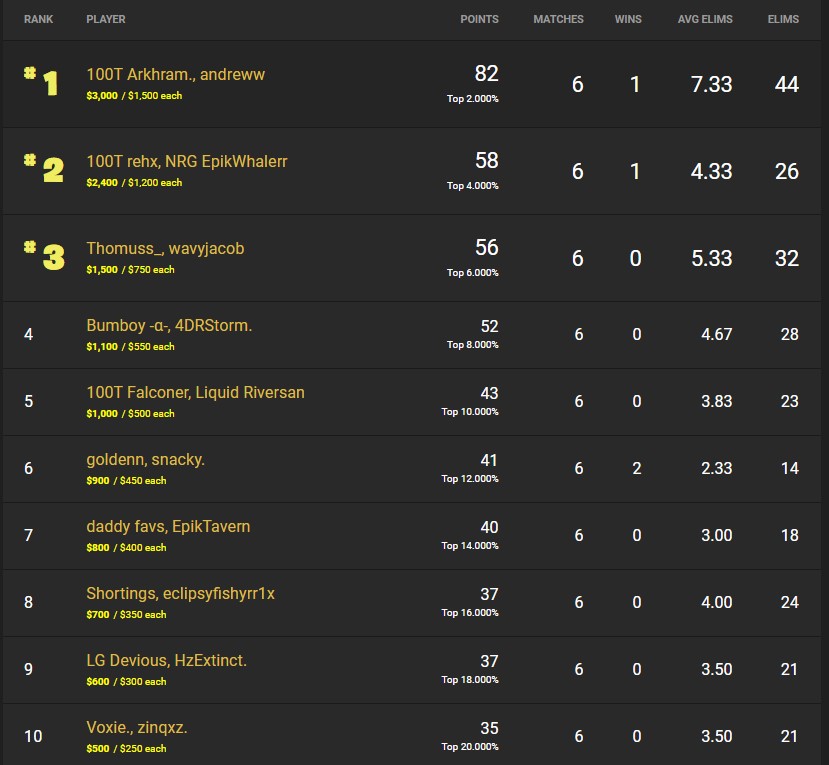 (Credit: Fortnitetracker)
FNCS Week 1 Europe Results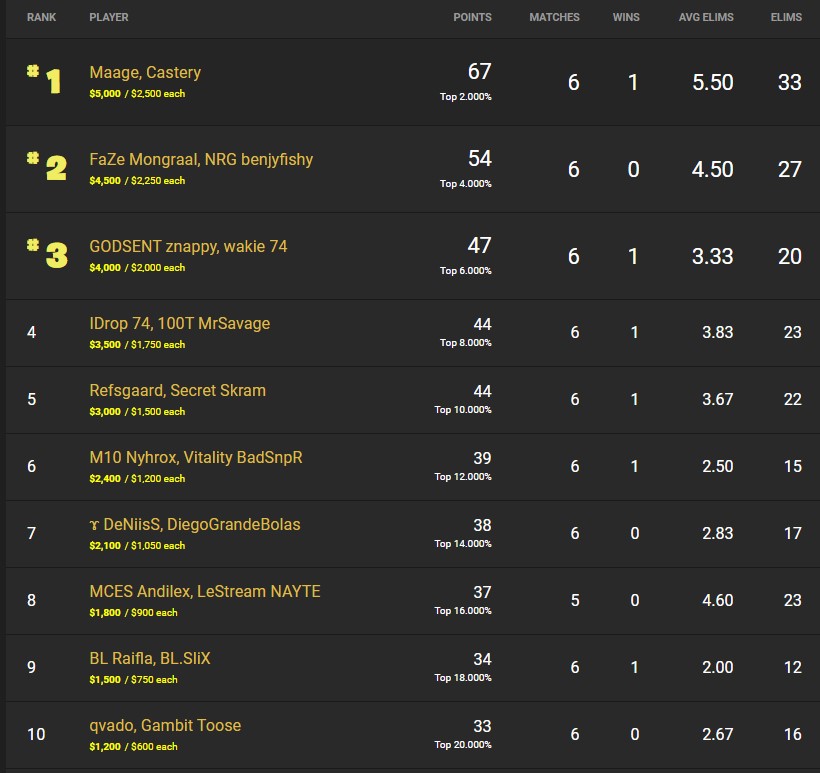 (Credit: Fortnitetracker)
For all the results and final standings including for Oceania, Asia, Brazil and Middle East please refer to Fortnite tracker.