Fortnite's Chapter 3 season 2 is now live, bringing plenty of new gameplay and story additions, alongside a new battle pass for players to pursue. 
Similar to Fortnite's Chapter 3 Season 1, the Season 2 battle pass brings in characters from the Marvel universe, such as the Prowler and Doctor Strange. There are also some cool anime skins that many would not want to miss out on. As such, here's everything you need to know about Fortnite's chapter 3 season 2 battle pass.
All Fortnite chapter 3 season 2 battle pass tier rewards and cost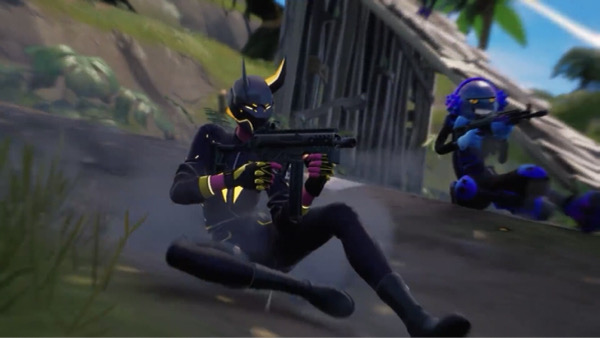 Players can purchase the Fortnite Chapter 3 Season 2 battle pass for a price of 950 V-bucks. This will require you to buy the cheapest V-bucks bundle that offers 1,000 V-bucks priced at $7.99 / £6.49. Or to have cleared enough levels on the previous season's battle pass unlocking the V-Buck rewards.

It's worth noting, there are free rewards players can unlock by spending their Battle Stars without purchasing the battle pass. However, the options are limited, and access to all the best rewards will require the battle pass to be purchased.
Here are all the exclusive rewards you can earn in Fortnite's Chapter 3 Season 2 battle pass from levels 1-10.
Page 1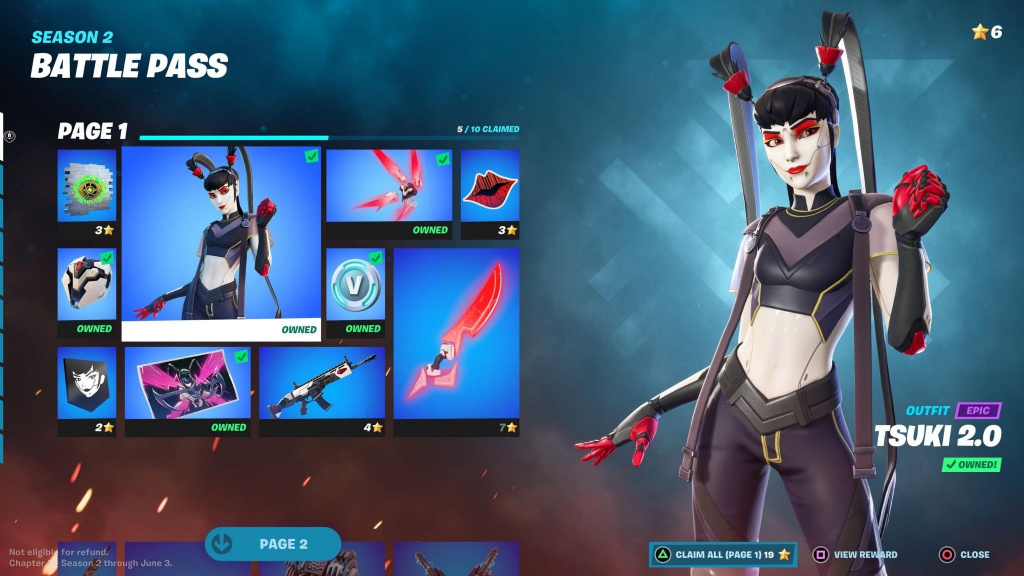 Tsuki 2.0 outfit
Eye of Agamoto Spray
Kata-Pack Backbling
Banner Icon
Tsuki Reborn Loading Screen
Kata Tech Burstwing Glider
100 V-Bucks
2.0's Revenge Wrap
Omni Sword Harvesting Tool
Cyber Smooth Emoticon
Page 2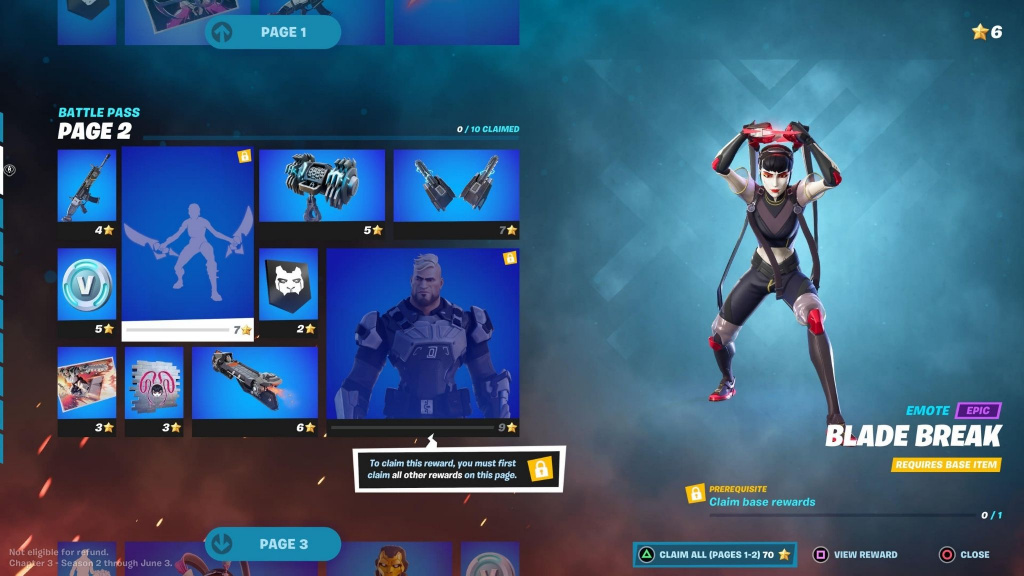 Punch Saw Harvesting Tool
Buzz Pack Backbling
Blade Break Emoticon
Gunnar's Special Wrap
100 V-Bucks
Feel the Chain Loading Screen
If Looks could... Spray
Chain Surfer Glider
Banner Icon
Gunnar Outfit
Page 3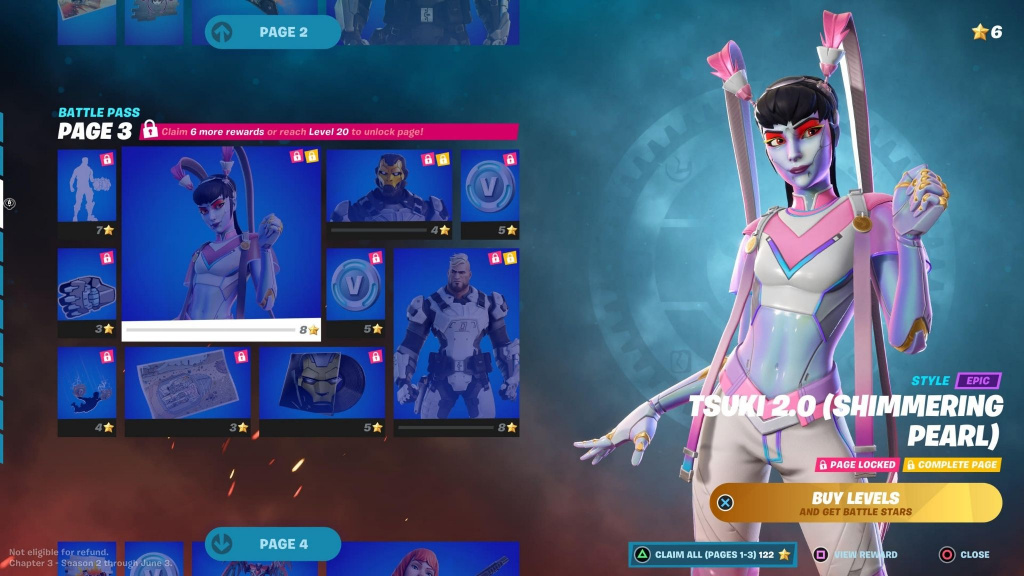 Cyclo Curl Emoticon
Gunnar Approved Emoticon
Chainpalms Contrail
Before the Strike Loading Screen
Get Ripped Music
Gunnar Arctic Tac Outfit
Gunnar Order Guard Helmet Outfit
Tsuki 2.0 Shimmering Pearl Outfit
100 V-Bucks
100 V-Bucks
Page 4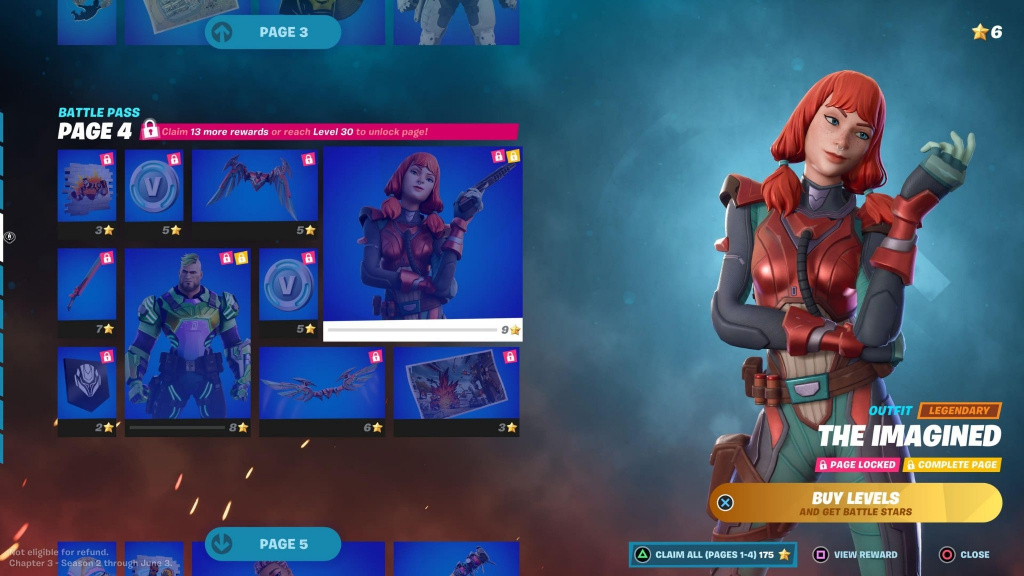 Big Guns Spray
The Imagined Blade Harvesting Tool
Banner Icon
Gunnar Ultra Charge Outfit
100 V-Bucks
The Imagined Wingspan Backbling
The Imagined Outfit
The Imagined Wingspan Glider
Turning Point Loading Screen
100 V-Bucks
Page 5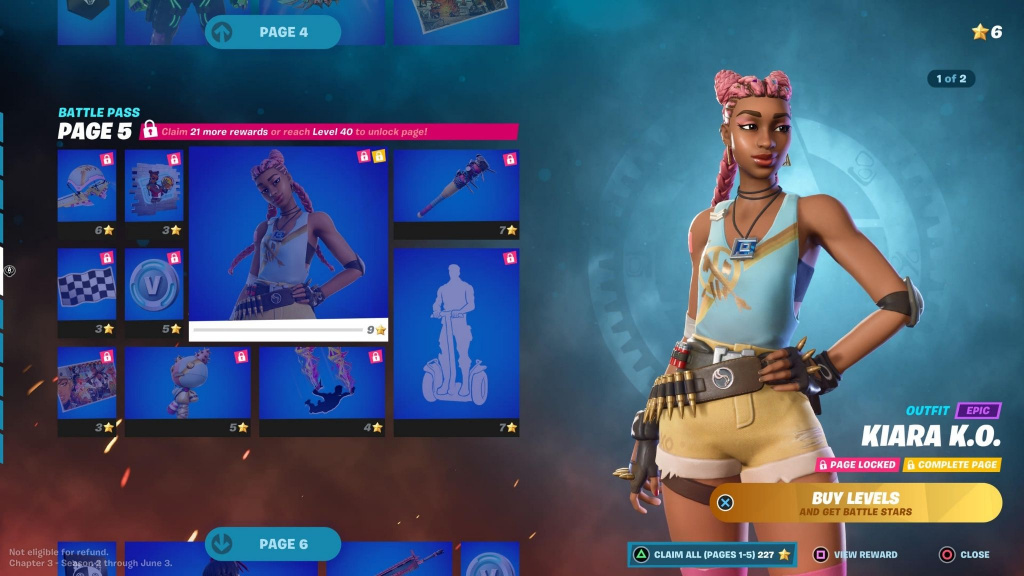 K.O. Club Harvesting Tool
Kiara K.O. Outfit
Geared Up Spray
K.O. Cruiser Glider
Finish Line Emoticon
Rebels Loading Screen
Fizzix Backbling
Captain's Tag Contrail
Segway Tour Emoticon
100 V-Bucks
Page 6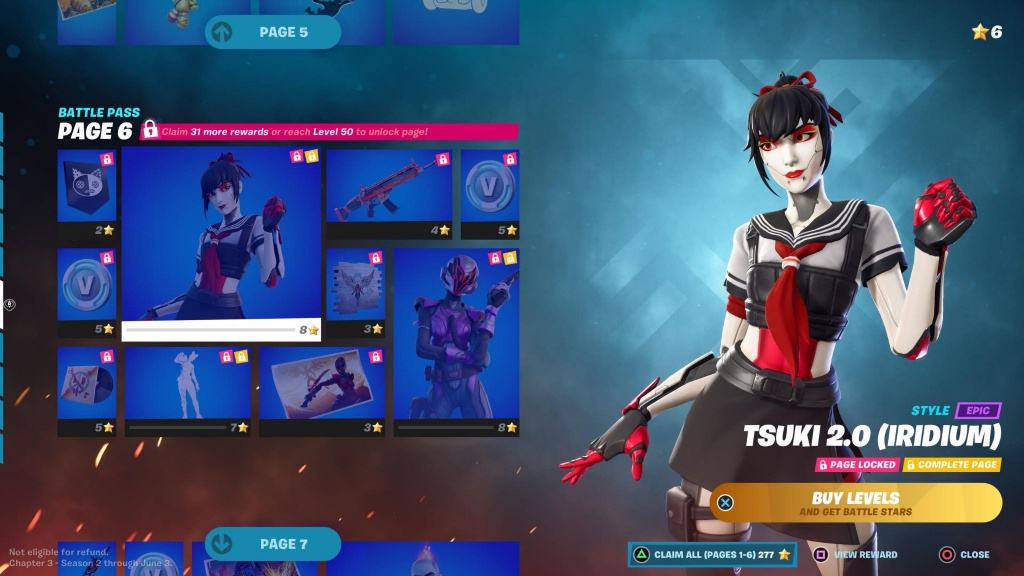 The Imagined Aura Wrap
Tsuki 2.0 Iridium Outfit
Banner Icon
100 V-Bucks
I just wanna fight Music
100 V-Bucks
Bag of Essentials Emoticon
Imagination Unlimited Loading Screen
Imagined Spray
The Imagined Combat Elite Outfit
Page 7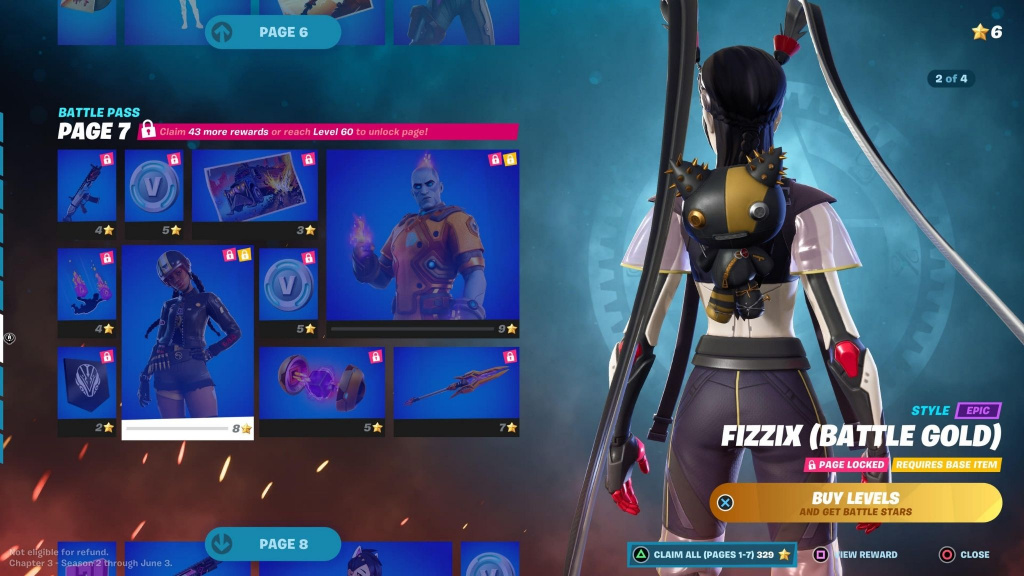 The Origin Outfit
Armored Battle Bus Loading Screen
Original Issue Wrap
Cube Fall Contrail
100 V-Bucks
Banner Icon
100 V-Bucks
Kiara K.O. Battle Gold Outfit
Cube Aether Backbling
Cube Scepter Harvesting Tool
Page 8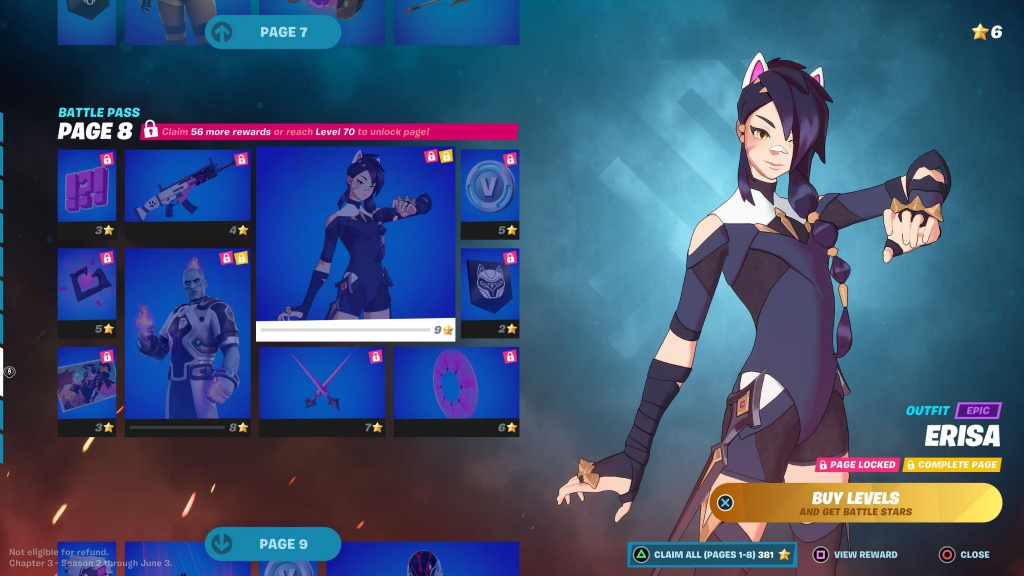 Wheel of Daggers Glider
Banner Icon
100 V-Bucks
Guardian Daggers Harvesting Tool
Erisa Outfit
!?! Emoticon
Erisa's Crest Wrap
Love Lock Backbling
The Hunter Returns Loading Screen
The Origin Granite Grey Outfit
Page 9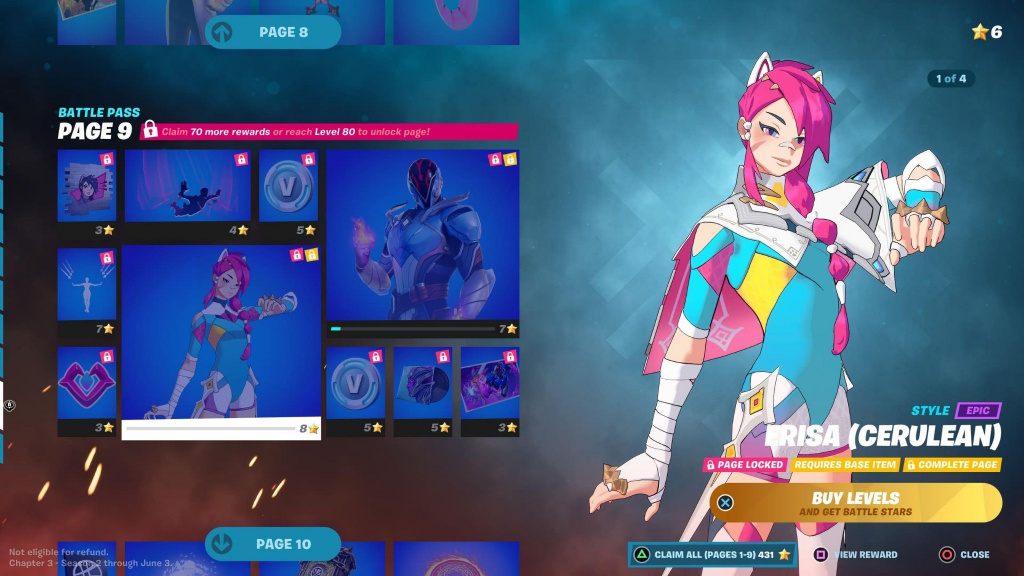 Fallen Daggers Contrail
Erisa Alert Spray
Dagger Dance Emoticon
Happy Heart Emoticon
Erisa Cerulean Outfit
Unchained Emoticon
100 V-Bucks
Origin's Anthem Music
Fallen Kingdom Loading Screen
100 V-Bucks
Page 10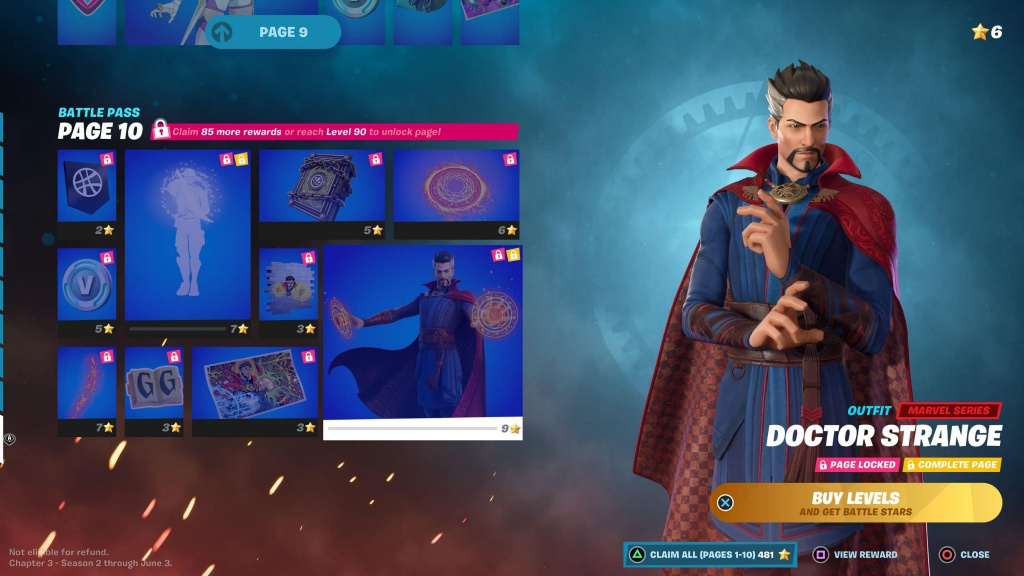 Mandala Disc Glider
Book of Cagliostro Backbling
Conjure Weapon Emoticon
Banner Icon
100 V-Bucks
Spellwork Scimitar Harvesting Tool
Book of the GG Emoticon
Sorcerer Supreme Loading Screen
Doctor Strange Outfit
Tao Mandalas Spray
Bonus rewards
Page 1
Kiara K.O. Combat Rebel Outfit
Erisa (Silvian) Outfit
Cap K.O. Wrap
Multiversal Energy Contrail
Gunnar Nova Strom Outfit
Page 2
Style Supreme Wrap
Tsuki 2.0 Dazzling Spirit Outfit
The Origin Spacevoid Black Outfit
Erisa Cateyed Outfit
For more of our Epic Games battle royale coverage, have a look at the rest of our dedicated Fortnite page. We'll populate the tab with all the latest game guides, news, title updates, and more.

Featured image courtesy of Epic Games.
---
For more Fortnite news be sure to check out our dedicated section, or some of our Guides & Tutorials, just below:
Fortnite Guides - All Fortnite Redeem Codes | When Does Fortnite Chapter 3 Season 5 Start?|All Fortnite Twitch Drop Rewards| How To Make Your Own Fortnite Skin |
Fortnite Events - Fortnite Winterfest 2022 | 
The Best Fortnite Creative Codes - Best Edit Course Codes|Best Prop Hunt Codes|Best Zombie Map Codes
Featured image courtesy of Epic Games.