After the launch of a mysterious countdown timer, Fortnite players have been anticipating some kind of event akin to
last year's black hole
wipeout. 
In Midas' office in the menu, what's been pegged as a Doomsday Device has crept up - which looks like it'll be set off at The Agency on Saturday 30th May. 
Following the latest v12.61 update, Fortnite dataminers have unearthed a bunch of new details about what the Doomsday event could be - and it appears the map could be about to get hit by a hurricane. 
As unearthed by HypeX, a loading screen shows Midas glancing at a special suit behind glass, although if you look closer, there's a reflection of a woman in the glass too.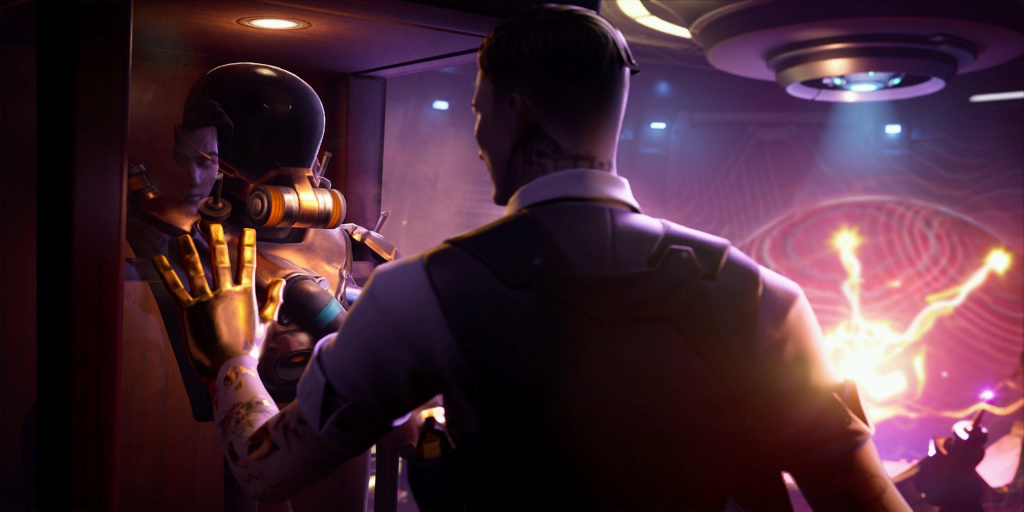 The suit is believed to be the Cyclo skin (Picture: Epic/HypeX)
It's believed to be an engineer character seen in a photo on his desk, which possibly suggests some kind of family relation. 
The power suit however appears to be a Cyclo legendary skin, which also comes with a Windshear cloak. The descriptions of these items state "defy the storm" and "wherever the wind blows' suggesting it'll be used to combat some kind of wind disaster. 
According to leaked gameplay cues via FortTory, the event will also include lightning strikes, "energy impact", "water impact" and "final teleport". 
Previous leaks have pointed towards the Chapter 2 map getting flooded somehow, so it seems like some kind of storm could instigate a major underwater shift on the map. 
There's also been leaked audio files which seem to have been pulled from the event, with strong winds heard in the background over blaring sirens and character noises. 
So will Midas trigger the Doomsday Device which starts the hurricane? Or is he building it in anticipation of an incoming storm? We'll have to wait and see. 
When will the Doomsday event happen in Fortnite?
Judging by the countdown timer in the Fortnite menu, the Doomsday event will happen at the following times on Saturday 30th May. 
11.05 PT - California
14.05 ET - New York
19.05 BST - UK