Trios are back on the menu boys and girls with the Fortnite Frosty Frenzy!
Featuring a $5m prize pool this Trios tournament will run from the 11-12th of December.
❄️🥶❄️

Get your Trio ready. More information coming tomorrow. pic.twitter.com/HeOIpxd4xq

— Fortnite Competitive (@FNCompetitive) December 8, 2020
The Fortnite Frosty Frenzy is essentially four tournaments per region - with two sessions, each of which is comprised of two rounds, held on both Saturday and Sunday.
This is very much an open tournament, with no restrictions on who can enter, and the $5m prize pool spread evenly across regions and with 400 of the 500 top teams at the end of Round 2 walking away with money.
Everyone who takes part will earn a Skull Claus Spray.
Whether this is in addition to the Winter Royale, which historically takes place later in the month, and last year had a $15m prize pool spread across all the events, is yet to be seen.

Winter Royale splashed the cash last year with its $15m prize pool. (Picture: Epic Games)
Fortnite Frosty Frenzy schedule
The event will be this weekend, across two days, with it kicking off on Saturday, 12th and finishing up on Sunday, 13th of December.
Format
Teams enter Round 1 with the goal of finishing in the top 500 Trios (250 teams for OCE, Asia, and ME regions), doing so will earn them qualification to the next round. This format is repeated across the four sessions.
The format changes from Day 1 to Day 2. 
Day 1's tournaments favour a more aggressive playstyle with each elimination earning 2 points.
The Day 2 format only awards points based on placement with a Victory Royale netting 25 points.
Scoring system
Day 1 (Sessions 1 and 2)
Victory Royale: 30 Points
2nd: 25 Points
3rd: 20 Points
4th: 15 Points
5th: 10 Points
6th-10th: 5 Points
11th-20th: 2 Points
Each Elimination: 2 Points

Day 2 (Sessions 3 and 4)
Victory Royale: 25 Points
2nd: 20 Points
3rd: 16 Points
4th: 14 Points
5th: 13 Points
6th: 12 Points
7th: 11 Points
8th: 10 Points
9th: 9 Points
10th: 8 Points
11th: 7 Points
12th: 6 Points
13th: 5 Points
14th 4 Points
15th: 3 Points
16th: 2 Points
17th: 1 Point
Teams
With just three days until the events, many players will be scrambling around looking for their third. 
We have no confirmed teams yet but here are what a few of the pros are up to.
Wolfiez of Excel Esports tweeted that he and CRR of FNATIC, were looking for a third.
NRG's Benjyfishy has said he is partnering with MrSavage and are in search of a third. C'mon boys settle any differences and get the band back together.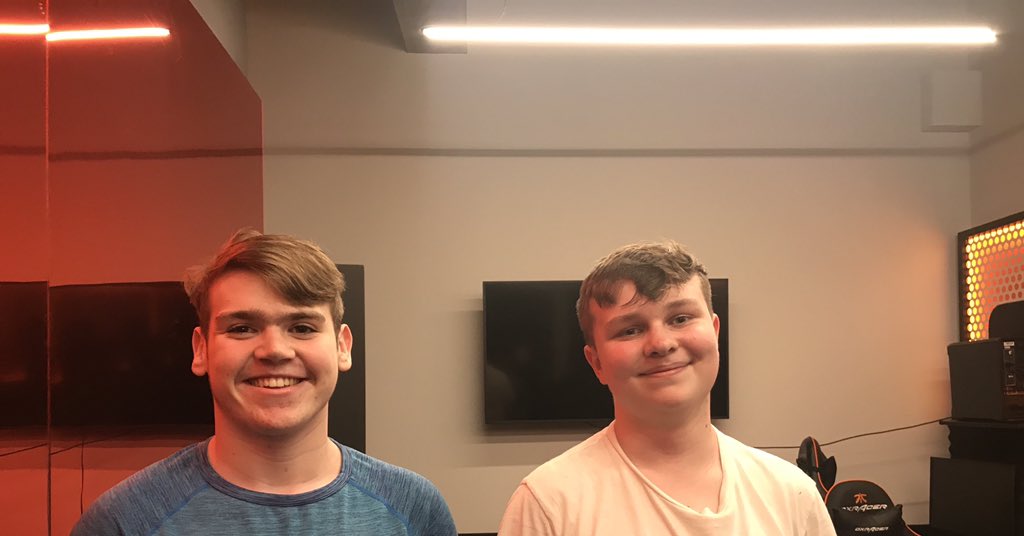 Seeing these two playing together once again would be a well-received Christmas present. (Picture: Mongraal)
Christmas time can be funny season, especially when it comes to Fortnite, so could we see the return of some Fortnite OGs for a swansong? A Trio of Ninja, DrLupo, and TimTheTatman would break the internet if not exactly the leaderboards.
Prize pool and distribution 
There is a total of $5m one prizing but that is spread across all the regions and up to 400 teams will earn cash at the end of each Session.
In a break from tradition, all regions are also awarded the same prize money.
| | |
| --- | --- |
| Rank | Prize |
| 1st-35th | $1,800 |
| 36th-400th | $1,200 |
| 5 Points Earned | "Skully Claus" In-game Cosmetic Spray |
How to watch the Fortnite Frosty Frenzy
It is not yet clear if Epic intend to run an official broadcast but it looks likely they will not we have embedded the official Twitch channel below just incase. 
But fear not as fans will also be able to tune into their favourite players from their streams (if they choose to do so). We have included some of our favourites below.
We have embedded the Twitch channel below.
EU:
NAE:
NAW: