Over the years Fortnite has become one of the most popular battle royales available with the free-to-play title appealing to so many segments of gamers. Frequent updates from Epic Games have kept Fortnite fresh and exciting, some only minor tweaks and some providing sweeping changes.
A more popular addition since its addition to the battle royale all the way back in Chapter 1 Season 3, Loot Llamas (aka Supply Llamas) are amongst the biggest advantages in Fortnite. These Llamas are filled with tons of high-value items and can really make the difference between winning and losing.
When first introduced, Loot Llamas were stationery items that players might come across if they were so lucky, but the game devs have since made some serious changes. Follow along for everything you need to know about the Fortnite Loot Llama.
Fortnite Loot Llama: What does it do and how to get?
Also known as a Supply Llama, Loot Llamas were first introduced in Season 3 of Chapter 1. When first introduced, Loot Llamas were a type of Container, but have since been updated to Animals as of Chapter 2 Season 7.
Loot Llamas were stationary containers filled with weapons and other items when first introduced, but have since been modified to produce a different set of rewards. As of Chapter 2 Season 7, Loot Llamas were made alive and able to move around becoming slightly more difficult to track down.
Now in Chapter 3 Season 1 of the battle royale, Loot Llamas only produce ammunition and healing items and must be attacked to unlock the rewards. They only contain 350 health, so a team of two or three will have no problem taking one down and popping the rewards.
Fortnite Loot Llama locations - Chapter 3 Season 1
With Loot Llamas becoming more of a known commodity in Fortnite, many players are beginning to ponder the quickest route of access to unlocking the massive ammo/health rewards. When first introduced, Loot Llamas would spawn in three different random locations each match, but that has since been modified by Epic Games.
There are now five Llamas in each Fortnite match, with one always spawning at Llama Homestead. Remember that they will move around the map as live animals so you'll want to take them out as quickly as possible to prevent other players from access to the rewards.
Here's a detailed map highlighting the Llama Homestead location as of Chapter 3 Season 1 of Fortnite.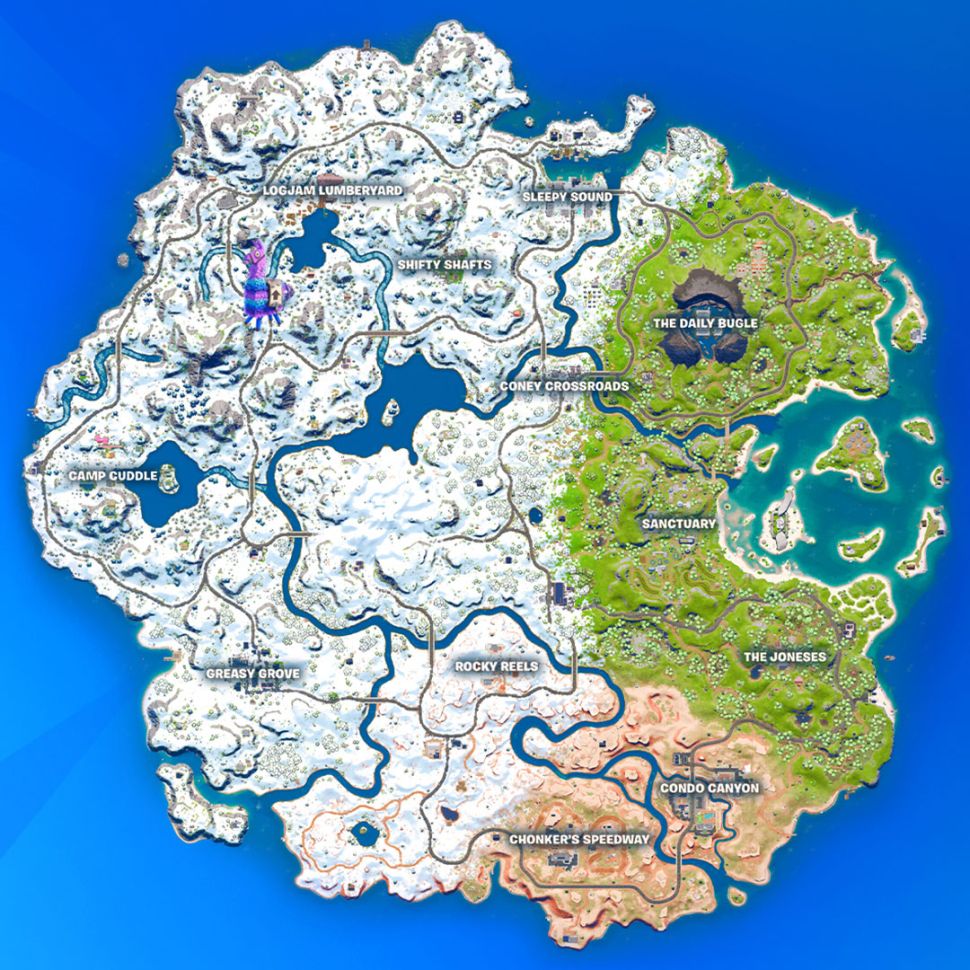 With multiple updates already it's entirely feasible to expect game devs to make even further tweaks to the Loot Llamas. Rest assured we'll keep you up to date with any future changes to this Legendary Fortnite icon.
Make sure to check back with our dedicated Fortnite page for all your Epic Games needs including title updates, challenges, and more.
Featured image courtesy of Epic Games.
---
For more Fortnite news be sure to check out our dedicated section, or some of our Guides & Tutorials, just below:
Fortnite Guides - All Fortnite Redeem Codes | When Does Fortnite Chapter 3 Season 5 Start?|All Fortnite Twitch Drop Rewards| How To Make Your Own Fortnite Skin |
Fortnite Events - Fortnite Winterfest 2022 | 
The Best Fortnite Creative Codes - Best Edit Course Codes|Best Prop Hunt Codes|Best Zombie Map Codes
Featured image courtesy of Epic Games.