Fortnite players looking to get the most out of the Battle Pass need to complete all the weekly challenges. Each of the challenges gives you 35,000 XP, which means completing them will give you a great boost. Here's how you can complete all seven Fortnite Season 3 Week 4 challenges.
Fortnite Season 3 Week 4 challenges
There are a total of nine Fortnite Season 3 Week 4 challenges for players to complete. To get things started, you probably need to know what these challenges are. 
Check out all the Fortnite Season 3 Week 4 challenges below:
Search Chests at Salty Springs (7)
Eliminations at Holly Hedges (3)
Collect Floating Rings at Pleasant Park (4)
Complete a lap at Motorboat Mayhem (1)
Land at Frenzy Farm and finish Top 25 (1)
Collect Metal from Rickety Rig (200)
Dance on camera for 10s at Sweaty Sands (10)
Search Ammo Boxes at Steamy Stacks (7)
Deal damage to opponents at The Authority (500)
Most of these Fortnite Season 3 Week 4 challenges are very self-explanatory, with the exception of three challenges which might need some explanation.
How to complete Fortnite Season 3 Week 4 challenges
While most of the challenges are self-explanatory and pretty easy to complete, one of the first difficult ones is to finish in the top 25 after landing at Frenzy Farm. Our suggestion here is to land at the outskirts of Frenzy Farm, then gear up and stay safe.
This shouldn't be much of a problem for high-skilled players, but staying alive in the first moments is imperative. Check out the map below if you are uncertain where Frenzy Farm is.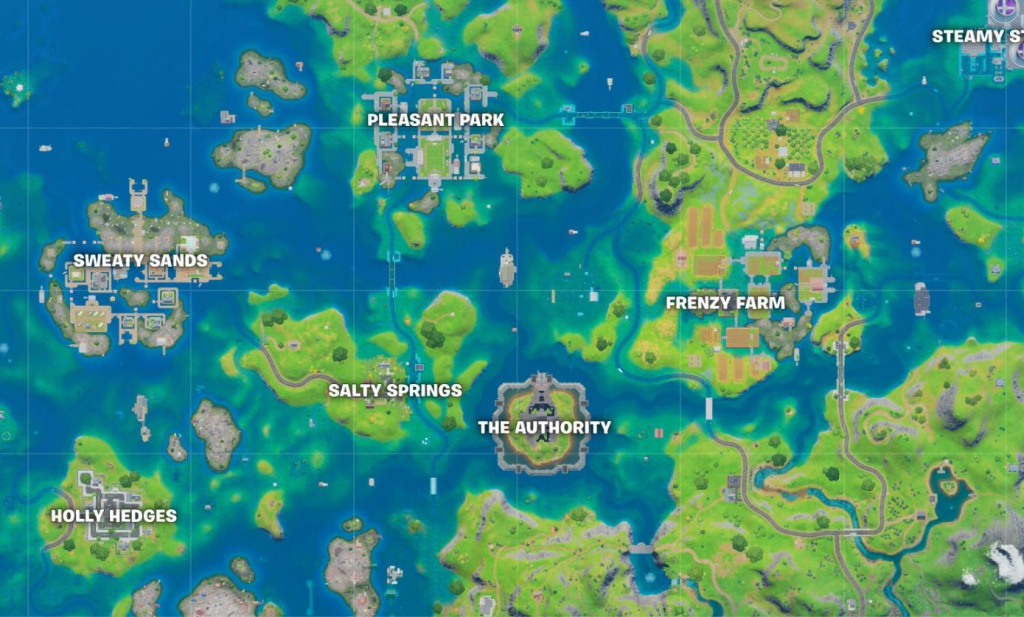 Familiarize yourself with the Fortnite Season 3 map (Picture: Epic Games)
There are two other Fortnite Season 3 Week 4 challenges you might struggle with a bit. Collecting the floating rings at Pleasant Park could be a bit hard to do, as they aren't all too easy to spot.
You should start off at the South end of Pleasant Park and take a zipline. The ziplines will take you to most of the floating rings, which are located on the windmills. Then, there's one on the ground at the western side of the area. 
YouTuber Monkey Rainbow shows you the exact locations in the video below.
The last Fortnite Season 3 Week 4 challenge which could prove a little difficult is to dance for 10 seconds on camera at Sweaty Sands.
First off, you need to find the camera, which is proving a bit difficult for some players. The camera at Sweaty Sands is located at the outdoor film set area. If you look up, you will see a canopy overhead. 
You will find the camera on the canopy. Now, all you need to do is do a dance for 10 seconds to complete the challenge.
Following this guide, you will be able to quickly and efficiently complete the Fortnite Season 3 Week 4 challenges, gaining a tonne of XP in the process.