Epic Games has released the Fortnite Season 4 Nexus War launch trailer, and it features an iconic Marvel villain called Galactus, as well as several heroes. Here's what you need to you about what you just witnessed in the trailer.
Fortnite Season 4 Nexus War trailer
The Fortnite Season 4 Nexus War trailer begins with Iron Man flying away from some rockets shot by enemies, before he gets sucked up, and transported to another dimension.
This is followed by She-Hulk and Wolverine also getting sucked up before the trailer shows it is, in fact, Thor Odinson, who has summoned his allies to the world of Fortnite via the Bifrost.
Several other Marvel characters appear, including Storm, Groot, Rocket, Dr Doom, and Mystique. While the Fortnite characters, as well as the Marvel characters, are just about ready to get fighting, we see why Thor summoned his allies.
Galactus is heading to Fortnite, and we are all doomed.
Who is Galactus?
Galactus is one of the most powerful Marvel villains ever. He is, in fact, called the Devourer of Worlds, arguably stronger than Thanos (without all the Infinity Stones, of course), and hasn't even appeared in the MCU yet. Yes, he can literally eat entire worlds...
Galactus first appeared in the comic book Fantastic Four #48, published in March 1966. He was created by the late Stan Lee as well as Jack Kirby, and has posed a constant threat to not only the Avengers but the entire Marvel universe throughout the years.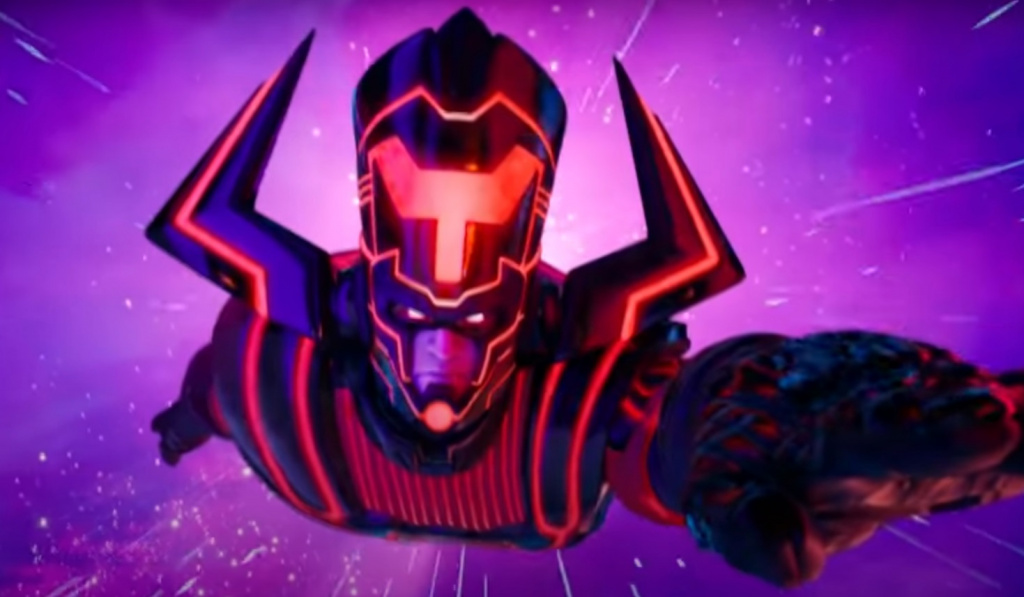 (Picture: Epic Games)
Those who've only watch the movies haven't seen Galactus before, and for comic book fans, it should be amazing seeing Galactus coming to Fortnite Season 4 Nexus Wars.
While not showcased in the trailer, the arrival of Galactus could hint towards further Marvel characters being added later in Fortnite Season 4 Nexus Wars. While this is just speculation at right now, we might see the entire Fantastic Four, as well as the Silver Surfer appear, judging by comic book storylines.