First debuting on the Fortnite island three years ago, Thanos is now back and available to gamers like never before. In addition to a Thanos skin, Epic Games are dropping even more Avengers-themed content with back bling and a wall spray emote as well.
There is also a brand new cup tournament for competitive gamers to test their skills in the duo's competition. Coming soon it's the Thanos Cup as the Marvel franchise takes back the Fortnite island.
Here's everything you need to know about the competition as well as how to get your hands on the exclusive Thanos cosmetics.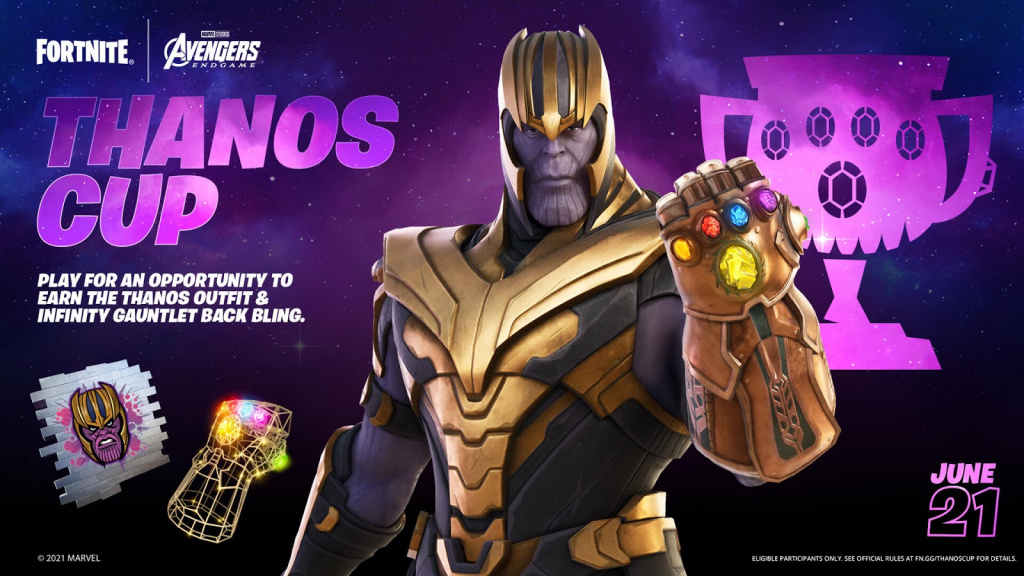 (Picture: Epic Games)
Fortnite Thanos Cup start time, schedule
In a recent post to the official Fortnite website, the Thanos Cup has been announced for 21st June 2021. The tournament will run for a three-hour window and players will have the opportunity to complete ten duo's matches in that time period.
The top-performing teams in each region will receive a free Thanos outfit and back bling as per the official tournament rewards. All gamers who participate and earn at least eight points will receive a free Thanos spray emote.
Epic Games has also released the official tournament rules which can be found here.
In addition to unlocking the Marvel-themed content from the Thanos Cup, Fortnite gamers will have a chance to purchase the outfit and subsequent back bling. Beginning 26th June 2021 at 8 pm ET (1 am GMT on 27th June) the Thanos outfit and Infinity Gauntlet back bling will be available in the Fortnite shop for a limited time.
He is inevitable...🟠🔴🔵🟣🟢🟡

— Fortnite (@FortniteGame) June 18, 2021
Make sure to stay tuned to our Fortnite tab throughout this exciting time in the Epic Games battle royale.