The Marvel-themed Fortnite Chapter 2 Season 4 journey is coming to an end soon, with the expected end date being 3rd December. Before we get to the climactic Nexus War ending, there's another Fortnite update to dive into. Here's everything we know so far about the v14.60 update, including the patch notes with possible bug fixes, the imminent arrival of Galactus, and more. 
Fortnite v14.60 release time & file size
The Fortnite servers go down at 09:00 UTC for the v14.60 update, which is expected to release on 18th November at 13:00 UTC. 
However, the update has unexpectedly released early for Xbox One, as well as Xbox Series X/S gamers. The file size of roughly 3GB.
The 14.60 Xbox update (Xbox One, Xbox Series X|S) has unexpectedly deployed early. We are investigating implications and will provide updates as soon as we can. https://t.co/ZrYfDei6Vt

— Fortnite Status (@FortniteStatus) November 18, 2020
The Nexus War event: Galactus draws near
While Galactus has not arrived with the Fortnite v14.60 update, you will likely be able to see him even closer to invading the Battle Royale title.
(Picture: Epic Games)
For those who don't know, Galactus is one of the most powerful Marvel villains ever. He is, in fact, called the Devourer of Worlds, arguably stronger than Thanos (without all the Infinity Stones, of course), and hasn't even appeared in the MCU yet. Yes, he can literally eat entire worlds...
Expect Galactus to arrive at the end of the season for a massive Nexus War event. When exactly does Galactus arrive you might ask?
Right now we don't have an official date. However, the end-of-season event normally kicks off on a weekend, so the most likely date is 28th November, with Chapter 2 Season 4 expected to end of 3rd December.
Venom has arrived
With the v14.60 patch, the Venom skill as well as emote, pickaxe and Back Bling has arrived in the game. However, you won't be able to get it unless you do well in the Marvel Knockout Super Series Venom Cup.
(Picture: Epic Games)
Read more about the Venom cup, as well as the $1 million Super Cup in our dedicated guides. 
Fortnite Creator v14.60 notes
Epic released the Fortnite v14.60 creator patch notes, and it doesn't say all too much we don't already know. 
The notes do indicate the second batch of XP Xtravaganza challenges are coming with the update, as well as mentioning the Venom cup, a creative hub expansion and more. 
Check out the Creator patch notes thanks to VastBlast below.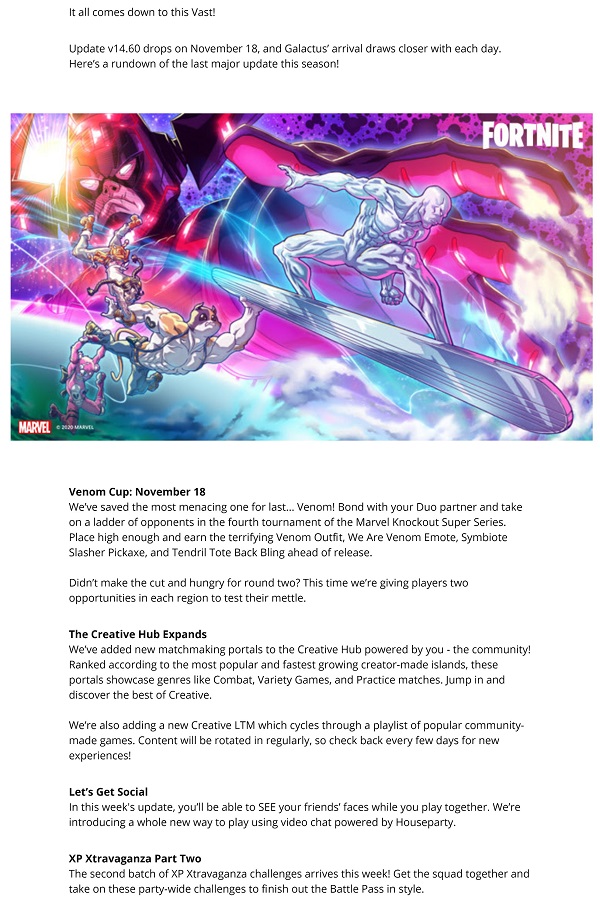 (Picture: VastBlast)
One interesting addition is how players will now be able to see their friends' faces via video chat powered by Houseparty. 
Fortnite v14.60 patch notes
Thanks to the Fortnite Trello board, we know the expected bug fixes and changes for this Fortnite v14.60 patch notes. Check them out below.
General
Disabled voice chat cannot be re-enabled on Xbox Series X/S.
'Lock Input Method as Mouse' does not lock the input method.
Battle Royale
Doctor Doom's Mystical Bomb disabled in competitive playlists.
Creative Mode
Team Size setting does not properly function when Join In Progress is set to Join Next Round.
Save the World
Wild West Llama not granting Steampunk weapon.
So there you have it, the Fortnite v14.60 patch notes. Keep in mind Epic Games haven't shared official patch notes in quite a long time, and there might be some other changes with the new Fortnite update not found by players just yet.