The
Fortnite
island has become a winter wonderland for players as the Holiday Season has arrived in-game bringing festive joy, gifts and more with the
Winterfest
event. During Winterfest, Fortnite will be awarding players with plenty of presents to unwrap and special quests to complete.
If you're looking to unwind following a Victory Royale in Battle Royale, players are more than welcome to visit the Cozy Lodge and get warmed up at the Yule Log for XP. Here's how you can find the Cozy Lodge and how to complete the Winterfest quest in Fortnite.
How to find the Cozy Lodge in Fortnite?
One of the first quests available during the Winterfest, getting warm at the Yule Log at Cozy Lodge, seems quite straightforward. However, this location is nowhere on the map in Chapter 3 but fret not; Cozy Lodge must be accessed outside of the Battle Royale mode.
Warm yourself at the Yule Log at the Cozy Lodge.

Complete this new challenge for additional XP! pic.twitter.com/CqhCAkXGx3

— Fortnite (@FortniteGame) December 16, 2021
From the Fortnite main menu, use the bumpers on your controller or scroll with your mouse to browse through the various in-game options on the navigation tab. You will see that there's a new option available during the Winterfest event, which can be found after the V-Bucks option.
This option, which is highlighted by a snowflake, must be selected where you will be able to enter the Cozy Lodge. Once you have entered the Cozy Lodge, players can complete the "Warm yourself at the Yule Log in the Cozy Lodge" quest.
How to do the "Warm yourself at the Yule Log in the Cozy Lodge" quest?
Once inside the Cozy Lodge, you will be greeted by the presence of Sergeant Winter resting near a fireplace. You will need to get close to the fireplace, which can be done by selecting Sergeant, the camera will zoom in on the fireplace.
At the fireplace, interact with it to complete the Winterfest quest "Warm yourself at the Yule Log in the Cozy Lodge" with an XP reward to earn. While you're at the Cozy Lodge, Fortnite is gifting players presents during Winterfest every day for 14 days. These presents include outfits, pickaxes, an emote, a lobby track and a loading screen, to name.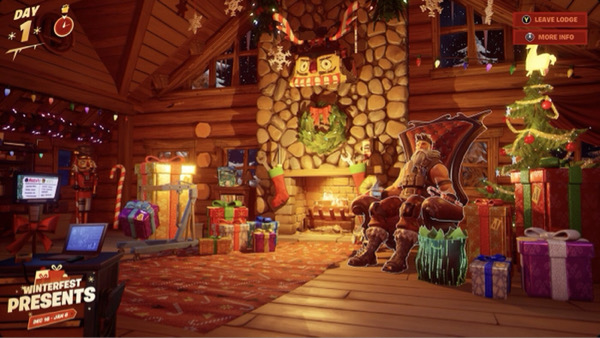 Fortnite's Winterfest event will be running across all platforms, except on mobile devices, from 16th December 2021 until 6th January 2022. Visit Sergeant Winter at Cozy Lodge daily to receive your Christmas present.
Don't forget to check out our dedicated Fortnite section for the latest news, updates, guides, leaks and more.
Featured image courtesy of Epic Games.